Top 5 Steel Wool for Mice, and Choosing the Best One
Steel wool for pest control is becoming more and more popular these days as people look to avoid products that could be potentially harmful to themselves, their children, and their pets. With so many types of steel wool products on the market though, it can be hard to choose the right option for your home needs.
But with all the products out there, which one is the best? Most brands will claim theirs is, so how do we know? After much research, there are definitely some products that stand out more than others. And the winner is XCluder Rodent Barrier DIY Kit.
Best Choice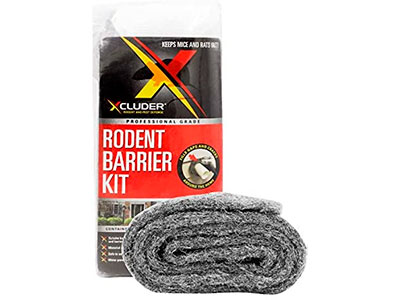 XCluder Rodent Barrier Kit
Large DIY Kit, Stops Rats and Mice
A specialty product that can be very effective for sealing doors and large holes. Non-toxic and non-corrosive.
Made in USA.
Read Verified Customer Reviews
Here's Top 5 of Best Steel for Mice in 2023 you'll find for it:
PREVIEW
PRODUCT

Our #1 Rated




XCluder Rodent Barrier Kit

Coarse stainless steel wool and poly fiber forms




Check Price

People's Choice




Steel Wool Rodent Barrier Kit

100% coarse stainless steel wool




Check Price




Xcluder Rodent Proof Garage Door Seal Kit

Coarse stainless steel wool and outer layer of heavy-duty rubber
Size: 1.75"x1.75" / 2.0"x1.625" / 2.0"x2.0"
Length: 8/12/16 feet




Check Price




Copper Mesh Roll for Rodents

Copper mesh, will not rust




Check Price

Best Budget




Standard Synthetic Steel Wool by 3M




Check Price
What is the Best Steel Wool for Mice and Rats? – Buyer's Guide
Mice can get into your home in a variety of different ways, from doors left open to torn screens on windows. Once mice get into your home, they can quickly procreate and turn your house into a mess. Getting rid of mice in your space once they've taken up residence can be incredibly difficult.
Keep reading to learn more about using steel wool for mice so you can effectively build them out of your home.
The good news is that getting mice away from your home and keeping them out doesn't have to be a costly, time-consuming proposition. Something as simple and easy to find as steel wool can help you get the job done right the first time.
1.
XCluder Rodent Barrier DIY Kit
See More Images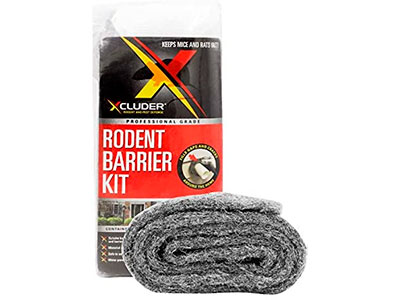 Designed to work in a way that deters mice from wanting to enter your home through the use of sharp, unpleasant steel wool, XCluder Rodent Pest Fill products offer enough steel wool to safeguard your whole home. You'll need safety gloves and heavy-duty scissors to handle this product, which can be purchased online or through many brick-and-mortar hardware stores.
Mice that eat steel wool typically die within 24 hours.
2.
Steel Wool Rodent Barrier Kit

– the Best Steel Wool

See More Images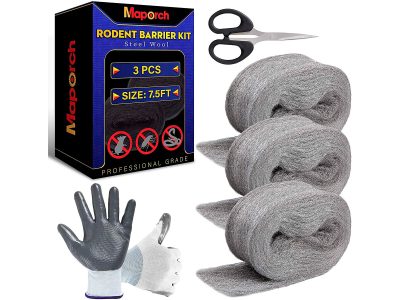 This product is designed to use a specially fabricated steel wool to drive rodents like mice away from your home. It comes with everything you need to plug holes and areas where mice might come in. The DIY kits even come with enough steel wool for the average home, as well as safety gloves and scissors so you can properly use the product safely and effectively. Rodent Barrier Kit can be purchased online through retailers like Amazon, specialty pest control retailers, and in-person at some hardware stores.
Steel wool can get into your eyes causing great irritation when you're cutting or shaping it to fit into cracks or holes in walls, garage doors, or window sills. Always wear eye protection to stay safe when working with standard steel wool or specialty products.
3.
Xcluder Rodent Proof Garage Door Seal Kit

– Best Mice Deterrent for Your Garage

See More Images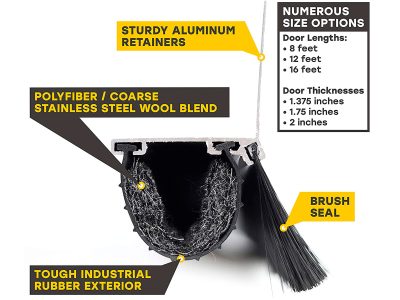 A specialty product designed for blocking rodent access through large holes like gaps in your garage door, Xcluder Seal Kit is a steel wool product that can be very effective for sealing doors and large holes. XCluder is stiffer and harder to cut, so it's designed to be used in big pieces only, not to fill smaller areas like cracks in walls.
You can find Xcluder Rodent Control Retainer online, in some hardware stores, or in stores where specialty pest control products are sold.
4.
Copper Mesh Roll
See More Images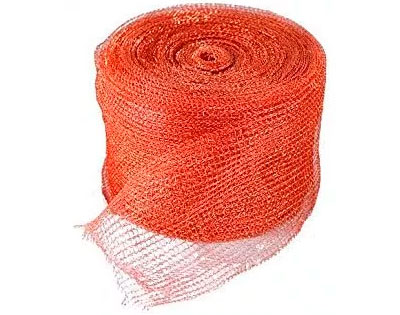 Similar to many other steel wool pest control products out there, Copper Mesh is designed to be cut to fill cracks and gaps in walls, doors, windows, and areas where mice may get into your home. The copper design is especially firm, making it much harder for rodents to gnaw through the material.
You can buy Copper Mesh Roll online through major retailers like Amazon or specialty stores.

5.
3M Synthetic Steel Wool
See More Images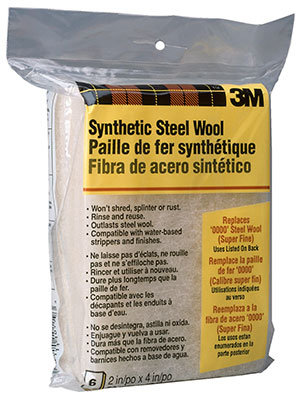 Many pest control products made of steel wool exist, but you can create your own pest control product with regular steel wool if you prefer. These products are easy to find and can be purchased at almost any grocery store as well, allowing you to act quickly even if you can't find specialty materials the same day you spot a problem.
A variety of brands of steel wool exist, including products from companies like 3M, Homax, and more. Your local hardware store will likely also carry a store brand.
When shopping for standard steel wool, keep these considerations in mind:
Heavy steel wool – grades #2, #3 and #4 are the stiffest and hardest, making them the most difficult for pests to chew through. Heavy steel wool is harder to work with though, making it best for large cracks and gaps where extra flexibility isn't required.
Lighter steel wool – grades #0000 to #1 are more flexible, making them easier to put into small ¼" or ½" sized cracks where mice might get into your home.
Will Steel Wool Stop Mice?
Steel wool is a product you're likely very familiar with already. If your home is like most, you use steel wool or a similar product to get stuck on food and grease off your dishes and cooking utensils when cleaning your kitchen. This very same product can be effective when it comes to keeping mice out of your home.
The major issue for most homeowners is that cracks in and around your home can allow mice inside, allowing them to breed in your home and create a colony-like environment. How do mice get in the house? Read here.
If you don't have a lot of mice in your home now, or you're simply trying to keep the ones you see outside from getting inside, steel wool can be an effective option.
Steel wool can keep mice from entering your home through tight spaces that can be problematic, especially in older homes.
You'll need to remain vigilant when using steel wool, checking areas where you apply this treatment regularly.
You may need to replace steel wool overtime to keep mice out. Steel wool is not a long-term solution either, so it's best to keep an infestation or problem you're having outdoors from coming inside for a short period of time only.
How to Use Steel Wool Products
Steel wool, from the outside, seems like a product that would be better suited for washing dishes than tackling tough rodent problems in your home.
There are many ways to use steel wool products and standard steel wool to keep mice out of your home:
Use steel wool products or standard steel wool to fill cracks in walls, window sills, garage doors, and any area larger than ¼" where mice can get in. Even small holes and cracks can become a problem when mice begin gnawing in the area to get inside your home.
Place steel wool into cracks and use caulk to seal it into place. This helps fill the steel wool, turning it into a product that mice can't gnaw through or eat. Adding caulk to your steel wool filled areas also means that you'll deter mice without killing them since they won't be able to eat the steel wool and bleed internally.
Check cracks and areas where you're using steel wool or caulked steel wool regularly. Mice can dislodge steel wool, causing it to be less effective the next time a rodent wants to get into your home. Replace damaged steel wool right away.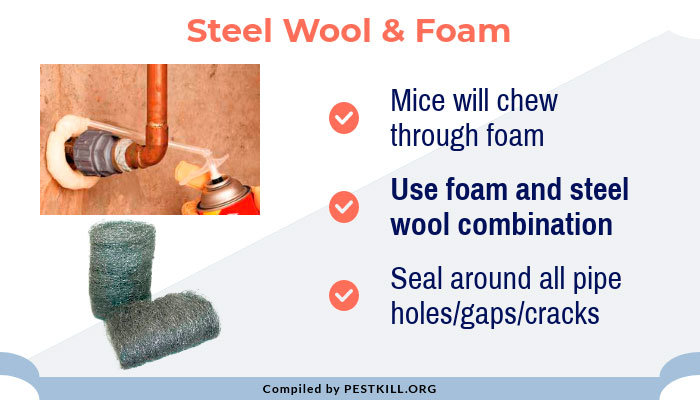 Precautions
Dealing with steel wool can be dangerous and it isn't something you should begin without preparation.
Follow these precautions when using steel wool to control entry points and access for mice to the interior of your home:
Always wear heavy-duty work gloves when handling steel wool for pest control. If you're not careful, you could end up cutting yourself, especially when trying to fit steel wool into smaller cracks or damaged areas around your house.


See More Images

Gorilla Grip Slip Work Gloves

Light and breathable material
Palms and fingertips are coated with latex rubber
Great tactile feel, dexterity, and grip

Protect your eyes with glasses or work goggles when handling steel wool pest control products or standard steel wool.
Keep pest control products and standard steel wool away from pets and small children. It can cause injury, and in some cases, pets may put steel wool in their mouth, leaving them with cuts. Steel wool can be deadly for cats and dogs if they eat it since it can cause internal bleeding.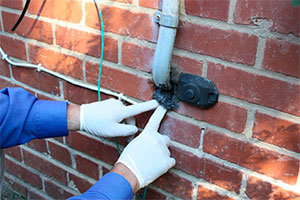 Steel wool can be an effective short-term solution for keeping pests like mice and rats away from your home while you repair cracks in walls, windows or other areas around your home. In combination with electronic mouse deterrent products, they can be highly-effective, ensuring that no mice enter your home.
The key to using steel wool effectively is to act quickly once you see a mouse in your home or a problem beginning outside. If you already have droppings around your home or a big mouse problem, traps or professional help is your best bet.
Using steel wool can still be effective for keeping more mice out of your home, but it won't resolve the problem long-term. Hire the pros, mouse exterminator, or seek other options for ridding your home of existing pests if you're dealing with them now.
Questions & Answers
Will mice chew through steel wool?
In a word, no. Steel wool has a lot of sharp edges, and mice would need to chew for an extensive period of time before it becomes a problem.
What grade of steel wool for mice?
The best steel wool to use would be the medium grade. This is because it's stainless, you can get it in bulk, and it does a pretty good job at getting into the cracks of gnawing mice as well.
If you have tougher (or slimier) rodents like rats, then I recommend using the heavy-duty steel wool for better results as it will last much longer. However, if your rodent problem is mice alone without any other animals or with occasional visits from squirrels or birds and nothing else in between, then you should be able to get by with the medium grade steel wool unless there are significant cracks against walls where they might hide out too often!
How to close hole for mice using steel wool?
Glue the steel wool to the hole using a liquid nail or plastic caulking. Don't use any other metal such as copper or aluminum for this purpose since it will rust and react with rodent urine to produce a battery acid that can eat through wires.
What's more, steel wool is easy to find when you want to plug up a mouse hole again because of its metallic color.
Your best bet is to remove rodents from your house first by sealing off their routes into your home and then mop up their droppings so they don't return too quickly.
You can find further details of Mice Control here.