Electronic Pest Control: Best Electric Mouse Traps You Can Buy
Our Recommended Top 5 Best Electronic Mouse Traps
PREVIEW
PRODUCT

People's Choice




Victor M250S

Batteries: 4 AA
Up to 100 mice
Dimensions: 3.52″ x 1.98″ x 7″




Check Price

Best Choice




Victor M241

Batteries: 4 C
Up to 50 mice or rats
Dimensions: 9.2″ x 3.8″ x 4.3″




Check Price




Rat Zapper Ultra

Batteries: 4 D
Up to 60 mice or rats
Dimensions: 4.4″ x 12.4″ x 5.2″




Check Price




Victor M2524S

Batteries: 4 AA
Up to 100 mice
Dimensions: 2.06″ x 3.6″ x 6.6″




Check Price

Best Budget




OWLTRA OW-2

Batteries: 4 AA
Up to 60 mice or rats
Dimensions: 8″ x 3″ x 3″




Check Price
Mice are often found in homes and can be a real nuisance. They chew through cables, contaminate food supplies, and spread disease.
It's not uncommon for homeowners to resort to using traps or poison when they have an infestation of mice. But these methods are messy and dangerous – especially if you have children or pets around the house!
The best way to get rid of mice is with electronic mouse traps that kill them instantly without any mess at all. These humane devices work by delivering a high-voltage shock that kills the mouse quickly and painlessly on contact. You don't need to worry about your family being exposed to poisons either because it's completely safe for humans as well as pets.
There are a lot of different electronic traps on the market, but we've compiled a list of the 5 best ones that you can buy right now.
Top 5 Electric Mouse Traps Reviewed
After much research, there are definitely some products that stand out more than others. And the winner is Victor M250S Electronic Mouse Trap.
1.

Victor M250S

– Best Electric Mouse Trap That Really Work (People's Choice)
See More Images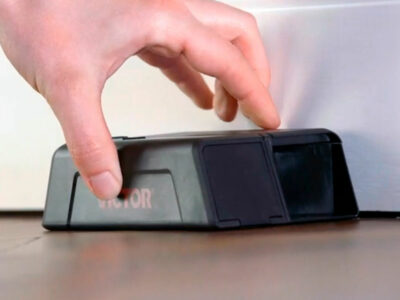 I love to write about my favorite products for PestKill.org, and I'm so excited to share with you what I think is the best electronic mouse trap on the market! This Victor M250S is a great choice if you want an easy-to-set, 100% kill rate mouse trap that will never let your mouse escape. It's also great because you can reuse it over and over again!
Batteries: It uses 4 AA batteries.
No. of mice killed: 100 per set of batteries.
Safety: It doesn't need chemicals or poisons to work. It's safe for use anywhere indoors.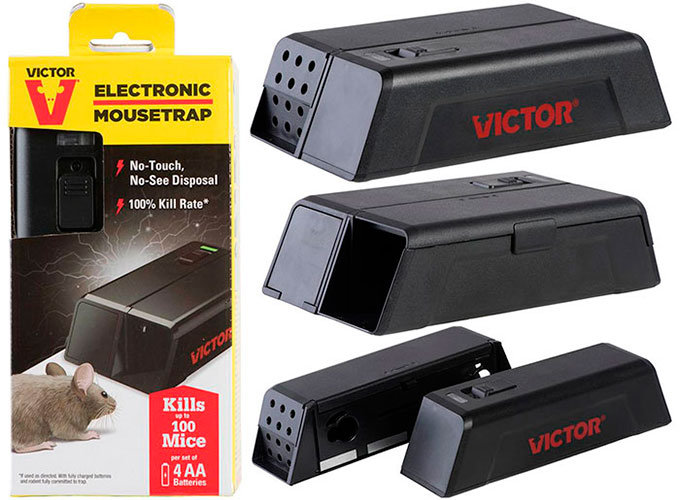 How to Use
This Victor M250S is designed to be quick and easy to set up, without any chance of escape. To use this mouse trap the first thing you need to do is find a flat surface that gets lots of traffic where you know mice love to frequent! Then, place the trap on the floor with the entrance facing away from foot traffic. Next, bait your mouse trap with some irresistible treats or food pellets. It's always best if you clean out the inside of your victor trap before placing it on a new site.
Once you have done this, make sure the electronic kill chamber is put in correctly and turn on your trap by pushing down firmly and quickly on the green button. Then all you need to do is wait for the "victor!" sound and indicator light to know that your mouse trap has done its job!
The Victor M250S is a great choice for anyone looking for an easy-to-use, 100% kill rate electronic mouse trap. It's also a great value because it can be reused over and over again – making it a more economical option than traditional traps that always seem to fail. So if you're looking for an effective way to get rid of your pesky mice, I highly recommend trying out this Victor M250S!
This trap uses smart circuit technology to detect a mouse and trigger a high-voltage electric shock. The mouse is eliminated in seconds. The beveled columns ensure the mice have no way to escape from the trap.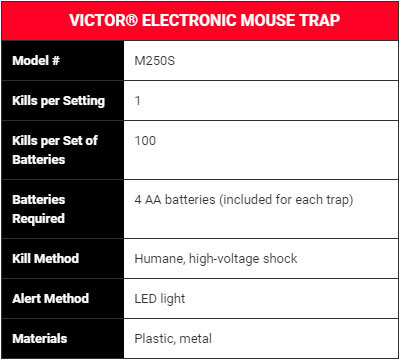 Pros
Easy to set up, easy to use.
100% kill rate.
Save money on traps that always fail.
Cons
It does not work well if your mouse trap is placed incorrectly or on an unstable surface.
2.

Victor M241 Electronic Rat Trap

– Best Indoor Electronic Mouse Trap (Editor's Choice)
See More Images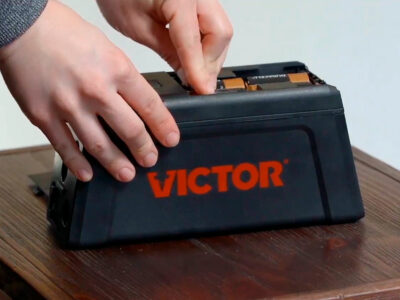 The Victor M241 is the most humane way to kill rats. With a touch of a button, you can electrocute up to 50 rodents with this no-see, no-touch experience. It's also easy for people who are squeamish about killing animals by hand or using poison bait because it eliminates all contact between humans and rats. The Victor M241 kills instantly (within two seconds) and does not require any chemicals or poisons that could taint food sources in your home, a major safety consideration if you have children or pets. You can easily remove the kill chamber for cleaning after each use, so it stays fresh and ready for another go at those pesky rodents. And since it's designed for indoor use only, you don't have to worry about it harming any wildlife outside.
The Victor M241 is a great choice for anyone who wants an easy, humane way to kill rats and keep their home rodent-free. It's also good for people who want to avoid contact with rodents altogether, making it the perfect trap for those who are squeamish or have small children or pets. With this electronic rat trap, there's no mess and no fuss, just a quick and clean solution to your rodent problem.
Professional exterminators highly recommend this product due to its efficacy. The high-voltage electric shock it delivers kills the mice in seconds. The indicator light blinks green for up to a week to signal a mouse has been killed.
Batteries: It relies on 4 C batteries, which provide about 1 year of standby power. When the light blinks red, that's a sign of the batteries needing replacement.
Safety: The trap doesn't use poisons or chemicals. It has a safety switch to deactivate the unit when you open the lid. For those reasons, it's safe to use this trap around your family and pets.
How to Use
After ensuring the power switch is turned off, open the door at the top of the trap.
Place the bait using a toothpick, Q-tip or any other tool that will prevent you from transferring your scent onto the trap.
Remove the battery compartment lid and install 4 C batteries. Close the lid.
Place the unit in an area with mouse activity.
Flip the power switch on. A flashing green light will indicate the unit is working.
When the green light blinks to indicate a kill, get rid of the electrocuted rodent and bait, and reset the trap.
Pros
Humane killing with no contact required.
Easy to clean and bait for next time.
Protect your home from rodent infestation.
Cons
For indoor use only.
Kills rats with humane high-voltage shock.
3.

Rat Zapper Ultra
See More Images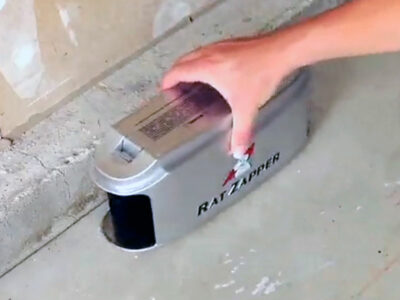 Mice. They're cute, but they are also the biggest carriers of all kinds of diseases that can affect humans. And they are extremely difficult to get rid of, no matter how hard you try. With the Rat Zapper Ultra, however, you'll have a much better shot at getting them out for good! This is one electronic mouse trap that's worth its weight in gold!
Batteries: It uses 4 "D" batteries. As with any product this powerful, it needs an equally robust power source and batteries are what keep it going strong. This particular model has four D-cell batteries which will last up to 60 days or 60 kills on one set of fully charged batteries before requiring replacement. That might sound like a lot, but when you're dealing with vermin that can carry diseases, you want to make sure your weapon is always fully charged and ready for battle.
No. of mice killed: 1 per setting and 60 per set of batteries.
Safety: Although it doesn't use any poisons and chemicals, you should exercise caution when using it around kids and pets.
When it comes to electronic mouse traps, the Rat Zapper Ultra is one of the most powerful on the market. With a kill rate of up to 60 rats or mice per set of batteries, this model will take care of even the largest infestations in no time at all. And because there's no contact necessary – you just set it and forget it – it also reduces the "yuck" factor that sometimes comes along with traditional traps. Plus, its hands-free disposal means there's less chance of coming into contact with any disease-carrying rodents!
So if you're looking for a powerful electric mouse trap that can handle multiple vermin at once, the Rat Zapper Ultra is your best bet. It's one of our top choices because it has everything you need in an electronic mouse trap – power, ease-of-use, and reliability!
The product has a large kill chamber to accommodate both large rats and mice. It kills the rodents with a powerful jolt of electricity that lasts for 2 minutes.
How to Use
STEP 1. Remove the battery compartment cover and install the 4 D batteries into the compartment. Replace the battery cover.
STEP 2. Insert bait through the entrance and place it along the back wall using a toothpick or Q-tip.
STEP 3. Turn on the trap. A green light should blink once to show the device is working properly.
STEP 4. When the light blinks red, the trap has made a kill. Safely dump the rodent by tipping the trap. This allows the electrocuted rodent to slide out.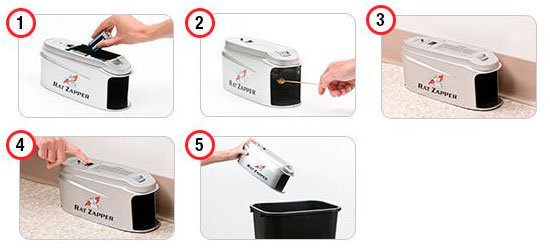 The elements can damage an electronic mouse trap. Don't place it outdoors if it doesn't have waterproof accessories.
Pros
Fast kill – It's one of the fastest electronic mouse traps on the market, meaning it won't drag you down for hours to get your rat problem taken care of
Long-lasting battery life – The batteries will last up to 60 days or 60 kills, so you don't have to worry about changing them all the time.
Great for catching large rats – If you're dealing with a larger infestation, this model is perfect because it can take out any size rat in just seconds.
Hands-free disposal – Simply press the button and watch as it automatically lifts up, leaving your hands completely clean. No contact with the disease here!
Cons
Not suitable for outdoor use – This product is only meant to be used indoors so if you see them outside, unfortunately, they're fair game.
4.

Victor M2524S Electronic Mouse Trap
See More Images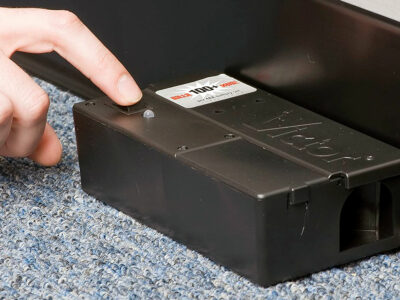 For the best protection, use Victor. The Victor M2524S has an advanced smart circuit that senses when a rodent enters the unit and delivers a humane high voltage shock to kill them in 5 seconds. With 4 AA batteries, it can kill up to 100 mice per set of fully charged batteries, which is more than any other trap on the market. If you want your home or business free of rodents for good, this is the electronic mouse trap you need!
How It Works
With smart circuit technology, the trap detects when a mouse enters it and delivers a high-voltage electric shock. It kills the pesky critter in seconds. A green indicator light flashes for up to one week when a mouse is caught.

Batteries: The trap is powered by 4 AA batteries. A blinking red light tells you the batteries need replacement.
No. of mice killed: 1 per setting and 100 per set of batteries
Safety. The M2524S trap has an inbuilt safety switch that automatically deactivates the unit when the top lid is opened. That makes it safe for homes with kids and pets. It also doesn't use any dangerous poisons and chemicals.
How to Use
STEP 1. Lift off the battery compartment cover, insert 4 batteries, and replace the cover.
STEP 2. Open the trap's lid and place any high-protein food like hazelnut spread or chocolate in the trough along the trap's back wall. Make sure you use a tool like a toothpick or Q-tip to avoid transferring your scent to the trap. Secure the lid.
STEP 3. Place the electronic trap lengthwise against a wall where mice like traveling with its entrance near the wall. You can also place it in any other area where you've spotted infestation signs.
STEP 4. Switch on the trap. The momentary blink of green light and a brief clicking or buzzing sound indicates the device is functioning correctly.
STEP 5. When the green light blinks, open the trap's lid and dispose of the electrocuted mouse into the trash. You can reset the trap by adding more bait, placing the trap, and switching it on.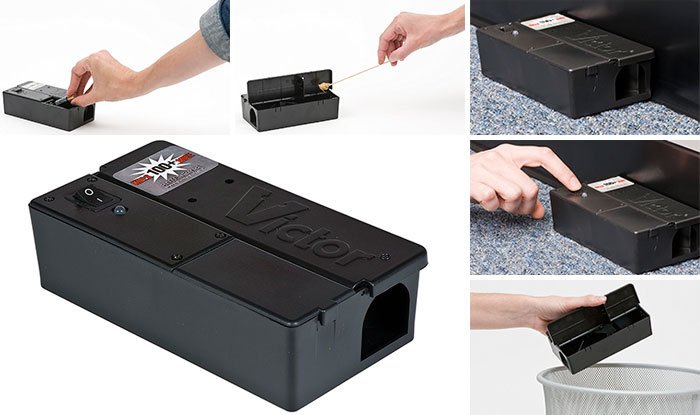 Pros
You'll never have to worry about a mouse again.
No more traps and bait, just plug in the trap and wait.
Your home will smell better than it has in ages!  – Get rid of that pesky rodent problem for good.
Cons
It's expensive.
You'll need a lot of batteries to make it work right.
5.

OWLTRA OW-2 Indoor Electric Mouse Trap
See More Images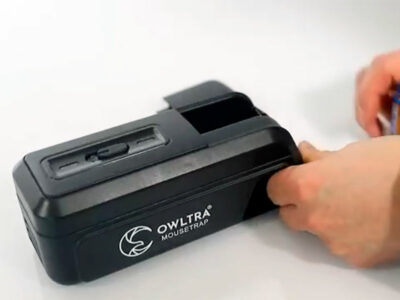 The best way to get rid of mice and rats is by using an electric mouse trap. There are a lot of great options out there, but the OWLTRA OW-2 is one of the most popular choices because it can kill up to 60 rodents per set of fully charged batteries and features improved dual infrared sensors that protect children and pets from false zaps.
The unique zap system ensures elimination without causing suffering – LED indicator lights to let you know when you need to change the bait or dispose of a rodent. Its easy-to-use design makes it convenient for any home or office setting.
Pros
Easy to use design.
Convenient bait area.
No need to worry about harmful chemicals or traps.
Protect your children and pets from false zaps with improved dual infrared sensors.
Cons
The batteries only hold a charge for one month.
Expensive replacement batteries.
What are the Best Electronic Mouse Traps in 2023? – Your Expert Buyer's Guide
A mouse infestation in your home can be a real nuisance. The nasty rodents steal your food and leave droppings littering your home. You can remedy this unsanitary environment with a mouse trap.
Commercially available traps help you deal with mice cost-effectively. They come in many different designs: from the classic snap traps to the contemporary electric traps.
You may want to consider purchasing electric traps if you're looking for an innovative no-mess, no-fuss approach to eliminating mice. So how do they differ from the other traps? How do use them? Keep reading to answer these and any other questions you may be having about the electric mouse trap.
What Makes Electric Mouse Traps Effective for Use
Electronic mouse traps use bait such as peanut butter to attract mice into them. Once they capture a mouse, they kill it by electrocution.
Compared to other traps, electric mouse traps deliver humane kills.
The lethal dose of electricity that the traps deliver usually kills mice in a matter of seconds. As a result, there's no gore or blood to clean up.
The traps rely on an AC adapter or batteries for power. They usually have one entrance that mice use to get into the tunnel when they smell the bait.
The traps have electronic sensor plates at the entry point or between the bait and the entrance. One plate has a negative charge while the other has a positive charge. The mouse completes the circuit by contacting the two plates. At this point, the device delivers a shock that kills the rodent.
Why traps are efficient
Due to their unique design and mode of operation, electronic traps have several advantages:
Successful.
Their success rate is very high. Unlike other traps that can deliver an incomplete kill, electronic traps perform a complete kill.
Reusable.
They're reusable and can last for many years. While they're more expensive than other traps, you can expect them to serve you for long after the initial cash outlay.
Safety.
A plastic or insulated box encloses the unit to prevent humans and pets from injuring themselves. The design also helps you avoid touching or seeing the electrocuted mouse if you don't like to.
Where to Buy Electronic Mouse Traps
Mice pose a great risk to your property and family. Taking these risks into consideration, the need to buy a good trap from a reliable store becomes clear.
Besides electronic traps, there are several other types of traps including glue traps. For more information on glue traps for mice, visit this link.
Buying a trap from a brick-and-mortar store gives you the advantage of being able to talk to a salesperson to help you make an informed decision. An online shop gives you the advantage of being able to check user reviews.
Lowes
Lowes is one of the best retail stores to shop for Victor pest control products. The store stocks the M2524S electronic trap and others.
Home Depot
Home Depot is an excellent place to look for electronic traps because it gives you the best of both worlds. It has brick-and-mortar stores as well as an online store with plenty of pest control products.
Among the products we've already mentioned earlier, Home Depot has the Victor M241.
Victor Electronic Traps
As you may have already noticed, electronic traps from Victor are easily obtainable from different sources. The products work well and make it to most lists ranking the best mouse traps.
Victor is one of the leading brands in the pest control industry. The company manufactures some of the best mouse traps available. All their electronic traps offer a 100% kill rate, meaning there are no escapes.
The M250S trap and the electronic trap M241 are some of the most popular electric mouse traps.
Apart from Victor, there are other well-known brands in the rodent control industry. Tomcat is one of these brands. So what do its products have to offer? Go here to learn more about the Tomcat mouse trap.
Other Mice Killer Electronic Traps
Besides the options we've already mentioned, there are many other electronic mouse traps you can buy at many different stores. It goes without saying that effectiveness will vary from unit to unit.
Regardless of the type of trap, you choose to use, searching for the best product out there can be time-consuming and tiring. Make things easier for yourself by reading about the best mouse traps in this article.
Conclusion
If you're looking for a simple solution to your rat or mouse problem, an electronic trap may be just what you need. The Victor M250S is one of the most popular models on the market, and its easy-to-use design makes it convenient for any home or office setting.
Plus, its advanced smart circuit senses when a rodent enters and delivers a humane high voltage shock in 5 seconds – all without chemicals! If you've been searching for an eco-friendly way to reduce your infestation with no harm done, this product may be perfect for you.
Get rid of mice and rats for good.
Kills up to 100 rodents per set of batteries.
Now that we've given you a basic understanding of some of the products available, you can now confidently get a product that will help you stop stubborn rodents from taking over your home or business.
You can find further details of Mice Control here.