Reviews on the Best Humane Mouse Traps: Learn How to Use These Traps and Their Benefits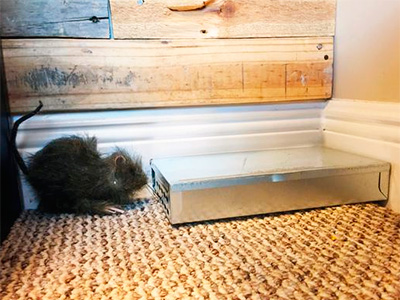 Do you need an effective yet best humane mouse trap that will eliminate mice from your house without necessarily killing them? While the rodent's infestation can be annoying, it's critical to use traps that will cause the least pain and suffering in your extermination efforts. Animal rights activists have been very vocal in condemning the use of methods that are considered unfair to the mice. This article will explicitly outline the best humane methods to drive away mice from your house as well as how to realize their full benefits.
You will also learn the best stores where you can procure top-notch traps at relatively affordable prices.
Top 5 Best Humane Mouse Traps: Reviews
There are numerous mouse traps in the market. You should carefully assess the benefits and the limitations of the gadgets before settling on the ideal product to use in your house. This section offers you well-researched reviews of the commonly used humane traps.
PREVIEW
PRODUCT

Our #1 Rated




Victor TIN CAT M310S Humane Live Mouse Trap




Check Price




PETA Smart Mouse Trap

Great gift for animal lovers




Check Price




JT Eaton 421CL Multiple Catch Mouse Trap

Clear cover provides fast inspection




Check Price




Havahart 1020 Live Animal Two-Door Mouse Cage Trap

Two gravity-action doors allow an animal to enter from either direction




Check Price

Best Budget




Mice Cube Reusable Humane Mouse Trap




Check Price
TIN CAT Humane Live Mouse Trap M310S by Victor

– The Very Best

See More Images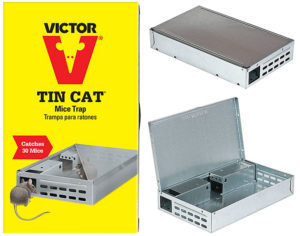 This gadget presents an excellent method to catch mice without harming them. It has the potential to catch up to 30 mice. It has a top cover that ensures that you do not see the mice while inside the trap. Once the rodents get into the device, you can carry it and release the rodents into their natural habitat.
The benefits of this trap include:
Catch and Release. The trap ensures that you do not touch or see the mice. As such, you are able to eliminate the stubborn rodents from your house even when you are uncomfortable with them.
Recyclable. Immediately after releasing the mice, you can reset the trap without compromising its efficacy.
Ability to Catch Large Numbers. This gadget is designed to catch as high as 30 mice in one setting. This increases the elimination speed when compared to other traps in the market.
PETA Smart Mouse Trap
See More Images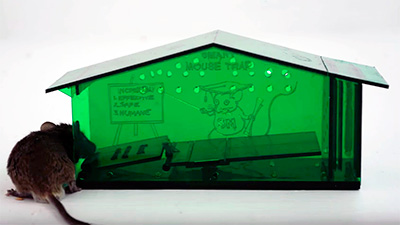 This is an easy-to-use gadget that guarantees high reliability and efficiency. The product is made out of plastic material and is specially designed to catch the mice alive and then release them away from your home. If you fear the biting that may be occasioned by mishandling the rodent, then this trap is for you! You will not come into direct contact with the mouse at any given point.
Here are some benefits associated with its use:
Re-Usability. The fact that this trap can be recycled is a plus for every homeowner due to the cost-effectiveness that comes along with the feature.
Highly Affordable. The trap is readily available in both online and physical stores at cost-friendly prices.
Easy-to-use Design. The PETA Humane trap is easy to set. You'll just need to place it along the paths of these rodents. Once the mice get into the trap, they trigger a closure locking them inside. Its small size allows you to carry it, together with the caught mouse, to a designated area where you can release it alive!
Multiple Catch Mouse Trap Model 421CL by JT Eaton
See More Images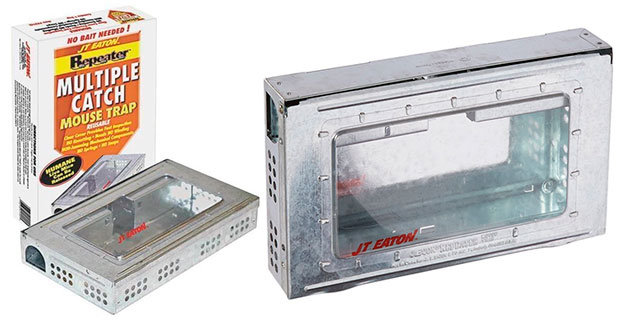 This gadget is highly effective in mice extermination. It utilizes baits such as cheese and peanut butter to attract the mice. Once the mice get into the trap, they are unable to find their way out making it relatively easy for them to accumulate in the trap. Within a few hours, the trap will have caught a large number of the rodents after which you can carefully release them outside your house into their natural habitat.
The benefits of this trap include:
Multiple Catch. Unlike other traps, this gadget catches a large number of mice. This significantly boosts your effort to completely eliminate the rodents from your house within the shortest time possible.
Affordability. The trap can be purchased at the local pesticides stores at affordable prices.
Easy to Set. The device is designed to allow a straightforward setting. Once you've identified the primary route of the rodents, you'll just need to place it strategically and wait for the mice to enter. Ensure that you include sufficient bait.
Live Animal Two-Door Mouse Cage Trap Model 1020 by Havahart
See More Images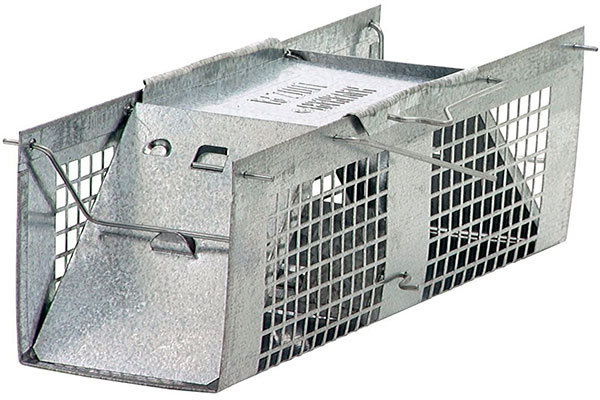 The trap includes a steel and wire cage that's equipped with two spring doors. Once the mice enter, they trigger the closure of the doors ensuring a quick and safe capture.
The benefits of this gadget include:
Can hold up to one pound. You can imagine the number of small mice that can total up to one pound! This device has the potential to hold as many mice in a single setting.
No contact required when emptying the trap. You just need to open the mesh doors and allow the mice back to their natural habitat.
Can be used both indoors and outdoors. This gadget is big enough to handle even large outdoor mice. As such, you can set it both inside and outside the house which significantly reduces the chances of re-infestation. Read more about outdoor mice traps here.
Reusable Humane Mouse Trap by Mice Cube
See More Images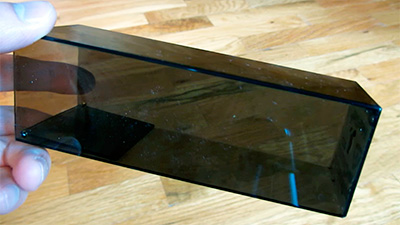 This trap catches the mouse and only you can let it away. Immediately the mouse gets into the trap, the door closes. You'll need to help it out by taking the trap to a designated area where you want to release the trap and open the door. The limitation of this trap is that it only catches a single mouse per trap set up.
There are several benefits that you may need to consider before settling on this product including:
Small and Effective! Despite its small size, this device is highly effective in eliminating mice without harming them. There are zero chances of the mice escaping once it's trapped!
No contact. You will not be required to come into direct contact with the rodents. This feature ensures top-notch hygiene and takes away your fear of directly handling a live mouse!
Best Humane Mouse Trap – Your Expert Buyer's Guide
It's crucial to note that all these traps do not kill rodents. As such, there exist a chance that they may re-enter your house if necessary measures are not taken to block all the entrance points.
How to Catch a Mouse Alive Without Killing It
Some traps subject mice to severe pain before killing them. Excessive suffering is inhumane and there is a need to devise new methods that can solve the menace better. One such method involves catching the mouse alive. But how can you achieve this? How to catch a mouse? Find out here!
Do humane mouse traps work?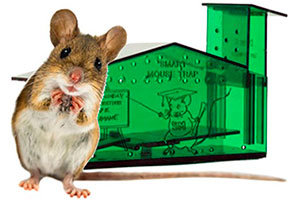 Some individuals are mistaken to think that the only method to keep mice away from your house is by killing them. The truth, however, is that using humane methods is less belaboring as well as highly effective. What's the harm of using a conservative method if it yields better results? Well, we assess that catching rodents instead of killing them is the most humane way to get rid of them. Numerous reviews have shown great contentment among the users of the catch release traps.
Humane traps are quicker and more efficient in mice elimination.
A single trap can catch as high as 30 mice in a single setting! This achievement would require immense efforts if you were to use a single trap to catch a single mouse. It's, therefore, true that these mouse traps work, and are recommended for use due to their friendly nature.
Live Capture Traps
These traps are uniquely made to offer you an alternative to poisonous traps. As such, they eliminate the mice without exposing your children and pets to unnecessary danger. The traps catch the mouse and maintain it alive awaiting release to its natural habitat. They include:
Tomcat
This is a plastic trap designed to catch live mice from your house. The device is easy to use and catches a single mouse per setting. One end has an opening that allows the mice to get in after which it immediately closes. You will then carry the trap and release the rodent into its natural habitat.
See More Images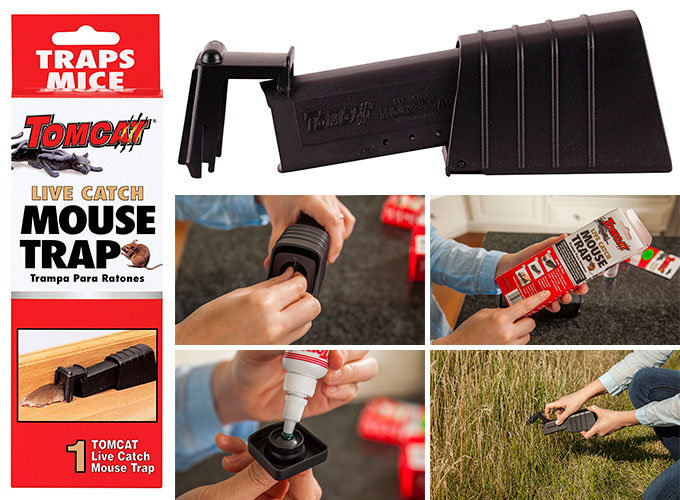 It possesses the following features:
Catch a single mouse every setting.
Plastic Construction.
Non-Lethal.
Highly Effective.
You should not place the trap under direct sunlight to avoid overheating which may discourage the mice, or even kill the already caught mice. Also, ensure that you constantly check the traps and release the mouse as soon as you can. Once you achieve this, you can clean the trap and reuse it. Placing a bait increases the efficacy of the trap. Read more about Tomcat mousetrap here.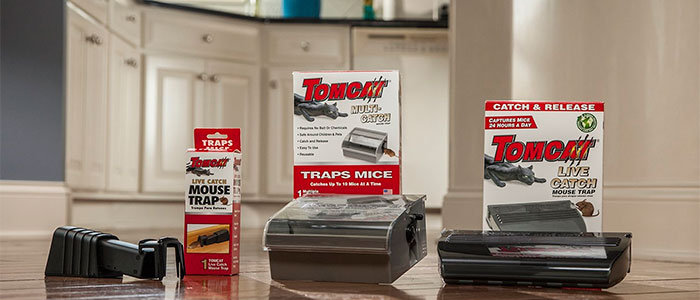 Victor
This trap is made out of a galvanized steel box with a flexible top lid. It is partitioned into two chambers with an entrance to let the mice inside each of the chambers. Once the mice enter the trap, the ramps flip back closing the exit for the rodents. The sophisticated design ensures that you catch more mice without allowing an exit for anyone of them.
See More Images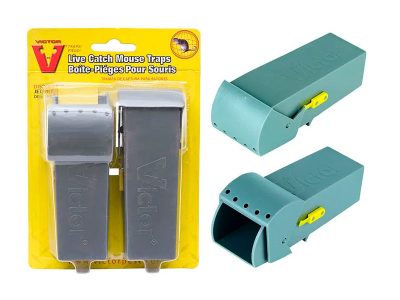 It has unique features including:
Catch up to 30 mice in a single setting.
Non-Lethal.
Humane alternative.
Durable galvanized construction.
You should set the trap by pushing the long edge against the wall which ensures that the entrance points are closest to the wall. Also, you should use bait (Preferably peanut butter) to increase the efficacy of the trap.
Humane Trapping: How to Catch a Mouse without Hurting It
There are several methods that you can utilize to eliminate mice from your home without hurting them. Some of them can be homemade mouse traps while others can be obtained from the nearest pesticide stores.
The primary ones found in leading stores include:
Humane Smart Mouse Trap by CaptSure




See More Images


It's ideally made to ensure that the mice are not subjected to extreme stress. It has a small opening that allows the mice in. Once the mice get in, it becomes extremely difficult for them to get out until you help it out. You'll need peanut butter bait to enhance the elimination chances.
Humane mouse trap at Wilko
Big Cheese Multi-Catch Mouse Trap is baited and ready to use. It is designed to allow self-setting in a few minutes. What's best about the product is its ability to catch multiple mice; it can capture more than 4 mice in one go. It has a highly flexible top lid that allows a quick and safe release. You will not be required to touch the rodents! It's safe for use in the presence of pets and children since it's poison-free.
Safe for pets
The safety of your pets is crucial when determining the product to use at your home. These humane traps are safe for your pet! Most of the traps are designed to specifically trap the mice which means that the entrances are small. Better still, the traps are not poisonous in any way. Any small pet that may enter the trap will be safe and you'll quickly release it from the trap without any bodily harm. More information on how to get rid of mice without harming pets you can find out here.
Home Depot and Lowes
Home Depot and Lowes have been on the frontline in championing the elimination of torturous traps. The outlets have adopted friendly traps to ensure minimum suffering for the rodents.
Some of the humane traps that you can find in these outlets include:
Smart Mouse Trap. This trap is endorsed by the Humane Societies and Animal Rights Organization as one of the best mice elimination methods. The trap does not use any poison and glue which makes it safe for use around pets and children. It is designed to use a catch-release mechanism.
See More Images

Catcha 2 Piece Humane Smart Mouse Trap Live Catch and Release. This trap is highly effective.
See More Images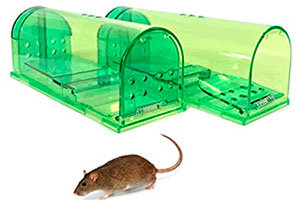 It has the following benefits:
Extremely Humane. The trap does not kill the mice. Instead, it releases them while alive.
Effective. Each trap has a spring door that closes immediately the mouse get inside. The mouse cannot get out once the entrance closes.
Reusable. The trap can be reused which makes it extremely cost-effective.
Safe. No glue or poison is used in the manufacture of this product. It's safe for use in the presence of children and pets.
Easy to Use. Simply place the peanut butter and place the trap in the rodent's busiest route.
Questions & Answers
How to sanitize a humane mouse trap?
A humane mouse trap is designed in such a way that the gooey bait collects in a small dish at the bottom of the unit. The best way to clean up the mess it leaves is to wash it out with soap and water. Allow it to dry, then place new bait (or use some dry peanut butter) and set out again.
It's important to get all the soap off, however, because too much will compromise its smell-neutralizing properties that help mice know they've found the food at this good spot - which means there will be more mice coming around for their regular fix.
Do mice come back once released?
Yes, it's been observed that released wild mice show strong site fidelity. A mouse goes back to the place it knows best.
In other words, the mice come back to the area they were released in. This is a tendency for all animals, not just mice. Mice are good at remembering sites where they had food found that was out of their normal diet or maybe tasted better than what they've eaten before.
How far to take mouse in humane trap?
You must take the mouse far enough away to ensure safety. To be sure, it is usually best to release a mouse about two miles away from where it was captured.
Bottom Line
The sight of mice in your house may be disgusting, but it may even be worse when you spot a dead, rotting mouse! Also, some individuals detest the sight of a mouse helplessly wriggling in pain as it awaits the slow but painful death. As such, you must adopt relatively humane methods to deal with the mice. There are numerous ways that we have recommended in this article for your assessment.
You can find further details of Mice Control here.