Top 5 Steamers for Bed Bugs, and 3 Best Cheap Handheld Steam Cleaners Under $50
A bed bug infestation can cause you to rush out and look for a quick solution. Unfortunately, impulse buying can make you end up with a steam cleaner that won't do a good job.
To help you make an informed decision, we've gathered the 7 Best Steam Cleaners on the market in 2021:
IMAGE
PRODUCT

Our #1 Rated




Vapamore MR-100 Primo Steam Cleaning System

Tank Size: 54 oz
Max Steam Time: 60 min
Heat Up Time: 11 min




Check Price

People's Choice




McCulloch MC1275 Heavy-Duty Steam Cleaner

Tank Size: 48 oz
Max Steam Time: 45 min
Heat Up Time: 8 min




Check Price




Sargent Steam Cleaner Cleaning System

Tank Size: 70 oz
Max Steam Time: 90-120 min
Heat Up Time: 10-15 min




Check Price




Steamfast SF-275 Heavy-Duty Sanitizing Steam Cleaner

Tank Size: 48 oz
Max Steam Time: 45 min
Heat Up Time: 8 min




Check Price




Wagner 915 Power Steamer and Cleaner

Tank Size: 48 oz
Max Steam Time: 45 min
Heat Up Time: 12 min




Check Price
The Best Handheld Steamers Under $50
IMAGE
PRODUCT

Our #1 Rated




DBTech Handheld Multi-Purpose Pressurized Steam Cleaner

Tank Size: 6 oz
Max Steam Time: 15-20 min.
Heat Up Time: 3 min.




Check Price

People's Choice




Steam Cleaner with Natural Sanitization

Tank Size: 6.6 oz
Max Steam Time: 20 min.
Heat Up Time: 30 seconds




Check Price




McCulloch MC1230 Handheld Steam Cleaner

Tank Size: 6 oz
Max Steam Time: 10 min.
Heat Up Time: 3 min.




Check Price
What is the Best Steam Cleaner for Bed Bugs in September, 2021? – Buyer's Guide
Fewer things are more unpleasant than discovering you have bed bugs in your home. These pests multiply quickly and are notoriously difficult to eradicate.
Many of the products that can help you control pests can be harmful to you and the environment. So are there any natural solutions?
One option you can consider if you're looking to get rid of bed bugs without using harmful chemicals is a steamer. It uses high heat to kill them. Is it an effective method? Can your normal steam cleaner get the job done? Find out everything you need to know about using a steam cleaner for bed bugs in this informative guide.
After much research, there are definitely some products that stand out more than others. And the winner is Vapamore MR-100 Primo Steam Cleaning System.
1.

Vapamore MR-100 Primo

– the Best Dry Vapor Steamer
See More Images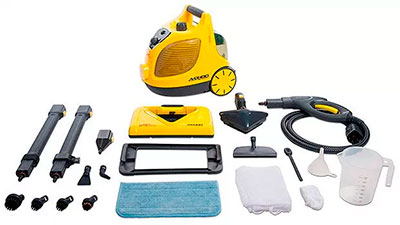 The Vapamore brand is one of the most trusted in the steam cleaning industry. This steam cleaner produces an adjustable steam output of 210-220°F. It kills pests such as bed bugs and dust mites while cleaning and sanitizing surfaces. The unit is backed by a lifetime warranty.
Vapamore has created the second generation MR-100 Primo featuring all-new improved tools and accessories.
These include a new style of steam gun and hose, new stronger non-flex extension poles, water level dipstick, and a new larger floor head assembly with removable triangle scrub brush and carpet slider attachment.
Specifications:

Tank Size: 54 oz.
Max Steam Time: 60 min.
Temperature: 210°F – 220°F
Versatile Attachments: 18 accessories
Heat Up Time: 11 min.
Pros
Multi-surface usage
The pressure can be adjusted
Long power cord
Heats quickly
Easy to wash
Childproof locking
Cons
Difficult to store
Not durable
Regular maintenance (3-month interval) is required
2.

McCulloch MC1275

– the Best Canister Steam Cleaner (People's Choice)
See More Images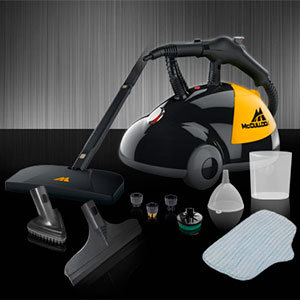 Now, we are going to take a look at the McCulloch MC1275. We spent a week using it and tested it to make sure we can give you accurate information about it. To see its latest price you can check out the link.
It's a portable stamp cleaner that has a whole lot of power. Needless to say, I was really excited to try it out and see what it could do around the house. As you unbox the product it is very easy to put together in just a minute or so.
You can examine 18 accessories that come along with the McCulloch.
Some of accessories it comes with include:
a triangular brush,
a brass brush,
a nylon brush,
a squeegee,
2 mop pads,
a fill cup,
a stick mop head,
and tipped jet nozzle.
These accessories are more than enough to do a wide range of different jobs around the house. You can use the scrub pad to get rid of the stains and debris that bugs, mites, and other pests leave behind.
What's really impressive about this cleaner as the trigger it's very easy to depress. And thanks to the trigger lock you can lock it to keep the steam on all of the time which really saves your hands.
The McCulloch steam cleaner will easily clean most surfaces without having to use chemicals heats. The tank of this heavy-duty steam cleaner is large enough to let you steam continuously for 45 minutes. Its steam temperature is around 200°F which means it can effectively and sanitize a variety of surfaces. Has a range of versatile attachments and it clearly has a beautifully elegant design.
It is also very simple to operate a small and lightweight cleaner but with great performances. Likewise, the steam lasts for quite a long time to mark an important thing is that it comes with a long cord and a hose. This means you do not have to keep unplugging and plugging it back in when you are moving from room to room.
Considering the performances this steam cleaner has 1500 watts, a water tank of 48-ounce capacity, weighs 13 pounds, and it has a 15.7-foot power cord, and it also has a storage compartment for ten of the included accessories.
Specifications:

Tank Size: 48 oz.
Max Steam Time: 45 min.
Temperature: 200°F
Versatile Attachments: 18 accessories
Heat Up Time: 8 min.
So if you are looking for a premium quality steam cleaner that has everything a house needs to keep the house clean then McCulloch MC1275 is your answer. This product has been rated highly by thousands of customers.
If you have any questions related to it please do not hesitate to write a comment.
Pros
Naturally deep cleans and sanitizes with commercial level cleaning
Good performance
Portable and easy to use
Lightweight
Locking steam button
Cons
A little bit noisy
Excessive hot steam, the risk of burn exist
Cannot refill when hot
3.

Sargent Cleaning System
See More Images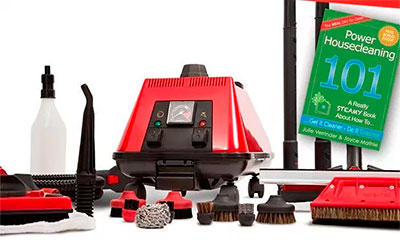 This multi-purpose steam cleaner kills bed bugs as well as germs and bacteria, including the serious disease-causing staphylococcus germs. It can last for more than 20 years. Its multiple attachments help you steam hard-to-reach places. Users have described it as being reliable and easy to use.
Specifications:

Tank Size: 70 oz.
Max Steam Time: 90-120 min.
Temperature: 250°F
Heat Up Time: 10-15 min.
Pros
Powerful cleaning performance uses active steam quickly kills bedbugs
Plenty of water capacity and long steaming period
No chemicals needed
250 degrees steam movement
Excellent quality materials and construction
Quiet operation
Cons
Expensive
Must depressurize to refill
4.

Steamfast SF-275
See More Images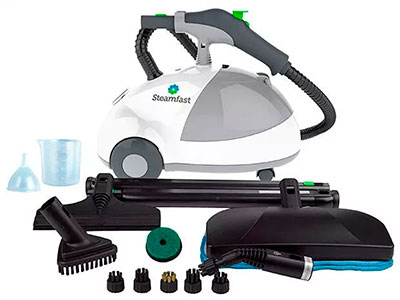 This is an excellent product if you're looking for quality but are on a tighter budget. It heats up in a couple of minutes and gives you 45 minutes of continuous use. Its front casters and large back wheels provide smooth mobility. Steamfast gets rid of pests as well as dirt, grime, and stains.
Specifications:

Tank Size: 48 oz.
Max Steam Time: 45 min.
Temperature: 200°F
Versatile Attachments: 17 accessories
Heat Up Time: 8 min.
5.

Wagner 915
See More Images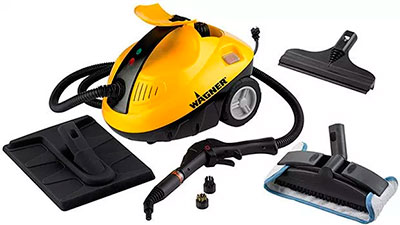 This is also a good low-cost option. It sanitizes your home's surfaces and kills bed bugs and dust mites. It comes with an 8-foot hose and two extension tubes for extended reach. The large tank allows you to operate this steam cleaner continuously for up to 45 minutes. You can adjust the nozzle to control the steam flow.
Specifications:

Tank Size: 48 oz.
Max Steam Time: 45 min.
Temperature: 200°F
Heat Up Time: 12 min.
Pros
Budget-friendly
The level of steam pressure (48 PSI) is excellent for most cleaning tasks
Red light indicator for ready steam
Anti-Bacterial, chemical free
Durable construction
Cons
Doesn't feature a water-level indicator
Long heat-up time
Short power cord
Gets very hot from use
Cheap Handheld Pressurized Steamers Under $50 in September, 2021
If you have a very tight budget, you may have no option other than looking for a cheap steam cleaner for bed bugs. There are several steam cleaners available that are well under $50.
Here are 3 best affordable handheld steam cleaners you can consider buying:
6.

DBTech Steam Cleaner

– the Best Handheld Pressurized Steamer
See More Images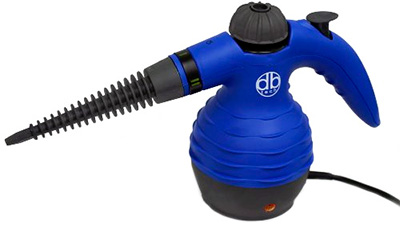 It is great for making your home free from Skin Parasites and Bed Bugs.
Specifications:

Tank Size: 6 oz.
Max Steam Time: 15-20 min.
Temperature: 210°F
Versatile Attachments: 6 accessories
Heat Up Time: 3 min.
7.

SteamShot Hard Surface Steam Cleaner with Natural Sanitization
See More Images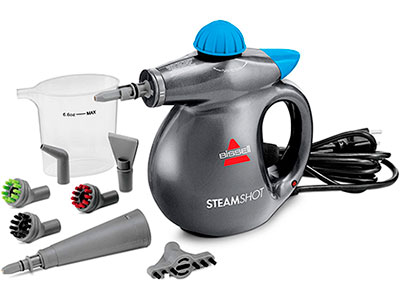 ‌The BISSEL SteamShot Hard Surface Steam Cleaner gives you quick, high-temperature steam with natural sanitization. It warms up in 30 seconds and has enough steaming power for large or small jobs.
The Steam Shot puts out natural sanitization without any harmful fumes or residues, especially good if bed bugs are invading your home!
And after all that hard work, the tank holds 6.6 oz of water so it doesn't need constant refilling – making cleanup even easier breezy.
Specifications:

Tank Size: 6.6 oz
Max Steam Time: 20 min.
Temperature: 285°F
Versatile Attachments: 10 accessories
Heat Up Time: 30 seconds
8.

McCulloch MC1230
See More Images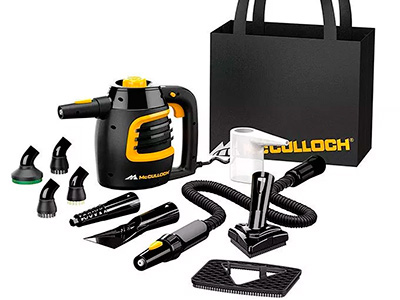 This multipurpose steam cleaner comes with 11 attachments. It has a lockable trigger to control steam flow. The long 15-foot power cord provides plenty of maneuverability.
Specifications:

Tank Size: 6 oz.
Max Steam Time: 10 min.
Temperature: 200°F
Versatile Attachments: 11 accessories
Heat Up Time: 3 min.
Rental Steam Cleaners at Home Depot
It may not be cost-effective for one person to purchase a high-quality steam cleaner. It goes without saying that buying a cheap steamer may mean having to compromise on quality. Fortunately, it's possible to rent steamers.
Steamers are rentable from local hardware stores. You can also rent a machine from membership organizations like social assistance groups and housing cooperatives.
Home Depot is one of the best places to rent bedbugs steam cleaners. The stores have high heat steamers for both residential and industrial applications. They offer monthly, weekly, daily, and 4-hour rentals.
For you to rent a steam cleaner, you'll need to have a valid credit card and government-issued photo ID. You can check for a tool's availability by visiting the rentals section of the Home Depot website or calling your local store.
How Do You Kill Bed Bugs With Steam?
Vulnerability to high temperature is one of the bed bug's true weaknesses. Studies have found that bedbugs die when exposed to temperatures of 120-140°F (around 50-60°C). Steam forms when water passes its boiling point of 212°F (100°C), which is considerably higher than the kill temperature.
A steam cleaner delivers lethal temperatures to the bed bug's hideouts.
The intense heat of a steam cleaner kills these tiny pests as well as their eggs on contact. It can penetrate fabric surfaces up to about ¾" and cracks and crevices up to 2-4″.
A machine has the added advantage of being eco-friendly. It kills bed bugs with just vaporized water, so no dangerous chemicals are required.
Items You Can Steam
A steam cleaner doesn't leave a toxic residue on your items. You can safely use them after the steam treatment.
The steam cleaner can be used successfully on most surfaces, such as:
mattresses,
box springs,
bedding,
furniture,
moldings,
rugs,
carpets,
walls,
floorboards,
ceilings,
cabinets.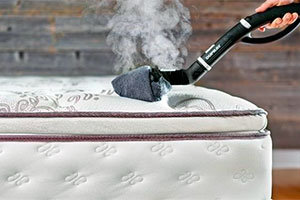 You shouldn't steam electrical outlets and appliances, for example, televisions, stereos, and lamps. Electricity and water make a deadly mix.
You may find it challenging to treat electronics due to their sensitivity to water and heat. One handy option that can help you treat electronics is bed bug strips. Learn more about them here.
How to Use
Your standard machine may not be suited to eradicating bed bugs. There are special steam cleaners that are custom engineered to do this job.
Regardless of how powerful the steamer you purchase may be, it won't work if you don't use it correctly.
Here are some guidelines to help you use the tool safely and more efficiently:
Before you start steaming, thoroughly vacuum the areas you intend to treat. This will make the steam cleaner more effective. Seal your vacuum bag and dispose of the contents outside your house.
Read the steamer's included instructions carefully and ensure you're comfortable using it. This will help you avoid ruining your items, damaging the machine or burning yourself.
Steam all the locations you know or suspect the bed bugs are. Work your way from the top of a room to the bottom. For example, you can start with the drapes and finish with the floorboards.
When possible, steam with a larger head attachment. That's because smaller heads can create a lot of centralized pressure that scatters the bugs instead of killing them. Even better, you could get a machine that has a pressure control valve that allows you to adjust the steam pressure.
Try not to move the steam cleaner faster than 1 inch per second. Keep the nozzle tip about 1-2 inches from the area you're treating.
Allow the surfaces you've steamed to dry completely. Applying encasements too soon can cause mold growth.
Repeat the process if you notice any signs of the bugs.
To kill bed bugs effectively, surface temperatures should reach 160-180°F. You could purchase an infrared thermometer to measure the temperature of surfaces after you've passed the steam wand over them.
As we mentioned earlier, vacuuming can increase the effectiveness of your steamer. So what's the best vacuum for bed bugs? Get the answer in this article.
Here's What You Should Know When Choosing a Steam Cleaner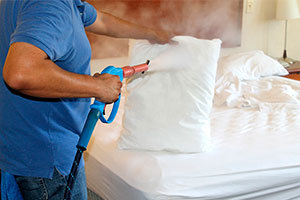 When using steam to eliminate bed bugs, it's important to pay attention to the quality of the steamer. Not all of the steamers that are on the market can effectively kill bugs. So how do you identify a high-quality bed bug steamer?
Here are the things you should consider when choosing a steamer:
Capacity. Capacity and convenience go hand in hand. It's inconveniencing to steam a room while having to refill your steam cleaner with water every few minutes. What's worse, using a machine that requires constant refilling could allow bed bugs to move into a cooler area while you're refilling. A steam cleaner with a large water tank will give you plenty of time to continuously steam an area.
Temperature. The best steam cleaner to use is one that produces steam of around 200°F or more at its tip consistently. This allows it to hit the bugs with a temperature of more than 120°F. A cleaning machine that produces a lower temperature may kill some of these pests, but a significant number will survive.
Control. Some steamers come with functions that give you better control. For example, a pressure knob makes a steam cleaner more efficient by letting you change the pressure of the steam to suit the surface you're treating. For example, mattresses, pillows, and couches would need more steam pressure than carpet, box springs, and wood furniture.
Attachments. You should pay attention to the type and number of attachments that the unit comes with. That's because some attachments are more appropriate for use on certain surfaces. For example, a steam lance will be effective in tight spaces such as cracks, door jams, baseboards, windowsills, and bed frames. A triangle tool will work best on fabric objects such as sofas and mattresses. A rectangle tool is ideal for larger surfaces like walls, ceilings, rugs, carpets, and floors.
Time. If you need to steam large areas or require a quick treatment, you should consider the unit's boiling time. Some steamers will take just seconds to heat water whereas others will take 10 minutes or more.
Don't use a chemical-based bed bug product before steaming. The steam can make the chemicals in the product break down into their constituent parts. Some of the constituents can be very dangerous to your health.
If you choose to use a chemical-based product to eradicate bed bugs, one product you can consider is Raid Max Bed Bug and Flea Killer. Read this to get more information about it.
Questions & Answers
How hot does a steamer need to get to kill bed bugs?
There are two ways to kill bed bugs. Steamers and vacuums with 1000w+ suction power. Both require the device to be set to at least 160-180°F (75-80°C) or higher; vacuum cleaners will need 1000+ watts of suction power. Steam is definitely a more gentle treatment than pesticides, but it's also less effective on its own without the infestation being gone first.
Vacuum cleaners have a range in prices, and any "commercial" grade vacuum cleaner should be able to effectively eradicate bedbugs most just need some extra attachments like an upholstery tool for inspecting mattresses and other areas in a house where bedbugs might have been missed.
Where can I rent a steamer to kill bed bugs?
You can rent a steamer at most Home Depots. Check there for the best deal on all types of equipment, including steamers. Other stores, such as Lowe's or ACE Hardware, are also options if Home Depot does not have what you need.
Alternatively, try Amazon.com for a good selection of bed bug steamers that are affordable and available immediately with free 2-day shipping nationwide.
Can a hair dryer kill bed bugs?
Bedbugs can't survive long at all in a heated environment that's greater than 160-180°F, and so hairdryers cannot kill them.
So, no matter how well you blow-dry your hair, it won't do much for the bed bugs in your house because they like temperatures of 160°F or less.
But don't fret, if you want to eradicate them instead of just sorting out this "hairdryer thing" consider use more intense means, like steamers.
Conclusion
There is a variety of steam cleaners to choose from. These include products for bed bugs from top brands like Vapamore, McCulloch, and Wagner.
Besides the characteristics of the best steam cleaners that we've already discussed, you could also consider several other factors when shopping for a cleaning machine at an online store. For example, you could look at the review ratings and price.
When it comes to price, you should bear in mind that high-quality steamers will not only cost more but also produce superior results. A cheap steam cleaner will save you money initially, but the cost of having to eliminate a recurring infestation after the product fails to deal with the issue adequately can be extremely high.
Using a steam cleaner is a laborious process. You'll need to have the willingness to put in physical effort and time to steam different areas of your home. If used correctly, a steam cleaner can be an invaluable weapon in your bed bug killing arsenal. What's more, it won't put your pets, small children, and anybody else who is chemically sensitive at any risk.
You can find further details of Bed Bugs Control here.