Different Types of Reliable Bed Bug Powder Killers
Bed bugs can lurk in the tiniest hiding places and quickly form vast colonies. So it's essential to act fast after spotting any signs of their presence in your home.
If you don't want the expense of hiring an exterminator, one option you may want to consider is a powder. I've done the hard work for you and prepared a comprehensive review on choosing the best bed bug powder killer.
The 7 Best Bed Bug Powder Products in 2023 Comparison Chart
PREVIEW
PRODUCT

Best Choice




Ortho Home Defense Max

Active Ingredient: 0.05% Deltamethrin
Coverage area: 0.05 lb. per 1,000 ft²




Check Price

People's Choice




JT Eaton Bedbug and Crawling Insect Powder

Active Ingredient: 85% Silicon Dioxide (from Diatomaceous Earth)




Check Price




Safer Diatomaceous Earth

Active Ingredient: 85% Silicon Dioxide (from Diatomaceous Earth)
Coverage area: 1 oz to 5 oz per 100 ft²




Check Price




HARRIS Bed Bug Killer Powder

Active Ingredients: 0.5% Malic Acid, 0.5% 2-Phenylethyl propionate
Coverage area: 2 oz per 100 ft²




Check Price

Best Budget




CimeXa Insecticide Dust

Active Ingredient: 92.1% Silicon Dioxide
Coverage area: 2 oz per 100 ft²




Check Price




Hot Shot Bed Bug & Flea Killer Powder

Active Ingredient: 85% Silicon Dioxide




Check Price




Bayer Tempo 1% Dust

Active Ingredient: 1% Cyfluthrin




Check Price
Bed bugs are a growing problem for homeowners and renters alike, but thankfully, products are available to help.
The best way to get rid of bed bugs is by using insecticide dust that can be applied in cracks and crevices where the pests like to hide. However, it's essential not to use just any product because some powders contain chemicals that could be harmful if inhaled or ingested.
Top 7 Best Bed Bug Powder Killers Reviewed
There are seven great options on the market today with different strengths and prices, so you can find one that fits your needs perfectly. PestKill.org has created this list of the top bed bug powder products and reviews about each product, which will help you decide which one to buy.
1.

Ortho Home Defense Max

– Best Bed Bug Killer Powder (Editor's Choice)
See More Images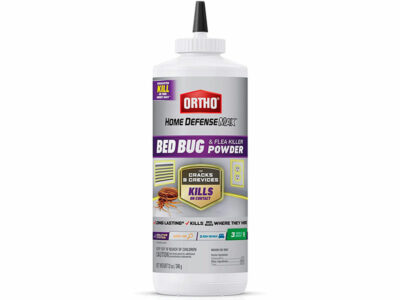 As a blogger for PestKill.org, I've had the opportunity to review many bed bug powders, and it's always been challenging to choose which one is best because there are so many on the market. But now I have found my favorite! Ortho Home Defense Max Bed Bug Killer Powder.
As a homeowner, I love my home. But when I started noticing minor blood stains on the sheets and blankets of my bed, it was time to call in the professionals. They came out to inspect for any signs of bed bugs and found them! Being a homeowner with all the dangers lurking under your feet is not easy.
That's why you need Ortho Home Defense Max Bed Bug Killer Powder every night before you sleep to protect against this most common infestation. With an active ingredient of 0.05% Deltamethrin, its long-lasting control will keep your mattress safe from both eggs and larvae so you can get some much-needed rest without fear or worry about waking up to a bed bug infestation.
How to Use
With an effective chemical, Deltamethrin, Ortho will protect you from both eggs and larvae.
As soon as you enter your bedroom, create a perimeter of Ortho Home Defense Max Powder around your bed on all four corners on both sides of the bed frame and boudoir pillow.
Sprinkle evenly. The amount will be different depending on the site. But usually, about 0.05 to 0.06 pounds of product is needed per 1,000 ft² of surface area.
Reapply every four weeks or as needed for continued protection against bed bugs.
Keep out of reach of children and pets; keep away from heat or flame. Store in a cool, dry place below 120°F (49°C). Please do not use it on clothing, carpets, or flooring materials sensitive to oily powders. If the powder gets onto fabric surfaces, it may be difficult to remove without staining the material, so avoid contact with fabrics if possible when applying product around your home.
Pros
Prevents bed bug infestations.
Easy to use.
Will protect you from both eggs and larvae.
Get a good night's sleep knowing your mattress is safe from bugs!
Cons
Can get on fabrics, may stain.
Only active ingredient is 0.05% Deltamethrin which some people may see as too low for the price.
2.

JT Eaton Bedbug and Crawling Insect Powder

– Best Powder to Kill Bed Bugs (People's Choice)
See More Images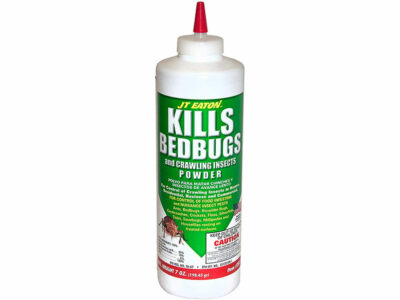 We all know that bed bugs are a big problem in the US. They're not only tough to get rid of, but they can also carry diseases like malaria. And if you live in one of many large cities with pests, you may have seen an increase in these little critters lately. But don't worry – there's help! With JT Eaton Bedbug Powder, you can kill bedbugs quickly and easily without using harsh chemicals or pesticides.
The product is made from 85% Silicon Dioxide (from Diatomaceous Earth), which absorbs fluids from insects, leaving them to dehydrate. It also comes with a convenient puffer bottle for easy application, so it's perfect for people who want to get their house treated but are afraid of the harmful effects that other chemicals can have.
JT Eaton Bed Bug Powder deactivates the critters by attaching itself to the insect's exterior, ultimately dehydrating and killing the bug.
The JT powder contains natural ingredients with zero resistant strains to this efficient and natural killer powder:
It's made from Diatomaceous Earth elements.
It is purely organic – kills even resistant bedbugs.
Kills for an indefinite period as long as it stays dry.
Treat all cracked areas around your walls to prevent bed bugs from laying eggs.
How to Use
Shake well before using – remove cap & point away from the face while pressing the actuator to release powder in the desired location.
Only One treatment is required as long as the surface remains dry.
This product works excellently on contact directly with the bugs. It can be used as needed for infestations or to prevent these troublesome pests, whether in your bedroom, office, kitchen – anywhere that bedbugs may try to take up residence! It is an easy application process with no harsh chemicals or pesticides, making it safe around kids and pets. It also contains no foul odor like most other bug sprays, so if you have little ones running around, they won't even notice.
What areas would benefit from treatment?
Treatment of furniture (mattresses/couch), carpeting/flooring, cracks & crevices is per label instructions, but any area of your home that these bugs may try to hide is a good place for use.
Compared with sprays with harsh chemicals and pesticides that can leave harmful residue, bed bug powders are an easy-to-use alternative without any of those issues. They work great when trying to treat as per label instructions.
Is this product safe for me and my family? Yes! The active ingredient in this product, Silicon Dioxide (from Diatomaceous Earth), absorbs fluids from bugs leaving them to dehydrate. This powder is safe and will leave no residue.
It is safe for use around kids, pets, or livestock – but not directly on animals! The application directly onto animals or their living areas (i.e., bedding) should not occur as they can lick off powders and develop health problems; however, there are products available in our review for immediate treatment on animals if you need something more specific than just diatomaceous earth!
Pros
Kills bed bugs on contact without harsh chemicals or pesticides.
Safe for you and your family.
This is an easy application process with no harsh chemicals or pesticides, making it safe for little ones running around.
Sleep soundly, knowing that your home is safe from these pests.
Cons
Must often be applied to high-traffic areas for best effect.
3.

Safer Diatomaceous Earth
See More Images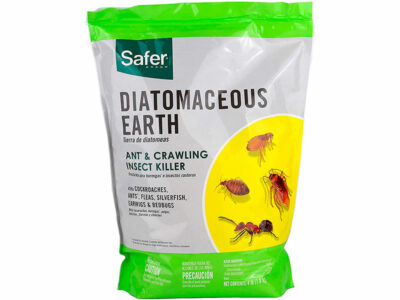 Safer Diatomaceous Earth is a product that has been in the market for over 100 years, and it's still just as effective. The main active ingredient, silicon dioxide (from diatomaceous earth), is an all-natural insect killer. Safer Diatomaceous Earth kills insects by ingestion/dehydration within 48 hours. Because these insects cannot develop immunity to this product, you will never need to worry about becoming immune or resistant to it. This product also comes in a resealable bag, so there's no mess when you're applying it!
It's all-natural and organic.
Kills insects without any harsh chemicals.
You can sleep soundly, knowing that you're not harming the environment by using this product.
How to Use
Use an applicator to spread diatomaceous earth along cracks, furniture along window seals and mattress seams, behind home appliances, and door jams.
Safely Remove all electrical connections and use the applicator to spread the DE powder behind electrical outlets and switches.
Treat your bedding and mattresses with a fine layer of DE and spread it across the insides of your bedroom furniture and carpeting using your hands.
This is not food, don't eat it – it will harm your health if you do.
You can use either inside or outside – safer diatomaceous earth can control many pests in both areas.
If the Diatomaceous Earth becomes wet, reapply to keep active ingredients from being washed away by rain, water, or snow.
You should try to apply the diatomaceous earth directly where insects are hiding to get the best effect on them while also avoiding contact with humans and animals who might inhale or ingest it.
The safe diatomaceous earth will keep working for months, so don't worry about the product losing its effectiveness.
I hope this helps with your DIY pest control needs! If you have any questions, please feel free to ask me in the comments below.
4.

HARRIS Bed Bug Killer Powder
See More Images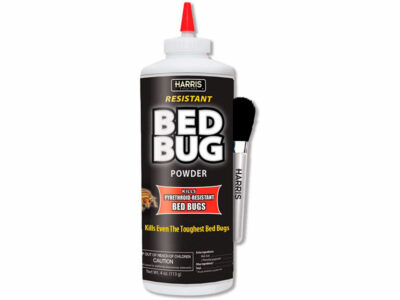 One of HARRIS Bed Bug Killer Powder's main features is that it contains Malic Acid as well as 2-Phenylethyl propionate, both of which are active ingredients in killing off bed bugs. It also has an application rate of 2 oz per 100 ft², making it easier than ever to get rid of those pesky critters without being wasteful with your product or taking up too much time trying to spread it across your floorboards properly. And lastly, it has a long-lasting effect, meaning that once the powder is applied, you won't need to worry about reapplying it or having an unhygienic environment for months.
For those homeowners looking for a quick way out from infesting themselves with pesky insects, this could be the option they're looking for control!
How Does It Work
When the insects come into contact with it, they begin to die within 48 hours or less from initial contact – no need to reapply for months, as the powder has a long-lasting effect. The Harris powder also helps homeowners by allowing them to use various methods – puffer tip for deep crevices, brush for hard surfaces.
Pros
Easy to apply – 2 oz per 100 ft² means you can quickly and easily do a whole room without wasting product or time!
Long-lasting effect – No need to reapply for months.
Cons
It is only effective on contact, meaning you must ensure the bugs come into contact with it. This action can be sometimes difficult considering they like to hide in all kinds of weird places!
There are no "natural" options for HARRIS Bed Bug Killer Powder that work as well as this one at killing off those pesky critters.
5.

CimeXa Insecticide Dust
See More Images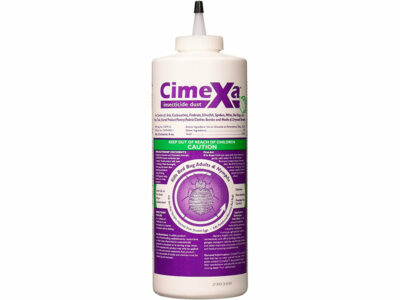 The CimeXa Dust Insecticide is specifically designed for eradicating bed bugs quickly and thoroughly with minimal effort required on behalf of homeowners. This formula makes it perfect for people with difficulty using other products due to physical limitations like arthritis or age-related disabilities like reduced mobility or lack of skill in their hands. CimeXa Dust Insecticide has been proven effective against various strains of bed bugs, including strains resistant to pyrethroids and neonicotinoids, making it the perfect product for anyone facing a bed bug infestation.
CimeXa Insecticide Dust is odorless when in use. However, it may have a highly faint smell of diatomaceous earth that dissipates rapidly after application leaving behind only its active ingredient, which quickly kills any insects unfortunate enough to come into contact with it. This property makes CimeXa Dust Insecticide especially useful in occupied buildings where residents are known to be sensitive or allergic to everyday household items like perfumes or colognes.
The standard usage rate is two ounces per 100 ft² so one container will cover approximately 200 ft², but this can vary depending on pest density and size of the infestation.
As with any diatomaceous earth product, you should always wear a dust mask when applying it to avoid inhaling harmful particles that may irritate your respiratory tract or lungs. It is also wise to protect yourself against contact by wearing gloves and protective clothing before applying CimeXa Insecticide Dust, which includes long sleeve shirt, pants, socks, shoes, eye protection, and goggles or safety glasses.
CimeXa Insecticide Dust kills bed bugs quickly after they come into direct contact with the active ingredient on surfaces like mattresses, floors, carpets, baseboards even upholstered furniture. This property makes it an excellent choice for use inside homes and commercial buildings, where its residual action will kill insects for up to six months after the initial application. CimeXa Insecticide Dust is a dry powder and consists of 100% diatomaceous earth, which makes it safe for use around food, in nurseries, and in any other areas where children or pets may be present. Still, you should always take care when applying pesticides near them, even if they are considered pet-safe by the manufacturer.
How to Use
Pros
Kills bed bugs quickly.
Residual action will keep killing insects for up to six months after initial application.
No need for additional products like sprays, best bed bug traps or powders. – Keeps your home safe and pest free without any residue on surfaces that can harm you or your family.
Cons
Requires special equipment like a dust mask, goggles, and long sleeve shirt pants.
6.

Hot Shot Bed Bug and Flea Killer Powder
See More Images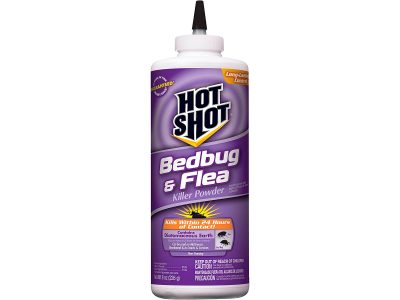 Hot Shot Bed Bug Powder is made for use in wall voids, on carpet tack strips, and on carpet edges. The product contains 85% Silicon Dioxide which kills bed bugs by contact. It is designed for indoor use only and should not be used in areas where food or drink is prepared, served, or eaten.
The active ingredient kills the pesky pests by contact, so they cannot lay eggs to worsen your infestation. This powder comes with a convenient shaker top that will allow you to sprinkle it evenly throughout the area needing treatment. The powder also has an easy-open flip-top lid making it easier to get at when you need it quickly without having to fumble around looking for something sharp like scissors or a knife that will ruin the powder.
The product comes in an 8-ounce container and is available at many retailers nationwide, including Home Depot, Walmart, Target, Lowes, etc. It can be used around the house on carpets and mattresses for quick relief from an infestation or to help get rid of them once you have found where they are coming from.
Use HotShot powder bedbug killer to treat large household items.
Hot Shot has a rating of four out of five stars by consumers who say it works quickly and effectively with no mess left behind after using the powder properly. The only complaint that some people had was that there wasn't enough in one container to do more than spot treat, so if you need larger areas treated, this may not be your best choice, but otherwise, it's an excellent powder for eradicating nasty pests.
This product is highly recommended and is an excellent choice if you don't want to use chemicals like sprays or dust that could harm your family. Still, it doesn't mean they won't affect pets either, so keep them out of reach of both areas after treatment until all powder has settled.
How to Use
When you want to use Hot Shot Powder, you'll need to remove the protective cap and snip off the end of the applicator. Replace the protective cap after use and ensure appropriate ventilation to avoid breathing in any of the powder's particles. It's a good idea to wear a dust mask when using this product because it could cause prolonged exposure otherwise.
Pros
Kills the pesky pests by contact.
The product comes in an 8-ounce container, which suits most people's needs.
Comes in a convenient shaker top that will allow you to sprinkle it evenly throughout the area needing treatment.
Keeps your family safe from harmful chemicals like sprays or dust.
Cons
The product may not be strong enough to kill all bugs in larger areas.
7.

Bayer Tempo 1% Dust
See More Images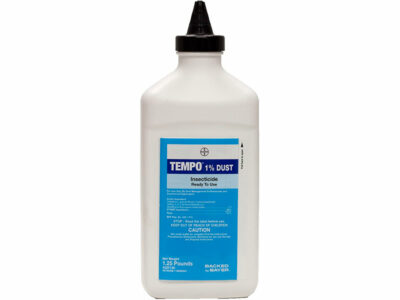 Bayer Tempo 1% Dust Powder is made from a pyrethroid and has 80-100% efficacy in eliminating bed bugs. Tempo bed bug powder provides a fast kill and leaves a residual that lingers for up to 30 days, killing the bugs. Tempo powder has no odor and leaves a clear residue.
Tempo is a moist powder concentrate mixed with water and used with a hand pump sprayer. Once applied, Tempo dries up, leaving a residual of the active ingredient for bedbugs to make contact with for up to 90 days. Tempo powder is a better outdoor treatment as a rapid killer of crawling insects. Tempo powder leaves a white film that's visible in dark places.
How to Use
To mix Tempo powder:
Fill your sprayer bottle halfway with water.
Add a considerable amount of the powder and allow it to dissolve for about two minutes.
Shake your applicator to agitate the entire powder content into a smooth liquid mixture.
Use this mixture around surfaces, cracks, and holes in the structures such as beds and furniture in your home.
Reapply every seven days until all the bugs die out.
Also, apply in areas where bed bugs find shelter behind landscapes, wall hangings, or in the curtain box.
Bayer Tempo 1% Dust is also ideal for commercial properties such as hotels, restaurants, public buses, cafes, hospitals, and residential homes.
Pros
Cyfluthrin acts as a neurotoxin.
Long-lasting.
Can remain active in moist environments.
Ideal for void treating.
Cons
Tempo 1% Dust Powder can be messy to use.
Potentially unsafe for children and pets if not properly applied.
What is the Best Bed Bug Powder Killer in 2023? – Your Expert Buyer's Guide
Once you have confirmed the habitation of bedbugs in your home, begin the process of elimination with bed bug powder treatments. Remove your bedding and other items that may contain hidden critters, such as clothes and seat covers. After that, get a bed bug powder killer.
Most bed bug powders do not contain any toxic chemicals and are safe to use around kids and pets in the home. Before sprinkling bed bug powder around your home, read the label to understand the mode of application. Once bed bugs encounter the powder, it works by layering the top outer part of the bug and consequently killing them through dehydration.
Finding an Effective
The market has numerous methods and processes for eliminating bed bug infestation. Some people prefer natural methods such as steaming the infested fabrics or tea tree oil for bedbug removal.
If your house has numerous bed bugs, it means that there could be thousands of eggs laying more bugs by the hour. In such a situation, you can hire a professional team of pest exterminators to treat the infested areas with an effective bed bug powder. Alternatively, you can also perform a complete baking soda for bed bugs powder treatment on your own, as this is a safe and natural method to use privately.
Most common bed bug powders are non-hazardous and are safe to use near children and pets but lethal to bed bugs. Powder treatment is simple to use. It kills bed bugs by drying out.
For areas with intense bed bug infestations, a
fogger
may come in handy. Dismantle the bed, and prop the mattress high against the wall. Treat the entire room, including the mattress, and close your room for at least 3 hours.
Boric Acid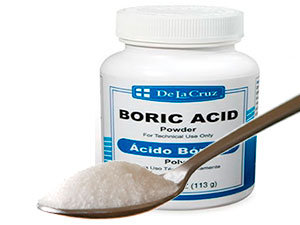 The process of eradicating bed bugs is extremely arduous. When your home is heavily infested, your family members suffer sleepless nights due to constant biting from the menacing critters.
Boric acid for bedbugs has proved to be one of the most reliable methods of bug removal. The boric acid powder is made from boron, a mined raw material, and water.
Boric acid is absorbed into the bug's system, and the poisonous substance kills the nervous system paralyzing the bug. Most appropriate to use in residential homes, commercial buildings, and office buildings.
Does Baby Powder Kill Bed Bugs?
Talcum baby powder provides a drying effect to bedbugs as an eliminator, but it does not have the potential to kill them entirely effectively. It offers temporary relief but does not solve the bug problem. It is not as lethal as DE, dehydrating the critters more efficiently. Therefore, yes, the baby powder may likely kill some bugs but not entirely.
Diatomaceous Earth
To quickly locate bed bugs, unfold your mattress and furniture seams and places already smeared with your blood or the fecal residue left after a night of feasting.
If you don't want to risk using chemicals to eliminate the bugs, one option you can consider is Diatomaceous Earth. DE powder is one of the market's most popular, effective bed bug killer powders. It is organic and easily obtainable in stores. You can also use the powder to treat the bedbug-infested areas in your home.
Diatomaceous Earth has been gaining popularity over the years. But make no mistake, this product can only be of great assistance if you understand its important details such as what it is, how it works, and its potential limitations.
WATCH OUT!
Bed bugs like to dwell in warm places and often prefer to fester in furniture, bedding, carpets, and clothing. They also prefer to hide in mattress crevices near the edge of the bed so they can quickly attack their prey in the dark.
Does Diatomaceous Earth Work?
Diatomaceous earth, commonly referred to as DE, is a dust-like powder. It's a naturally occurring substance that consists of the fossilized remains of sea creatures known as diatoms. The bodies of these diatoms are primarily made of silicon dioxide.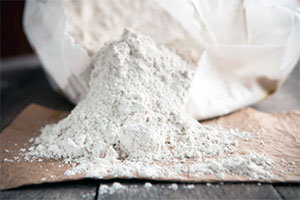 DE is widely used as a natural pesticide. It can naturally kill household pests such as ants and bed bugs. It's cheap in comparison to other bed bug treatments on the market.
The particles of DE have microscopic razor-sharp edges. When a bed bug makes contact with them, they lacerate its exoskeleton. Once the exoskeleton is damaged, the DE absorbs the bug's bodily fluids. Eventually, the pest dies of dehydration.
Bed bugs can't become resistant to diatomaceous earth.
DE is non-toxic and chemical-free. It has a physical mode of action. Therefore, bed bugs can't adapt or become immune to it. It works unremittingly without losing its power.
How Long Does It Take To Work on Bed Bugs?
DE works by turning the bug's body against itself so it doesn't make an immediate kill. And in addition to that, the DE works only after the bed bug comes into contact with it. Most probably, not all the bugs will touch the powder in the first few days.
For those reasons, it can take 7-17 days to kill bed bugs. It can take a whole month to deal with the pest problem if you have a severe infestation.
Although DE is slow acting, its results are long-lasting and effective.
Buying DE
You may come across many products made of diatomaceous earth. However, not all of them are organic DE. You must ensure you buy the right DE product for bed bugs to avoid leaving behind toxic residues after application.
There are two main types of diatomaceous earth:
Food-grade DE,
Pool-grade DE.
Food-grade diatomaceous earth is the type you use on your garden and pets. On the other hand, pool-grade DE is used in pool filters.
Which Grade of de Should I Buy?
It would help if you always went for food-grade DE whenever you want to use diatomaceous earth inside your home. That's because it's safer for the two around your kids, plants, and pets. It won't cause any problems if ingested.
Your cat and dog will be fine if they lick the food-grade DE off their paws. Similarly, nothing will happen to your kids if they find it sprinkled on your floor and intentionally lick it.
Fun fact
Did you know that DE is mainly made of silica, which mammals need in small quantities for optimal health? It's an essential component of cartilage, ligaments, and musculature.
Some people take diatomaceous earth as a supplement.
Food-grade DE can irritate your respiratory system if you inhale it in large quantities. Follow basic precautions such as wearing a dust mask or respirator and clothing covering as much skin as possible, especially if treating a large infestation.
You can easily find diatomaceous earth at local health supplement stores, gardening stores, and online.
What Do Reviews Say
When considering purchasing a product for the first time, one way to avoid making a mistake is to check the user reviews beforehand. To make things easier for you, I've checked numerous reviews.
Here's a summary of the reviews.
Positive Reviews
Most DE users have nothing but praise for the product. Thanks to it, they've permanently gotten rid of bed bugs. Some other factors that have impressed these users are the product's low cost and its non-toxicity to pets.
While some customers could eliminate the bugs after a few days, a good number of them had to reapply the product every few days or weeks before successfully solving their pest problem.
Negative Reviews
The main complaint of the negative reviewers is the product's inability to kill bed bugs quickly. They are unimpressed by the fact that the bugs continued to live even after coming into contact with the DE dust.
A few of these reviewers didn't like how dusty the product made their belongings.
If you prefer using a fast-acting bed bug solution, you may want to consider pesticides. Go here to learn about the best pesticide for bed bugs.
Using DE
The secret to using DE on bed bugs is applying it in the areas where bed bugs hide or are forced to crawl through. Also, you shouldn't apply large mounds of powder. That will only make these annoying pests walk around them. Make sure you use it in such a manner that it forms a beautiful film.

Don't vacuum a room soon after application. That will make the diatomaceous earth ineffective.
Vacuuming is an integral part of most bed bug eradication methods. So which is the best vacuum for bed bugs? Find out here.
Let's now look at how you should use the DE to get rid of bedbugs.
Procedure for treating bed bugs with DE:
Wash all your clothes, bedding, and linen in hot water. If possible, add some Clorox together with the soap.
Dry the items with the dryer set on the highest heat setting. Seal the bedding and clothing you're not using and keep them away from the infested areas.
If possible, use a steamer on your box spring, mattress, cushions, and other parts of your furniture that you can access. DE works well with heat treatment. If you can't get a steamer, simply vacuum your entire home. Pay attention to the carpet and furniture frames and seams. It's best to dismantle the furniture before vacuuming and reassemble it after you're done vacuuming.
Pull your bed, shelves, dressers, and everything else away from the walls if possible. This will allow you to reach the areas you want to apply DE on easily.
Using your hands or a dusting applicator, lightly dust some DE to the following areas:
Apply thin dust to the box spring and mattress on all sides.
Apply to the ridges of cushions and under them. Apply to the sides, inside, and legs of furniture. Also, apply to the legs of your bed.
Put some of the product behind electrical and light switch face plates using a pistol dispenser.
Apply some DE to the front of baseboards.
Work the product into the crevice between the floor and the wall and where the molding and wall meet.
If you have wall-to-wall carpeting, apply the DE around the edges where the wall and carpeting meet.
Reapply the product to the same areas for seven consecutive days. Once the bed bugs are gone, you can clean the DE off all spots you treated.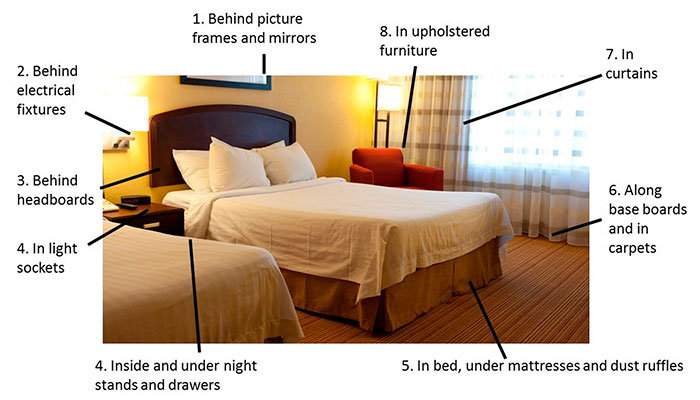 Now that you have the essential information on diatomaceous earth, you can decide whether to use it. The product will kill bed bugs but will need your patience. You can also use it with other effective extermination techniques, such as steam cleaning, to make bed bugs a thing of the past.
How to Use Bed Bug Killer Powders
Bed bug powders are the most commonly used treatments for bed bug control. As mentioned earlier, residual bed bug powders work by sticking on the bug's oily exoskeleton, absorbing the moisture on their thorax and causing them to dry out and eventually die.
Safety Preparation
Prepare for the powder treatment by wearing safety gloves, a dust nose mask, and protective eye goggles. The bug powder emits huge smoke of dust, which may irritate your nose, eyes, and throat.
How to Apply Bed Bug Powder:
Cut off the synthetic cover to expose the small opening.
Turn the container upside down; make sure the nozzle tip is close to your target area of application.
Give the powder treatment bottle a slow, gentle squeeze to avoid spilling hoards of powder in a huge puff.
Repeat this exercise in short intervals to ensure the entire surface receives an even application.
Crack Powder Treatment
As discussed earlier, your powder application must focus on all the crevices and cracks in the infested rooms. Bugs like to hide in the most obscure places away from their prey. Carefully apply the powder treatment on baseboards, floorboards, and carpeted areas near the edges where the bugs crawl on the way to the coveted prey. They are the transit spots for the notorious bed bugs, and the lethal bed bug powder best suits the delicate spots deep in those spaces that other treatments cannot easily reach.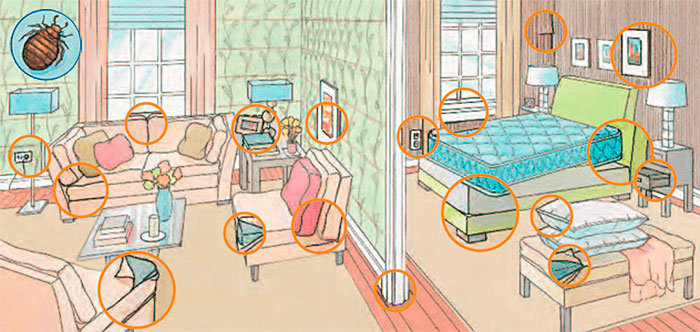 Some active powder treatments, like the Ortho Home Defense Max Powder, have an inbuilt applicator for easier manipulation.
There are numerous dust treatments with built-in nozzles. The best part about using a professional bed bug powder applicator is that it releases tiny amounts of powder instead of the large quantities released with regular bottle powders without a custom-made nozzle.
Wall Voids and Other Critter Hideouts
Bed bugs also hide within walls, underneath warm appliances, and in furniture joints, mainly wooden furniture. Before using any powder treatment, read the label to follow the strict application instructions. To reach the deep walls, unscrew the faceplates, and apply a generous amount of powder behind the electrical faceplates and the light switches.
This treatment method is ideal for trapping the bed bugs hidden deep into the wall, crawling between rooms in your home.
Stores to Buy Bed Bug Killer Powder
The most popular bed bug powder killer brand on Amazon is the JT Eaton Bedbug and Crawling Insect Powder. It's most preferred for the harmful but human safe ingredient DE, which comes in a 7-Ounce container.
Walmart stores have a variety of bed bug killer solutions, from powders and sprays to bed bugs and flea floggers, among other insecticides known to kill bed bugs instantly. At Walmart, you will find bed bug powders such as the HotShot Bed bug Powder.
Walgreens stocks Harris range of bed bug powder killers and also HotShot Bed Bug and Flea Fogger.
Conclusion
Bed bugs are a common problem for homeowners. Knowing how to get rid of them is essential because they can cause significant problems, especially when you have children or pets
If you're looking for bed bug powder products that will kill these pests quickly and safely while keeping your family safe from harm, our list has some great options available.
And Ortho Home Defense Max is arguably the most preferred bed bug powder by most Amazon shoppers. It effectively kills tiny Bedbugs hidden in the most unusual places. Ortho powder kills bugs by absorbing the moisture on the critter's bodies, leaving them to dry out and die. The powder killer comes in a Puff bottle designed with a thin nozzle for easy application.
Bed bugs can crawl in several other places besides your bed. Couches, cushions, and upholstery on your floor rags are all possible hiding places. If the invasion has spread severely in your home, call pest control professionals to exterminate the infestation and provide guidance on future preventative methods.
We hope this helps!
You can find further details of Bed Bugs Control here.