Top 5 Vacuums for Bed Bugs, and Choosing the Best One
Every major retailer seems to carry vacuums, so which ones are good enough for bed bugs? You don't want to mess around; getting something good for this kind of job is essential.
Here's Top of Best Vacuum for Bed Bugs in 2023 you'll find for it:
PREVIEW
PRODUCT

Our Top Pick




Shark Navigator Lift-Away Deluxe Upright Vacuum Cleaner

Power: 1200W
Air Flow: 58 CFM
Noise Level: 77 dB




Check Price

Best Budget




Atrix Lil Red Canister HEPA Bed Bug Vacuum Cleaner

Power: 1200W
Air Flow: 71 CFM
Noise Level: 79 dB




Check Price

Also great




Kenmore Bagged Canister Vacuum

Power: 12A dual-motor system
Air Flow: 67 CFM
Noise Level: 73 dB




Check Price

Best Backpack




Atrix ERGO Backpack Vacuum

Power: 1400W
Air Flow: 106 CFM
Noise Level: 72 dB




Check Price

Best Handheld




Housmile Corded Handheld UV Vacuum Cleaner

Power: 350W
Suction Power: 8.5KP
Noise Level: 70 dB




Check Price
What is the Best Vacuum for Bed Bugs? – Buyer's Guide
Bed bugs are a nasty problem. They come in huge numbers, multiply quickly, and can be hard to spot. Hiding in tiny cracks and crevices, they can be found in places like your mattress, box springs, couches, armchairs, and even piles of clothing.
Their bites are nasty, leaving red, irritating bumps anywhere your skin is exposed at night while you sleep. And this issue doesn't only happen to messy people the cleanest homes can be susceptible to bed bugs.
While insecticides and other chemical sprays do the job of killing them, there are different ways to get rid of your infestation. One way you can do this is with a bed bug vacuum cleaner.
But with all the products out there, which one is the best? Most brands will claim theirs is, so how do we know? After much research, some products stand out more than others. And the winner is SharkNinja Navigator Lift-Away Deluxe NV360 Upright Vacuum Cleaner.
See More Images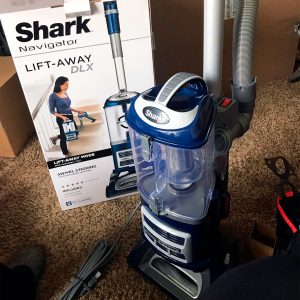 The feature that stands out about this Shark Navigator is its power. Because bed bugs are very good at clinging to fabric, they can be hard for any vacuum to pick up, so you'll need one with a strong motor.
Shark Navigator NV360 canister vacuum cleaner is a powerful and versatile machine. It has the power to deep clean carpets and tackles bare floors with its powerful suction. The vacuum also features Anti-Allergen Complete Seal Technology, making it perfect for households with people who suffer from allergies, asthma, or other respiratory conditions.
This canister vacuum comes with attachments and uses a large capacity bagless dust cup and a HEPA filter to trap dust and allergens, which is great for dust mites and bed bug control. Also, it includes a detachable canister for smaller jobs.
The Shark Navigator NV360 vacuum cleaner is best suited for pet owners as it includes an array of attachments that make cleaning up pet hair easy like the upholstery tool.
Specifications:

Power: 1200W, 120V/60Hz, 10A
Air Flow: 58 CFM
Noise Level: 77 dB
HEPA Filtration: Yes

Canister Capacity: 1.2 gal.
Product Weight: 12.5 lbs. (canister alone is 7.5 lbs.)
Cord Length: 25 ft
Pros
Powerful suction that deep cleans carpets and tackles bare floors.
Includes attachments for pet owners.
Keeps your home free of allergens, asthma triggers, dust mites, and bed bugs.
HEPA filter traps dust and allergens.
Cons
Noisy.
Lack of attachments for furniture and hardwood floor cleaning.
2.

Atrix AHSC-1 Lil Red Portable Vacuum Cleaner

– Best Vacuum with Large Canister
See More Images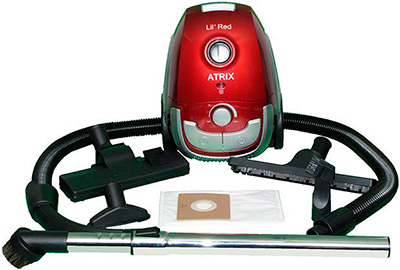 This is a smaller-sized canister vacuum that is light enough for you to carry around the house with you, yet carries a strong 1200-watt motor of cleaning power-producing 71 CFM.
It uses 3 stage filtration – one 1,2-quart HEPA bag which is disposable, along with a premotor and exhaust filter that is designed to be washable and reusable.
The Atrix Vacuum Cleaner comes with many attachments, so it can be used in any circumstance without needing another tool or appliance. It also comes with a 6′ hose and telescopic extension wand, so you can clean those hard-to-reach areas, too. That makes it perfect for cleaning furniture, stairs, floors, and carpets.
The Atrix Lil Red Canister Vacuum Cleaner is a powerful and affordable vacuum cleaner with many features to make your vacuuming experience more efficient. However, some customers have reported that the canister vacuum is prone to tipping over, and it can be quite loud. Despite these drawbacks, the vacuum cleaner is still a great choice for those looking for an affordable and versatile option.
Specifications:

Power: 1200W, 120V/60Hz, 10A
Air Flow: 71 CFM
Noise Level: 79 dB
HEPA Filtration: Yes

Tank Capacity: 0.5 gal.
Product Weight: 6.5 lbs.
Cord Length: 16.5 ft (Retractable)
Pros
1200-watt powerful motor cleans 71 CFM.
Comes with many attachments for any circumstance.
The Atrix Lil Red is easy to carry around the house, making it perfect for quick cleanups on the go!
Cons
Prone to tipping over.
Loud.
According to some opinions, the vacuum cleaner looks like it is cheaply made.
3.

Kenmore 600 Series

– Best Pet-Friendly Vacuum Cleaner for Carpet Bed Bugs
See More Images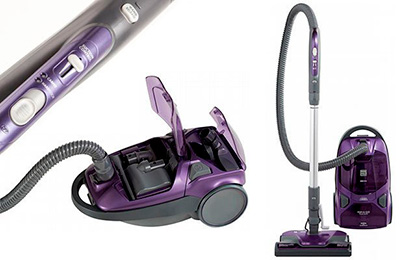 Kenmore 600 Series is the best bugged canister vacuum cleaner for pet hair.
It provides a triple HEPA filter system that traps dirt and carpet bed bugs while ensuring powerful suction to get the job done. This unit comes with a bare floor tool, dusting brush, and crevice tool.
Kenwood features an aluminum telescoping wand, which lengthens from 10′ to access those difficult areas. And with its lightweight at 22.6 lbs, it will be easy to carry around as well as a store within your home or garage without taking up too much space.
Specifications:

Power: 120v 12A dual-motor system
Air Flow: 67 CFM
Noise Level: 73 dB

HEPA Filtration: Yes
Product Weight: 22.6 lbs.
Cord Length: 28 ft (Retractable)
Pros
The unit's triple HEPA filter system captures dirt and carpet bed bugs.
Aluminum telescoping wand lengthens from 10′ to access difficult areas.
Excels in high suction power.
Your home will be pet hair free with this vacuum cleaner.
Cons
It is heavier than other vacuum cleaners on the market.
4.

Atrix ERGO

– Best Backpack Vacuum Cleaner
See More Images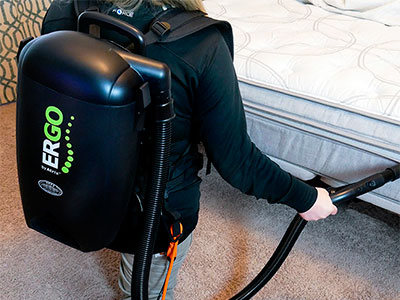 What's more convenient than wearing a vacuum on your back? Atrix ERGO is a HEPA filtration backpack vacuum that you can wear on your back and walk around with! It is lightweight, easy to use, and a fantastic choice for anyone who has bed bugs.
Atrix ERGO Backpack Vacuum comes with tons of attachments, which means it's perfect for cleaning up any messes in your home quickly and efficiently. This product has some incredible features such as 106 CFM of airflow, and it weighs 10.3 lbs.
Plus, the 8-Quart HEPA filter safely captures all those pesky small particles, making it a great choice for those who have allergies. So you don't need to worry about them floating around in the air again.
Specifications:

Power: 1400W, 110V, 12A
Air Flow: 106 CFM
Noise Level: 72 dB
HEPA Filtration: Yes

Tank Capacity: 2 gal.
Product Weight: 10 lbs.
Cord Length: 10 ft (Retractable)
Pros
It can be worn on the back, making it perfect for those who have bed bugs.
Comes with tons of attachments to clean up any messes in your home quickly and efficiently.
Keeps weight centered on the body, preventing unnecessary strain or injury.
The user can also swap hand orientations with ease.
Cons
The Ergo backpack vacuum is heavy and can get uncomfortable.
It can be difficult to use attachments on the go.
5.

Housmile UV Light

– Best Budget Handheld Vacuum Cleaner for Bed Bugs
See More Images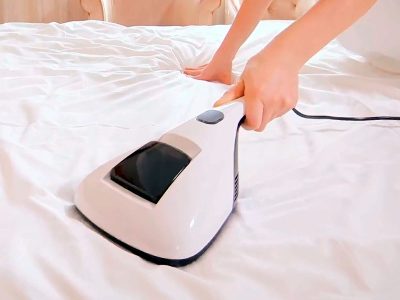 The Housmile UV Vacuum Cleaner is a low-power and high-performance handheld vacuum cleaner, that has a UV light and a rotating brush. That will help kill all dust mites germs, bed bugs, and everything like that in your mattresses or your pillows or your furniture rugs.
It is corded and handheld, making it easy to use and maneuver. Additionally, Housmile UV Vacuum Cleaner features an intelligent electronic control induction system that prevents leakage (trust me – this is one handy device!).
With its low power consumption (so you don't need to worry about ruining your battery), corded handheld design (no more running out of juice halfway through cleaning!), this handheld vacuum cleaner is perfect for any household or apartment where bed bugs might be lurking in the darkness.
Specifications:

Power: 350W, 120V/60Hz
Suction Power: 8.5KP
UV Light: 253.7nm / 16W
Noise Level: 70 dB

HEPA Filtration: Yes
Tank Capacity: 0.05 gal.
Product Weight: 4.7 lbs.
Cord Length: 13 ft
How Does It Work
There's a vibrating motor that rotates and bed bugs are brought close to the surface from the bed, and then they're exposed by the UV light. And the high heat produced by the UV light tube kills them almost instantly. So once bed bugs are dead, the handheld vacuum sucks them into the attachment.
You should use this at least once a month to keep dust mites and bed bugs away.
Pros
Corded handheld design.
Low power consumption.
Easy to clean.
Cons
There is no way to effectively kill dust mites or bedbugs with the temperature stated (40 °C).
The handheld vacuum cleaner is corded, which can be a con for some people.
Can You Get Rid of Bed Bugs by Vacuuming?
If you've got bed bugs, picking them out one by one with your fingers isn't going to be an option. And even though sprays do work, you'll still want to be able to get rid of the dead bugs sitting around your home. This is where a vacuum comes in.
So when you're dealing with bed bugs and trying to think up a treatment plan, consider vacuum cleaners. Not only do they pick the insects right out of your furniture, but they're also fast, convenient, and get the job done.
Best vacuums use a high amount of suction to bring up dirt and debris from a floor. It can suck even tiny particles out of carpet fibers, including insects.
Bed bug eggs are the hardest to vacuum up.
When it comes to bed bugs, the concept is easy: suction them up off of a surface and out of your home. It's also a good way to get rid of their eggs and fecal matter – a huge step in controlling your infestation. But since not all bed bug vacuums are created equal, you'll need to choose wisely.
With so many sprays on the market, it can be hard to trust which one will give you results. Click here to learn more about the best pesticides for bed bugs.
While bed bug sprays work well, there are areas you can miss. This is where a fogger can help. Go here for more details on bed bug foggers.
How to Vacuum Up Bed Bugs
It's not as easy as running a vacuum over your floors. Bed bugs like to hide, after all, and so you'll have to do some investigating and deeper work to get rid of them.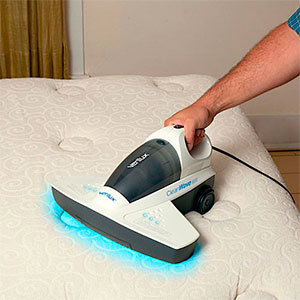 There are some things to remember when it comes to vacuuming bed bugs:
Suction power: Since these bugs can cling to surfaces deep inside hiding spots, you'll want a bed bug vacuum with a good amount of power. Look for one with a motor of at least 110 volts, with 120 and up being preferable.
Find them: You should be able to see bed bugs with the naked eye, although it might be tough if they're hiding. Look in the seams of mattresses and furniture, rips or tears in the fabric, and even deep wrinkles. Their eggs won't be as easy to see, but they're going to be in the same areas the adults are lingering.
Take action: Use the vacuum's crevice wand and run it along seams, wrinkles, crevices, and pretty much anywhere in your home you can think of that bed bugs might be hiding. Go over these areas at least twice. Run the vacuum over the regular carpets in the rest of the house. Repeat the process daily until your bed bug infestation is under control.
What is the Best Steamer to Kill Bed Bugs?
Why use a steam cleaner? It's not quite the same as a vacuum, after all. The goal with a steam cleaner when it comes to bed bugs is to use its heat to kill. Since vacuuming alone won't necessarily kill bugs, using a steam cleaner can be a great way to ensure your problem is taken care of quickly.
Using a steam cleaner is great when it comes to killing bed bugs, but it can also be dangerous. When steam comes out it is usually upwards of 200°F, which is hot enough to burn your skin. As you're using a steam cleaner, make sure to keep it pointed away from your face, other people, and pets.
When you're shopping for a bed bug steam cleaner, keep these in mind:
Heat: Bed bugs can be hard to kill, but one way to make sure they die is with heat. You'll need a temperature of 160-180°F to kill them.
Moisture: You want a machine that produces a good amount of steam, but not so much that it leaves your furniture and bedding soaking wet. Too much moisture can cause staining and possibly mold.
Penetration: Since bed bugs can sneak in through a tear-in fabric and hide inside a mattress or piece of furniture, it can be impossible to vacuum them up. With a good bed bug steam cleaner, the heat produced by it will penetrate through the fabric and into the bug's hiding spot. Look for one that can penetrate ¾" into the surface, and at least 2" into crevices.
You can find the top 5 best steamer for bed bugs here.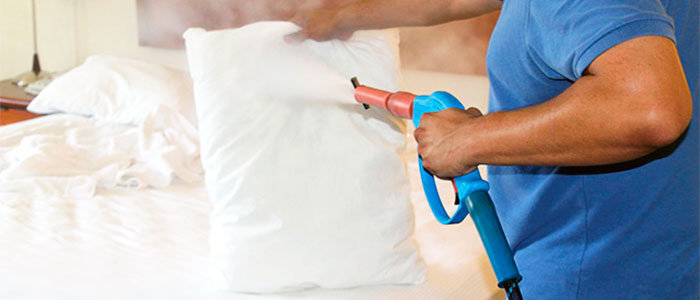 You've heard of bed bug sprays, but what about strips? They're a surprisingly easy thing to use. Click here for more information on bed bug strips.
Can Bed Bugs Live in a Vacuum Cleaner?
The short answer is, yes.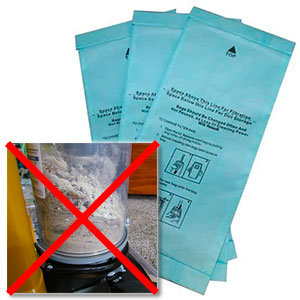 Although a bed bug is tiny and a trip through a vacuum cleaner would be a crazy and dangerous one, they can ultimately survive it. This means that once you vacuum them up, they could potentially crawl through the hose, out the nozzle, and into your home once more. But, there are ways to combat this.
One way is to get a vacuum with a bag. Bagless ones are more convenient to have on an everyday basis, but when it comes to bed bugs, using a vacuum bag is the way to go.
As soon as you're done, seal the bag's opening with tape, then zip it into a large ziplock bag, and throw a sealed plastic bag into the outside trash can. It is necessary to do this so that bed bugs cannot re-enter your home, as they can live inside a vacuum bag for an extended period.
How Do You Clean a Bagless Vacuum with Bed Bugs?
If you need to use a bagless vacuum, empty the canister directly into an empty garbage bag, then immediately seal shut and throw it away outside. Wash the vacuum canister in very hot, soapy water immediately afterward.
A HEPA filter in your bed bug vacuum is also a good thing to look for when you're dealing with bed bugs. These types of filters are heavy-duty and trap particles inside the vacuum, meaning that the bed bugs would have a very hard time crawling past it and back out into your house again.
You can find further details of Bed Bugs Control here.