Top 5 Killer Products to Eradicate Silverfish from Your House
Silverfish infestation can cause immense distress to any homeowner. Besides the unsightly scenes created by these insects, their presence will undoubtedly lead to extensive damage to your household items. The silverfish can chew papers, clothes, upholstery, and grains! As such, you should always act with unmatched agility to eliminate these destructive insects.
To enhance your eradication success, it's paramount that you not only choose the best silverfish killer products but also use them correctly. This article provides the best killer products that will help you in eradicating the silverfish from your house for good as well as offer the products' application guide.
Our Top Pick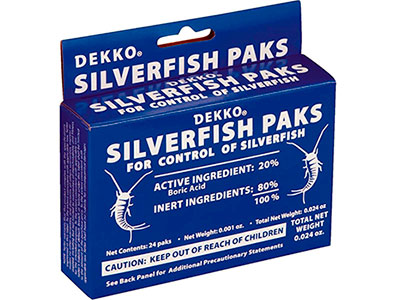 A Safe Insecticide for Complete Silverfish Eradication
Dekko designed to guarantee a high level of safety for your children and pets. The product has an incredible residual effect of up to 4 months which guarantees positive results over a prolonged period.
Read Verified Customer Reviews
Comparison Table for 3 Best Silverfish Killer Products:
IMAGE
PRODUCT

Our #1 Rated




Dekko Silverfish Paks

Contains highly effective 20% boric acid
Safe to use on clothes, books, attics, and other infested indoor locations
Easy to apply; just place the packs strategically in the affected areas (no opening of the packs is required)
Odorless




Check Price

People's Choice




MaxMoxie Ultrasonic Pest Repeller

Plug-in device which guarantees ease of application
Uses electromagnetic and ultrasonic waves to get rid of silverfish
Pet safe
Covers an area of up to 1600 square feet
Highly cost-effective




Check Price




Nature Shield All-Natural Insect & Pest Repellant

A natural product
Uses a blend of essential oils to get rid of silverfish
EPA exempt thus safe for use
Long-lasting effect that can last for up to 5 days




Check Price
Top 5 Best Silverfish Killer Products in the Market
Choosing an ideal product is one of the crucial steps in a successful silverfish elimination. You should always evaluate the efficiency, safety, and reliability of the products before settling for one. I understand that this may be an overwhelming exercise. To save you the hassle, I have evaluated and compiled the best 5 products that guarantee a complete silverfish elimination.
They include:
1.

DEKKO

– A Safe Insecticide for Complete Silverfish Eradication (Editor's Choice)
See More Images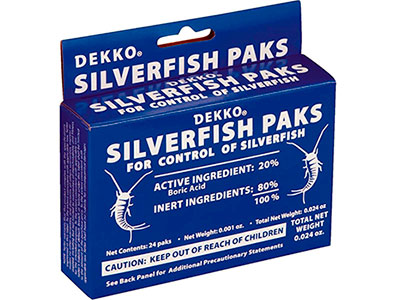 If you have pets in your house, you should always ensure that the product that you pick to eliminate silverfish is pet safe. Dekko is one such product. It's designed to guarantee a high level of safety for your children and pets.
Dekko comes in packs which mimic the ideal living environment for the silverfish. Its interior has glue which provides the favorite meal for the insects. However, the glue is impregnated with a significant amount of boric acid. Immediately after the ingestion, the insects will become intoxicated and will eventually die.
Unlike other powder products, you will not interact directly with the boric acid which makes it relatively safe and easy to use. Also, the product has an incredible residual effect of up to four months which guarantees positive results over a prolonged period.
How to Use Dekko
Application of this product is a breeze! Just place several packs in regions that have silverfish infestation. Two packs of Dekko will effectively cover an area of up to 100 square feet. If you are placing them in enclosed places such as the garage and the pantry, I recommend that you place 3 packs conveniently in the infested sections.
After several days, you should monitor the progress of the elimination process. If you notice that there are still many silverfishes remaining, you should place more Dekko packs to further accelerate the elimination process.
Also, you can place the Dekko packs in strategic positions to act as a preventive measure. In this case, I recommend that you change the packs quarterly.
Pros
The product is pet safe
High residual effect of up to 4 months
Easy application
Covers up to 10 square feet
Cons
Does not kill instantly
If the infestation is severe, it will take relatively long to eradicate the insects
2.

MaxMoxie

– The Best Ultrasonic Insect Repeller in the Market (People's Choice)
See More Images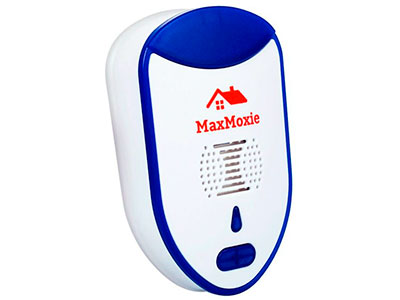 Do you want an easy-to-use product that will effortlessly eradicate silverfish? Well, this Ultrasound Repeller has a plug-in design that allows you to use electrical power to achieve its optimal functionality.
Immediately you switch on the socket, the ultrasound repeller produces waves that create discomfort among the silverfish. As a result, the insects will get out of your house in search of a conducive living environment.
Where to Use
This product is designed for use indoors. It has zero chemicals and it's safe for use even when you have children and pets. Each unit of the ultrasound repeller covers approximately 1600 square feet.
How to Use
This is a ready-to-use product that only requires electrical power to function. You will be required to plug in the repeller into a functional socket and switch it on. It'll release ultrasonic waves that will create an unconducive environment for the survival of the kingfishes.
To achieve the best results, it's recommended that you place the machine approximately 80-120 cm away from the floor. Also, ensure that the installation point is away from curtains and carpets to ensure that the waves travel the furthest possible.
Pros
Easy to use; no settings required
High safety levels
Guaranteed results
Non-toxic and chemical-free
One unit covers an area of up to 1600 square feet
Cons
Requires adequate power supply for guaranteed efficiency
Requires consistency to achieve the desired results
3.

Nature Shield

– A Natural Insect Repellent with Guaranteed Efficacy
See More Images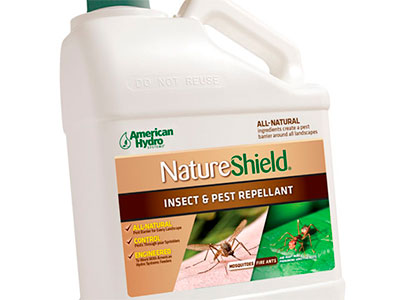 If you need the best silverfish killer product that is environmentally friendly, then you shouldn't hesitate to purchase Nature Shield.
The product uses different types of essential oils to develop a safe and effective silverfish repellent. If properly applied, this unique product has the potential to effectively eradicate silverfish for up to 7 days.
How it Works
This product produces a strong scent that creates an unconducive environment for the silverfish. The garlic-like smell is so strong that it repels the insects within fifteen minutes after application.
How to Use It
Always dilute this product to reduce the smell which would otherwise make your house inhabitable. If you mix one gallon of Nature Shield with 8 gallons of water, you will achieve a concentration that will effectively eliminate the silverfish without compromising the quality of air in your house.
After diluting the product, you're required to use a sprayer and apply in all the areas infested by the insects. It's paramount that you reach hidden areas such as the attics and other cracks where the insects can hide. This way, you'll be certain of complete eradication while eliminating any chance of re-infestation.
After a few days, you should check to ascertain whether there are still more insects in your house. In case, you notice the slightest sign of silverfish presence, you should reapply the Nature Shield.
Pros
A natural product; made of a blend of essential oils
High safety levels
Pet safe
Highly effective
Affordable
Cons
If not properly diluted, it may leave behind a strong garlic smell
Multiple applications may be required if the infestation is heavy
4.

Nuvan ProStrips

– A Hassle-Free Silverfish Elimination Technique
See More Images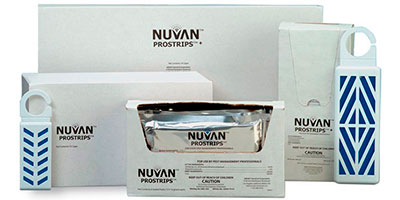 These are easy-to-use strips that contains DDVP which has the potential to eliminate silverfish from your house within a few days. The product is designed in such a way that you're just required to place them in an enclosed area that has been infested by silverfish.
They slowly release vapor that's harmful to the insects. When you place the strips in a strategic location, they'll remain effective for up to four months. The best thing about the product is the fact that it's odorless and the vapor released is harmless to human beings.
How the Strips Work
This product is one of the best silverfish killer products in the market today. It's insecticidal and the vapor it releases kills the silverfish almost instantly. The ProStrips are made from resin plastic covered with DDVP. The slow-release design ensures that the product releases the DDVP vapor over a prolonged period. Once the insects inhale the vapor, they become intoxicated and their central nervous system's functionality is affected negatively. As a result, they become paralyzed leading to their deaths.
How to Use the ProStrips
The Nuvan ProStrips are ready-for-use! All that you're required to do is to open the foil packet and place the ProStrips in strategic locations. You should identify the silverfish-infested areas and give them a priority when placing the strips.
Each strip covers 100-200 cubic feet and its effect lasts for 3-4 months. Immediately you remove the foil, the ProStrips interact with the moisture thus releasing DDVP vapor that intoxicates the insects. However, it'll take approximately 3 hours, after placing the strips, for the DDVP concentration to reach a toxic level. Also, it's paramount to note that the vapor is only toxic to insects but not to human beings! As such, your safety is guaranteed as you use this product.
Where to Use
You can use the strips in any enclosed area that has been infested with silverfish. This may include your house, the dog's kennel, the horses stable, or any other insects-infested location.
However, you should follow the following tips when using the product:
Avoid using the product in feeding areas/ places where food handling is common
Use the product immediately after removing the foil. If you fail to use them, their shelf life and efficiency will significantly diminish. Alternatively, you should find a way to reseal the foil
Avoid using this product in areas where people will spend a lot of time indoors such as the offices. It's recommended that you use it in closets, cupboards, and wardrobes
Always wear gloves when handling Nuvan ProStrips.
These strips are ideal for use in a house with a pet and children. The ease of application and its high safety level makes it ideal for you if you have busy schedules; it's an "apply and forget" product.
Pros
Easy application
Guaranteed safety
Prolonged effect; remains effective for up to 4 months
Odorless
Highly effective
Cost-effective compared to other short-residual remedies
Cons
Cannot be used outdoors
Once you open the foil, you're forced to use all the strips. If not, their efficacy may reduce
5.

Concentrate Indoor and Outdoor Insecticide with Bifenthrin

– Best Silverfish Killer for Guaranteed Eradication
See More Images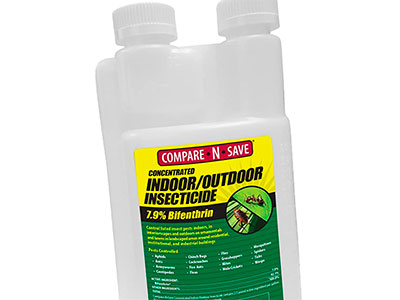 This product contains 7.9% Bifenthrin which makes it a powerful insecticide that will undoubtedly boost your silverfish elimination techniques. Numerous studies confirm that Bifenthrin is a safe ingredient that is harmless to human beings. This property coupled with its high efficacy in eliminating insects makes the product the ideal choice for many homeowners.
How to Use the Product
This product comes in liquid form and you'll need a sprayer to effectively use it. Always dilute it before use. It's recommended that you mix the product with water using a 1:1 ratio to achieve the desired concentration.
Once you achieve this, you'll use your sprayer to target the infected areas. Your primary target should be to reach the hidden areas and the cracks which are the favorite hiding zones for the silverfish. The product has a long residual effect and can be effective against the insects for up to a year.
Where to Use the Product
You can use this product in areas that have been infested with silverfish. However, it's not recommended that you spray directly to utensils, foodstuffs, and any food handling area.
To achieve optimum results, I recommend that you target dark areas such as the attics, stores, and the garage. These are the hiding areas of the insects and you should never ignore them.
While the product is harmful to the insects, it's relatively safe to use in the presence of pets. However, it's recommended that you leave the house for several hours after spraying this product.
Pros
Highly effective
Relatively safe
Easy application
High residual effect that can last for up to 5 years
Ideal for use even when you have pets in the house
Cons
Requires dilution and other preparation procedures before use
What is the Best Silverfish Killer in December, 2023? – Your Expert Buyer's Guide
While Silverfish can be a menace, it's paramount that you don't create more problems for your family in your efforts to eradicate them. As such, you need to conduct extensive research on the functionality, efficacy, and safety of any products that you choose to use in your house.
This guide will provide critical tips that will guide every step of selecting an insecticide that will eradicate silverfish for good. It'll provide the technologies that have been developed to further simplify the eradication process.
Steps to Follow When Shopping for Your Ideal Insecticide
When you're shopping for an insecticide to keep silverfish away from your house, you must consider several factors including:
Location of Infestation. Different products have been designed for use in different environment settings. For example, Nuvan ProStrips are specially made to be used in enclosed locations. If you buy this particular product to use outdoors, you'll be frustrated and you will not achieve the desired results. As such, you should take your time to read the manufacturer's instructions to find out the recommended application techniques.
Environmentally Friendliness. In recent years, there has been tremendous research in insect control sector. The primary target is to establish the best products to eradicate insects while conserving the environment. As a result, various manufacturers have developed products that are biodegradable and friendly to plants, animals, and other living organisms in the ecosystem. I recommend that you try as much as you can to only use environmentally friendly products when trying to eradicate silverfish.
Technology Application. The technology used in the manufacturing of any product has the potential to increase safety, efficiency, and applicability. For example, some products have been designed using a slow-release technology such as the Nuvan ProStrips. This technology ensures that the products have a relatively long residual effect which increases their efficacy. Other products such as the Ultrasound Repellers uses AC to work which makes it simple to apply. If you don't have time or you want to enjoy the convenience of hassle-free silverfish eradication, then you should try adopting technologically designed products.
Safety. Before you purchase any product, you should be certain that it'll be safe for your pets and children. Ensure that the manufacturer indicates categorically that the product is pet-safe before taking it home. If the product you need is not pet safe, then you're obliged to read and understand the safety precautions as outlined by the vendor. If you cannot find the precautionary measures, you should take your time to consult the manufacturer or the vendor for any clarification. That way, you can be certain that you will safely use the product in your quest to eradicate silverfish from your house for good.
Active Ingredients. If you have any family member who experiences allergic reactions, you should be extremely careful when determining the product to use. Ensure that no family member will develop allergic reactions against the product's components. To ensure safety, confirm with your allergist to rule out any chance of an allergic reaction. Additionally, you should be careful with products with strong smell especially if you have respiratory disorders such as asthma.
Insecticides Application Safety Guide
When you're applying your best silverfish killer products, there is a significant risk of corrosion or other severe side effects. As such, you must take the necessary precautionary measures any time you're using these products.
They include:
Always use latex gloves. You should never allow the products to interact directly with your skin. To achieve this, you should acquire latex gloves that fit your hands well.
Use face masks. If you inhale poisonous fumes, the ingredients will likely bio-accumulate in your body systems which will adversely affect the functionality of the organs in the long run. Using a face mask is a sure way of protecting yourself from the poisonous fumes.
Never use the insecticides directly on foodstuff. It doesn't matter how heavy the infestation is, never get tempted to directly apply the insecticides on the foodstuffs or any other food handling area. However, some organic products are safe. Unless the manufacturer has categorically indicated that it is safe to use the product on foodstuff, you should never do it.
Always keep the insecticides away from children. Any product that has the potential to poison your children should be kept away from them. It's recommended that you keep them in a dark area to prevent degradation which would adversely affect its efficacy.
Combining Products for Effective Silverfish Eradication: Is it Necessary?
If you have to deal with a heavy infestation, then you'll opine that it can be frustrating. Sometimes the recurrence level is quite high and fast that you desperately feel defeated. In some cases, a severe infestation may require more than one product to resolve completely. However, the products that you choose should be complementary and should create a strong synergy to eradicate the silverfish. For example, using two products with the same mechanism of action would be a waste of time and resources. If the one product cannot adequately eliminate the insects, the second product (with a similar mechanism of action) will equally not eradicate them.
In such a case, it's always advisable that you use products with a different mechanism of action. This way, an insect which can tolerate one product will be killed by the other. For example, it would be an excellent idea to combine Ultrasound Repellent with Nature Shield. While the best silverfish repellent will create an unconducive environment for the insects, the Nature Shield will eradicate any remaining silverfish thus guaranteeing a complete eradication process. Also, such a combination will prevent re-infestation.
Verdict: Should I Combine Products?
You should only combine products if you are dealing with a severe silverfish infestation. Otherwise, only one product will be enough.
If you choose to combine, you should carefully select products with different mechanisms of actions to achieve the results that you desire.
Insecticides Certification to Look Out For
In the United States, products are checked and certified to guarantee safety. When you go out for shopping, you should never forget to check whether the product you are interested in is indeed certified.
Some of the certifications that high-quality insecticides should have include:
EPA. A seal of certification will always be displayed on the container. The EPA approval shows that the product has passed all the quality and safety standards. It shows that the product is environmentally friendly and that it will not affect the plants and the people using it adversely.
USDA. This is an approval that particularly concentrates on organic insecticides. If a manufacturer indicates that the product is organic, then it should have the USDA label as proof that it is indeed organic. If you miss this label, you should never choose the product since it could pose significant health risks.
Never buy an insecticide that does not have at least one of these certifications! The approvals are necessary since they are proof of quality and safety.
Conclusion
Silverfish infestation can be a frustrating experience! However, you shouldn't let the situation overwhelm you. The secret into complete eradication lies in selecting the best silverfish killer products.
You should first study your situation to establish the location and severity of the infestation. Once you establish that, you should shop for a product with specifications that suit your situation.
When shopping, you should only select products that are certified and approved by the various quality and safety regulatory bodies such as the USDA and EPA. This way, you'll be certain that you will eradicate the silverfish without adversely affecting the health status of any of your family member.
In this article, I have provided 5 top products that you can use to boost your eradication efforts. I advise that you check all of them carefully and choose that which suits your situation the best. Also, follow the application process to the letter and enjoy a silverfish-free house!
You can find further details of Silverfish Bugs Control here.