Top 7 Mice Poisons You Can Get Your Hands On
Do you have a problem with mice? These pests are incredibly annoying and also carry diseases. Getting rid of them is possible with the right mouse poison. So when you go out to buy a good mouse killer, what do you choose?
Top 3 Best Mouse Poison Products in 2023 Comparison Table
PREVIEW
PRODUCT

Best Choice




JT Eaton Bait Block Rodenticide

Type: Poison Blocks
Active Ingredient: 0.005% Diphacinone
First-Generation Anticoagulant




Check Price

People's Choice




Just One Bite II Pellet Packs

Type: Poison Pellets
Active Ingredient: 0.005% Bromadiolone
Second-Generation Anticoagulant




Check Price

All-Natural




MouseX Mouse Killer Pellets

Type: Poison Pellets
Active Ingredients: 55% Corn Gluten Meal, 2% Sodium Chloride
Non-Toxic and Safe for People and Pets




Check Price
Top 7 Mouse Poisons on the Market Reviewed
After much research, some products stand out more than others. And the winner is JT Eaton Bait Block Rodenticide.
1.

JT Eaton Bait Block Rodenticide

– The Best for Outside (Editor's Choice)
See More Images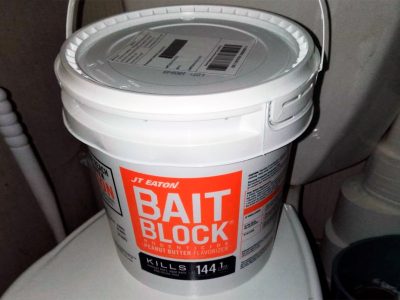 After numerous reviews and trials, customers regularly come back to certain brands of mouse poison time and time again. One of those brands that seem to be the best is JT Eaton: Since mice are attracted to peanut butter flavor more than almost anything else, that's what flavor JT Eaton used in their product.
The JT Eaton Bait Block is a first-generation anticoagulant bait with specially formulated blocks that have peanut butter flavor enhancers to attract and eliminate mice and rats.
How Does It Work
The active ingredient, Diphacinone, starts working on the rodent's blood clotting system in less than an hour, and even if it ingests some of these bait blocks without dying right away, small rodents will die within 2-3 days.
These most effective mouse poison blocks are irresistible to mice and are small enough to place in small areas that only mice can get to. And best of all – just one feeding is enough to kill.
Where to Use
This product includes 144 1-ounce rodenticide blocks in a tamper-evident resealable pail. JT Eaton is perfect for garages or basements to keep those rodents away!
Keep your house and family safe from house mice, Roof rats, and Norway rats.
Easy to use and get rid of those pesky pests once and for all.
Pros
Specially formulated blocks that have a peanut butter flavor attract and eliminate mice and rats.
Even if it ingests a lethal dose of these blocks without dying right away, the rodents will die within days.
144 blocks in resealable pails for easy use, perfect size, and shape.
Cons
Mice eat the bait blocks, but it will take up to three days for the active ingredient Diphacinone to work.
2.

Farnam Just One Bite II Pellet Packs

– The Most Effective Mouse Killer Poison You Can Find (People's Choice)
See More Images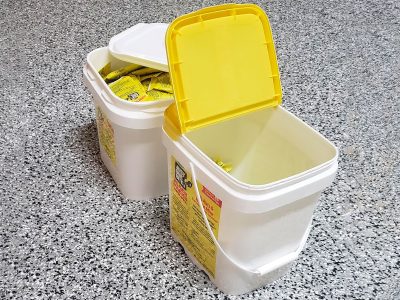 If you've been looking for the strongest mouse poison that is easy to use and provides reliable results, check out Farnam Just One Bite II.
This product comes in an 8-pound bucket with 86 pellet place packs and contains the active ingredient Bromadiolone, a second-generation anticoagulant that causes internal bleeding. It also has no touch pellets which makes application easy.
The best thing about this mice bait is how palatable it is – there are grains and seeds mixed in, so small rodents enjoy it too!
How Does It Work
For mice that are fed lethal doses in one night's feeding, death is delayed for four to five days. Also, they usually die outside your home because this bait causes them to go outside to drink water. You won't have a messy cleanup or any odor problems. And that means there's no bait shyness!
Farnam mouse poison pellets come pre-filled with grains and seeds, so you don't even have to touch them – and any sense of guilt you felt before will miraculously disappear because all your hard work has already been done for you.
Once your fear of house mice returns, just pick up another pack of these scatter mouse poison pellet packs and eliminate those pesky rodents once again!
How to Use
It can be hard to know if you have a mouse problem. You may only see one or two, but there might be many more. You will need to use a lot of mouse poison baits.
Put the bait at intervals of 8-12 feet in areas with mice or their droppings. For each placement, put 3-10 Farnam pellet place packs of bait.
Pros
It is a cost effective product and comes in an 8-pound bucket.
The pellets are pre-filled with grains and seeds, which means no bait shyness!
One package contains a large quantity of the best mice poison.
Warfarin-resistant rodents are killed.
You'll never have to touch the pellets again, so you won't feel guilty about using them.
Cons
Stale food is not appealing – the flavor begins to wear off after being in an open bucket for a while.
The pellets need to be placed at intervals of 8-12 feet apart in order to get the maximum effect.
3.

MouseX Mouse Killer Pellets

– The Best Mice Poison Pellets
See More Images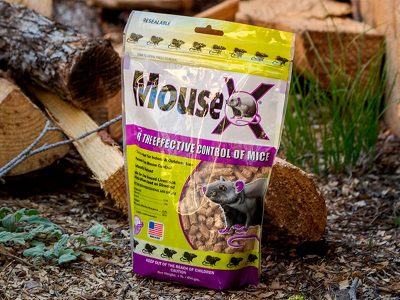 If you want to kill mice in a way you might not have thought of at first, try dehydration. Some poisons work by coating the lower intestines with a substance that communicates to the mouse's brain to stop drinking. After a few days, they'll become dehydrated to the point of death.
One brand you might consider, EcoClear MouseX. This product not only kills mice through dehydration, but it's completely biodegradable and perfectly safe for both people and house pets.
Where to Use
This natural mice killer you can use indoors or outdoors without fear of harm. Non-toxic formula is designed specifically with your safety in mind – no risk of contamination to crops or food, zero chance of secondary poisoning from other animals or birds of prey, and it's safe for people too!
No risk of contamination to crops or food.
Zero chance of secondary poisoning from animals or birds of prey.
It's safe for people, too!
Never have to worry about rodent infestation again.
How to Use
Just place these best mouse poison pellets near any area where mice congregate (basement corners work well), wait 24 hours for them to eat the pellets, and you're done! There's no need to set traps or use any other methods – MouseX Pellets take care of the rodent problem for good.
Pros
Kills mice through dehydration
Non-toxic formula is designed specifically with your safety in mind
100% natural method to eradicate mice in just single feeding.
Cons
The MouseX pellets work through dehydration, which can take anywhere from four to seven days.
If you don't get rid of all the mouse droppings in time, secondary poisoning is still possible because this formula does not kill on contact.
4.

Tomcat All-Weather Bait Chunx
See More Images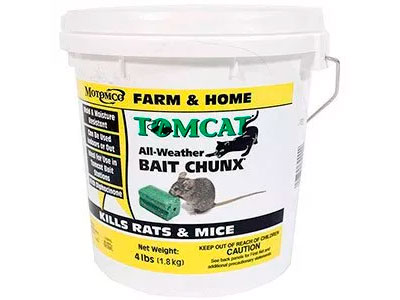 As a professional mouse poisoner, I've tried my share of products. And while all of them have their merits, Tomcat All-Weather Bait Chunx is one of my favorites.
These fast-acting poison bars are made to smell and taste desirable to mice. The active ingredient, 0.005% Diphacinone, kills mice in just 4-6 days, which is considerably faster than most other products on the market.
Additionally, bait chunx are mold and moisture resistant, making them perfect for use in outdoor areas like barns and sheds. Use them with a poison bait station or on their own.
They can be used indoors and outdoors in all weather conditions, making them versatile for getting rid of mice.
Tomcat is a mouse poison product that works by luring the mouse to eat the bait and then poisoning them.
The bait is weather-resistant to use it indoors or outdoors, and it has a long-term effect, so the mouse will not only die quickly but also suffer from the poison for a while.
Tomcat is an excellent option for homeowners because it's easy to use and effective in getting rid of mice.
How to Use
When using Tomcat All-Weather Bait Chunx, it is essential to follow the instructions on the package.
Open the package and pour the bait out in a designated area.
Place the bait near mouse burrows, in garages, basements, sheds, or anywhere you have seen mice.
Re-bait as needed.
Dispose of the bait properly when it is no longer needed.
Pros
Fast-acting.
Odor and taste appeal to mice.
Mold and moisture resistant.
Can be used indoors and outdoors.
Long-term effect.
Cons
The bait may not be appealing to all mice.
Poison may take a while to kill the mouse.
5.

Tomcat Liquid Concentrated Bait
See More Images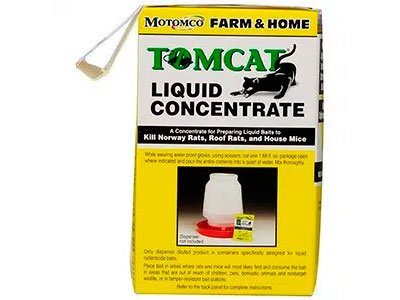 The active ingredient, Diphacinone, is a potent anticoagulant that will kill mice within days. This bait is perfect for hot and dry areas or has a lot of food sources that compete with lures.
This mouse poison comes in liquid form and is meant to be put in the mice's water supply. If you know of a place that mice are drinking from, mix in the appropriate amount of mouse poison, and sure, death will follow.
How Does It Work
Tomcat Liquid Concentrated Bait is a mouse poison that homeowners can use to get rid of mice in their homes.
The bait comes in a liquid form that you can quickly pour into bait stations or other areas where mice may congregate.
The liquid bait is highly concentrated and will kill mice quickly.
How to Use
Always read and follow the product label instructions before using any mouse poison.
Mix 1 quart of water per pouch to prepare a liquid bait.
Place bait in areas where mice are likely to travel, such as walls and near furniture.
Do not place bait near food or water sources or where children or pets can reach it.
Check the bait regularly and replace it when it is eaten.
Call a doctor or veterinarian if a child or pet eats Tomcat Liquid Concentrated Bait.
Pros
The bait is very effective in killing mice.
It is easy to use; just pour it where you see the mice.
It starts working immediately, so you don't have to wait long to see results.
Cons
The product must be used in areas where children and pets will not have access to it.
It is for indoor use only, so outdoor use is not an option.
The smell of the bait can be overpowering for some people.
6.

d-CON Refillable Bait Station
See More Images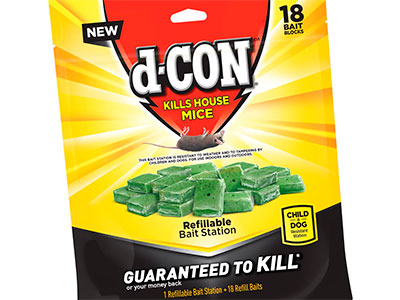 d-CON contains the active ingredient Cholecalciferol, which is lethal to mice. This package is a tray with poisonous bait inside it, and once you peel back the film, all you have to do is set it out and wait for the mice to come and get it.
What's more, the bait station is weather-resistant and resistant to tampering by both children and dogs, making it an excellent choice for households with pets or small children.
How to Use
Bait stations are easy to use – all you have to do is place them in areas where you have seen mice or have heard them scurrying around. If the bait station is not effective, you can always move it to a new location. And, when the bait station is empty, you can simply refill it with more poison.
Another thing to remember is that bait stations are also one of the safest mouse poison products available. This is because they keep the poison contained, so there is no risk of pets or children coming into contact with it.
Pros
The compact and low-profile design makes it easy to hide.
Weather-resistant, so you can leave it outside.
Refillable, so you don't have to keep buying new bait stations.
Cons
The bait inside the station is not very attractive to mice, so they may not be attracted to it.
The stations are very small and can only hold a limited amount of bait.
The design of the bait station is not very user-friendly.
7.

Havoc Rodenticide Rat and Mouse Bait Pellets
See More Images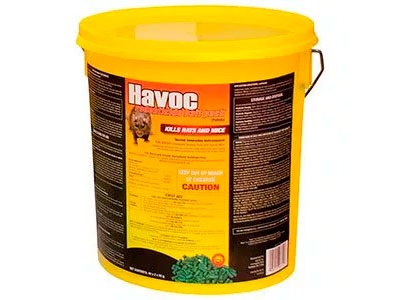 The active ingredient, 0.005% Brodifacoum, is a second-generation anticoagulant, making them highly lethal to rodents. The pellets are high in palatability and acceptance, and rodents will stop feeding after consuming a lethal dose.
How Does It Work
This killer dehydrates mice to the point of death and comes in the form of granules. Sprinkle Havoc Rodenticide Pellets where you've noticed any kind of rodent activity and make sure to keep them out of the hands of children.
Pros
Quick, effective control of rats and mice.
Brodifacoum is a highly potent anticoagulant.
Bitrex deters accidental ingestion by children and non-target animals.
Cons
Pellets may be too large for some users.
May take several days to kill rodents.
Bitrex can be nauseating.
What is the Best Mouse Poison in 2023? – Comprehensive Buyer's Guide
Mice are an annoying problem to have. They can get into your home through very small spaces, destroy property, and carry diseases you don't want to catch. Plus, they reproduce quickly and have many offspring, meaning that your mice infestations can get out of control much faster than you'd think.
So what do you do? Once you realize you've got a problem, it's time to take action. You could call a local exterminator, use all-natural methods, or even put out traps to capture and release. Another way to eradicate them is with the best mouse poison.
Don't want to spend money or use harsh chemicals? No problem – there are plenty of DIY ways for killing mice and rats. Click here for more about homemade mouse poison.
How Quickly Can I Expect It To Work?
Mouse poisons come in different varieties.
Some ways poisons work include:
Cholecalciferol: This is a common ingredient in rodent poisons, and is otherwise known as Vitamin D3. What it does is cause dangerously high calcium and phosphorous levels in the body, leading to rapid kidney failure.
Zinc Phosphide: When a mouse ingests this rodenticide, acid in its stomach converts it into zinc phosphine, which is a very toxic gas. This subsequently kills the animal.
Bromethalin: This substance will damage the central nervous system in a way that causes high pressure in the brain, killing mice.
Anticoagulants: A substance that works like an anticoagulant (AKA, blood thinner) inhibits vitamin K synthesis, which leads to the mouse's blood not being able to clot normally. This also makes blood vessels leaky, which causes internal bleeding. In general, anticoagulants kill mice within 2-3 days and kill rats within 3-6 days.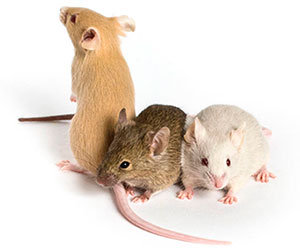 The length of time from ingestion a lethal dose to a death varies with each substance. Vitamin D3 in high doses will usually take about 12-48 hours to be fully lethal. Anticoagulants can take several days to work, while Zinc Phosphide works somewhat faster.
Pellets are a form of mouse poison that works well on various animals, including rats and mice. To learn more about mouse poison pellets and how you can use them, go here.
Single Feed and Multiple Feed Mouse Poisons: What is the Difference
There are two types of mouse poisons – single feed and multiple feed rodenticides.
Single Feed Rodenticide
Single feed mouse poisons only need to be eaten once for a pesky rodent to die. They are used for persistent or chronic rodent situations.
Brodifacoum and bromadiolone are two examples of single feeding rodenticide are contained in Farnam Just One Bite II, Havoc Rat and Mouse Poison Pellets products.
Multiple Feed Rodenticide
Multiple feed poisons, on the other hand, require several doses to kill rodents. They are designed to kill the mouse over a period of time, as it continues eating poison. So, should be used in maintenance situations – when there is already a mouse problem, but you don't want it to get worse.
Multiple feeding rodenticides are also known as anticoagulants because they work by breaking down the blood's ability to clot, which causes death from internal bleeding or hemorrhage. If you've heard of the best rat poison before, it is usually an anticoagulant that claims its victims first by making them bleed out internally and then second through dehydration.
One example of a multiple feed mouse poison is diphacinone. JT Eaton Rodenticide is a block-like bait that contains 0.005% Diphacinone.
What to Do If It Isn't Working
If you've been using mouse poison products with no results, there may be more than one thing to blame. First of all, there's been an epidemic of mice who are resistant to mouse poisons, specifically to anticoagulants. They may be ingesting it without any results.
Another explanation could be that you're putting the mouse poison in the wrong places. Mice might not even have a chance to get at it. There also might not be enough mouse poison set out, meaning that some of the pests can get at it, while others are too late and get thereafter it's already gone.
Poison can kill rats and mice in as little as one feeding.
A way you can try and overcome these obstacles is by using products that specify they're for resistant mice and being diligent about placing enough mouse poison. Also, make sure you've got the right places picked out. Watch areas in your home for droppings and other signs of mouse activity, and place mouse poison accordingly.
Hardware stores are good not only for lumber and tools but for things like pest control as well. And where better than one of the biggest stories in the country? Details on Home Depot mouse poison can be found here.
For inside the Home
When you're looking to get rid of mice inside your home, you'll need good mouse poison products. And there are other things to consider about the product you're using when it's indoors as opposed to outside.
For example, if you have kids, you'll want to take more precautions as to your mouse poison use. The same precaution will apply to a home with indoor pets, as well.
d-Con Mouse Poison Bait Stations: This company has thought of a product that uses child-proof bait stations, each with a block of poisonous bait inside it. The mouse will smell the bait block, crawl inside the plastic container, eat off the mouse poison, then crawl back out. Death can come from only single feeding, although it may take longer if the mouse only ate a very small amount. This is a great product to use in a home with small children or pets that you want to keep safe from harmful ingredients.
See More Images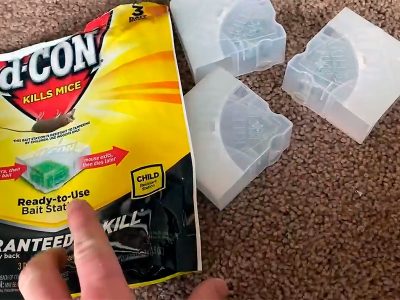 Kill the Smell
Most mouse poisons try and have a desirable smell for them to attract the mice. But what is considered good to a mouse might not necessarily be good to a human, and can leave an unattractive smell lingering in the air.
You can combat this using essential oils in your home that could mask the smell for you. Soak a cotton ball in a scent like peppermint or orange and leave it out on the kitchen or bathroom counter, or use an oil diffuser.
Decomposing Mice in the Walls and Attic
Another problem you may encounter is the smell of decomposing mice. They can die in your walls or attic and leave a "dead" smell behind.
Here are some solutions for the problem:
Dehydrating mouse poisons
Dehydrating mouse poisons help prevent a decaying smell in dead rodents. And if you are diligent about trying to find any dead rodents killed by the poison, you can do a lot to keep your house smelling normal.
Claw Reacher Grabber
You could even buy one of those long poles with a claw on the end to grab any dead mice you might find behind walls or in hard-to-reach places.
To find out more about how to get rid of mice in walls, click here.
For the Outdoors
Mice aren't just a problem inside the home; they're an issue outdoors, as well. They'll often live outside and come in and out of your house at will.
It's a good idea to have mouse poison outside for them to run into, and some places you can put it include:
The wood pile.
Around the foundation of your house.
Around basement windows.
Nears door frames.
The JT Eaton Bait Block Rodenticide is weather-resistant and suitable for use outdoors:
See More Images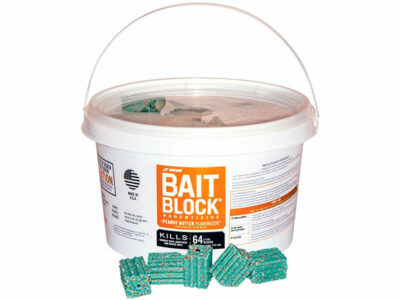 Poison Mouse Traps: The Best Out There
Poison for rodents comes in different forms: liquids, pellets, powder, bars, etc. One sub-type you can get is a mouse poison trap. This isn't a trap that will keep the mouse inside it until you can set it free or kill it yourself, it's a way to hold the mouse poison in bait stations.
Mouse poison is deadly to small rodents, and unfortunately, is also deadly to humans. It can hurt a person's digestive tract, central nervous system, and blood vessel integrity if ingested mouse poison.
Always take care to keep out of the hands of children and pets, and if any amount is eaten or comes in contact with the eyes, contact mouse poison control right away.
Poison bait stations are plastic containers you put a poisonous substance into, then lock up so that small children or pets can't get to them. A mouse, however, can scurry inside and take some of the mouse poison.
Let's take a look at a few of the top mouse poison traps (bait stations) below:
1.

Protecta Mouse Bait Stations
See More Images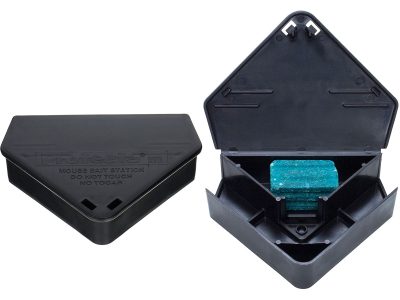 This is a great product that fits a good amount of mouse poison inside the bait station and is something you can reuse over and over again.
2.

Tomcat Mouse Killer Child-Resistant Disposable Station
See More Images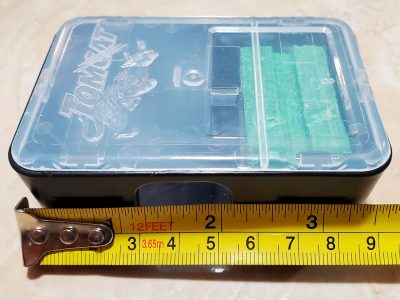 Tomcat disposable stations can be used and thrown away once they serve their purpose, which is a major benefit for some homeowners. If you only have a few mice in your home or around your property, these disposable stations are often ideal since they're cost-effective and don't need to be cleaned and stored for later use.
Tomcat poison bait stations can kill up to 12 mice with the poison that comes inside them and are childproof and completely tamper-proof.
Benefits of Disposable Stations
Can be discarded safely once they're used.
Place stations in a sealed trash bag before discarding to keep pets and kids away at all times.
Can be used outdoors.
Disposable stations are not designed to last a long time, but they will work in harsh weather for a few weeks, giving you enough time to catch mice causing problems on your property.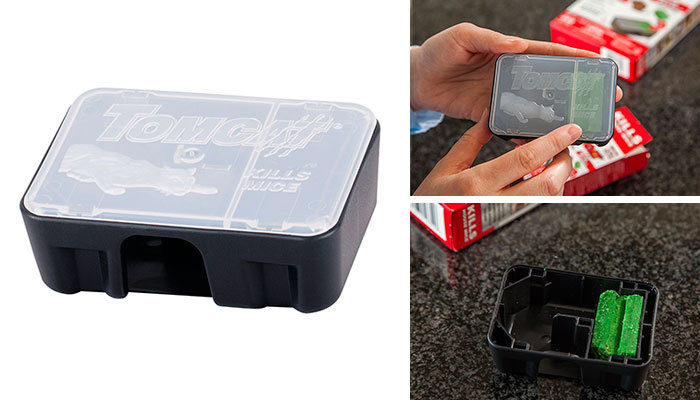 3.

T1 Mouse Disposable Bait Station
See More Images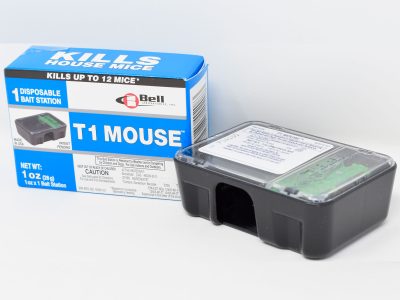 T1 mouse bait stations come pre-baited with Bromethalin blocks to destroy the mouse's central nervous system. They're also small enough to get into the tight spaces that mice like to squeeze through.
4.

Victor Refillable Mouse Bait Station
See More Images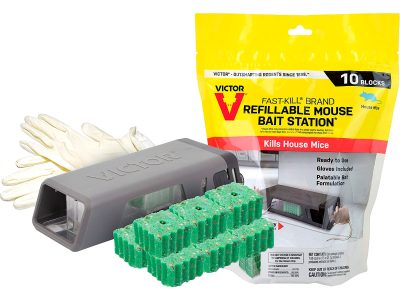 Victor Refillable Bait Stations are an excellent value for homeowners who want to be able to use their mouse traps again. For large infestations, they also allow you to refill your traps. Many homeowners use these year-round in areas like the garage where rodents can get in quickly and stay there if not deterred.
Victor bait stations are constructed with tamper-proof durable plastic. This brand boasts "bakery-grade" bait, so you know the mice will be attracted to the scent and taste. Even better, the mouse poison inside each bait block will kill them within only a couple of days.
Benefits of Refillable Stations
They can be refilled to kill mice even if they don't work the first time. This makes sure you can deal with a mouse problem as quickly as possible.
Refillable stations can be kept in your garage for later use. Even if you get rid of mice now they could come back later. In many areas, mice are a problem that will need to be dealt with almost every year.
Avoid keeping extra bait traps where they can be accessed by children or pets, including areas like under the sink. Keep extra bait blocks securely out of reach in your garage or in a locked cabinet. Victor Refillable Bait Stations are child and pet-resistant, but refill bait blocks can be hazardous on their own.
Using Refillable Bait Stations:
Always wear plastic gloves or work gloves when handling poison bait and the bait station used to attract mice. The poison is not good to get on your skin and even more important, you don't want to deter mice with your human scent. The bait station may repel mice if it smells like you.
Place the bait in the bait station. Each 30-gram bait block can kill up to three mice when handled properly.
Put the bait station in an area of your home where you know that mice have traveled or will travel. The bait will work to attract mice, but choosing the right area for your bait station can help ensure quick results.

Leave the bait station in place for 15 days, monitoring the bait level each day. Once you have stopped seeing signs of mice in your home the traps can be removed.
Child and Dog Resistant
Poison bait stations come in a variety of formulas. If you have pets or small children in your home, you'll want to look for products that are marked as child and dog-resistant when you're shopping.
Here's how these products work to keep kids and pets safe:
Bait scents are designed to be appealing to mice and rodents, not dogs and small children.
A small opening size makes it impossible for children and dogs to access bait pellets or blocks inside the trap.
Heavy-duty materials make it difficult for dogs or large animals to chew bait stations. Bait stations can also be secured in place to make it even harder.
Sometimes you'd rather use a trap than just set mouse poison out in the open, which can help keep the dangerous chemicals away from pets or kids. To find out more about the
best mouse traps
, click here.
In Conclusion
Discovering you've got mice can be an unpleasant day indeed, but once you figure out how to handle them, it doesn't have to be as bad as you may have thought. The best mouse poisons can easily kill mice quickly and in large numbers, getting rid of your mouse infestation for good.
If you've been looking for a way to kill mice in your home, I hope this article has helped you make an informed decision. I wanted to make sure that homeowners could find the best mouse poison on my list, and I feel confident that there is something here for everyone!
Whether it be JT Eaton Bait Blocks or Farnam Just One Bite II Pellets, these are all high-quality options with great reviews from customers. Be sure to read over each of them carefully before determining which one will work best for you and your family.
Good luck finding a solution!
Frequently Asked Questions
What happens to mice when they eat poison?
When a mouse eats poison, it instinctively knows that the only antidote is to run away and poop out the poison.
It's also worth mentioning that if you let these mice go off into the wild and continue to eat a diet of poisonous pesticides without protection, they will never know what it's like to be healthy mice because before too long they'll die from those pesticides.
The key point here is to avoid letting these free-living poisoned mice reproduce (either with each other or through their reproduction) because once they produce offspring, those offspring grow up eating more poisonous food. And once again, this increased exposure will make generations after side effects more toxic as well as increase fecal contamination in forested areas, which could expose predators to these mouse poisons.
If you're not 100% sure that a wild mouse has eaten poison and doesn't have any symptoms, then the smart move is to just leave it alone. If you don't see any symptoms of poisoning, then your guess was wrong (no harm done) and if there are symptoms of poisoning, then rescuing it could potentially cause more problems for other living things in the area than leaving it alone would.
What to do if your dog eats mouse poison?
If you find your dog vomited after eating a poisoned mouse, it's probably best to contact your vet for advice and treatment. For instance, if the mouse had eaten poison that is known to be toxic to humans, like rat poison, then the vet may treat the dog with activated charcoal and other treatments depending on the circumstances.
It's also important to keep in mind that some mouse poisons can be fatal to dogs, even though they are not harmful to humans. Rodenticides are one of these because they can cause bleeding in the stomach, intestines, or brain.
How to inject poison into walls to kill mice?
Unfortunately, there is no easy way to do this.
Mouse poison can't be injected into walls because the wall would need to somehow have an opening in the middle of it or something high up where the mouse could reach it. Either you're going to have a hole in your wall big enough for a mouse's arm (probably) or you're going to need a stepladder or something so that they can reach the mouse poison.
Can I use rat poison?
For the most part, yes, you can use rat poison on mice, and mice poison on rats. However, there may be some differences between the two. Rats are bigger than mice and would need a larger dose of poison to kill them, while mice need less rat poison to die.
Mothballs are great for keeping out certain insects, but do mothballs keep mice away? Find out here.
You can find further details of Mice Control here.