Top 5 Bird Spikes: Efficient and Cost-Effective Exclusion Devices for Bird Control and Installation Info
Problems with birds come in all shapes and sizes and so do bird control solutions. Read on how to resolve your problem with the best bird spikes. Here I'm going to break down the best choices that can help treat your birds' problem.
Our Recommended Top 3 Bird Deterrent Products
IMAGE
PRODUCT

Our #1 Rated




Bird-X SP-10

Material: Polycarbonate
Spike Width: 3 inches




Check Price

People's Choice




Bird-X STS-10

Material: Stainless Steel
Spike Width: 4.5 inches




Check Price




Bird-X EWS-10

Material: Stainless Steel
Spike Width: 7.5 inches
Extra wide




Check Price
What is the Best Bird Spikes in March 2021? – Buyer's Guide
It usually starts with only a few birds on your roof, signage etc.  But unless you implement some efficient bird controls – like spikes – birds will be drawn to your property in increasing numbers. Before you realize the problem, you'll have to contend with blocked and defaced signage, damaged roofing tiles, and bird droppings.
In this article, you will find out all the necessary information about spikes and their installation. Get help with bird control measures plus the latest information on the best bird spike models right now.
Why Bird Spikes?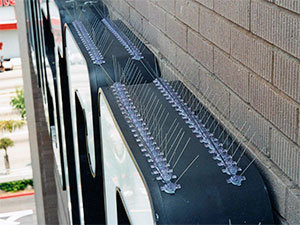 A bird spike also known as an anti-bird spike or roost modification is a control device that consists of needle-like rods for control of birds.
Birds and their nests carry
bird mites
that can easily infest buildings.
Anti-bird spikes can be attached to ledges, windowsills, rooftop ledges, chimneys, and other surfaces – where bird nesting and roosting are a problem – to prevent feral or wild birds from roosting or perching.
Usually these control devices are very effective and help to:
Prevent infestation;
Stop the spread of diseases;
Avoid property damage;
Prevent birds' droppings.
These days, there is a huge array of spikes available on the market. You can easily purchase these deterrents for small birds and big birds, pigeon spikes that can deter pigeons, gulls, and blackbirds as well as choose innovative designs, etc.
Top 5 Models for Different Bird Control Capabilities and Features Reviewed
It is really hard to say what type or model of spikes is the most effective or working. Bird spike strips, metal spikes, wire spikes – it's up to you what to choose. In any case, an anti-roosting spike is the best defense against birds that money can buy.
We recommend the following products:
1.

Bird-X SP-10

– Best Plastic Bird Spikes (Editor's Choice)
See More Images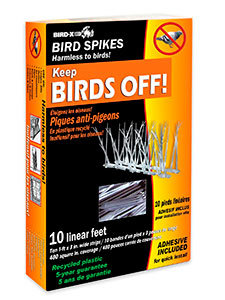 Bird-X is known as polycarbonate spikes are made from protected polycarbonate plastic. These spikes are sold in a variety of sizes.
Consider the following products:
Bird-X SP-10 – provide 10 feet of coverage.
Bird-X SP-10 (2 Pack) – covers 20 feet.
Bird-X SP-50 – covers 50 feet.
Bird-X SP-10 (10 Pack) – covers 100 feet.
Installing bird spikes on signage, roof lines and walls do more than just scare birds away. These products effectively prevent them from landing.
Therefore, they are referred to as anti-roosting bird deterrents.
2.

Bird-X STS-10

– Best Stainless Steel Bird Spikes (People's Choice)
See More Images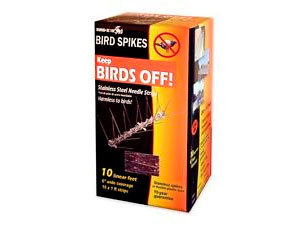 These barriers are made entirely from high grade, high-quality stainless steel wire, and strip. When properly installed, these effective and high-quality spikes can last a lifetime.
3.

Bird-X EWS-10

– Best to Prevent Large Birds
See More Images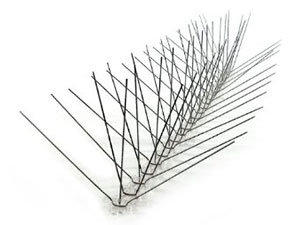 The product made with stainless steel and weather-proof polycarbonate. It's won't corrode or decay and covers 10 linear feet with up to 8 effective width coverages.
Bird-X used to prevent large troublesome birds like cormorants, seagulls, raptors, turkey vultures from roosting, or landing.
Both plastic and stainless steel spikes for birds are safe and humane and have been approved by several societies including the U.S. Human Society and the Pigeon Control Advisory Service.
Bird Wires or Roost Inhibitors
These products physically exclude birds from roosting in places they are unwelcome and include bird wire, bird spikes, bird coils, and similar devices. Small kits are sold by large catalogs and web retailers, too numerous to list here, who mainly market products for homes and gardens.
These retailers specialize in bird control and similar products:


Bird Barrier America
Bird B Gone
Birdbusters
Bird Guard

Bird-X, Inc.
Cat Claw, Inc.
Nixalite of America


Guide to Retail Sources for Products to Resolve Wildlife Conflicts by U.S. Human Society
4.

Defender Bird and Pigeon Spikes

– Best for Gutter (UK only)
See More Images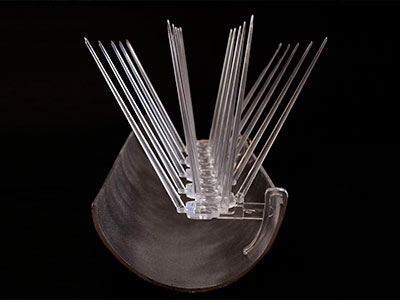 Don't know how to keep birds from clogging and nesting gutters or drains? Gutter spikes are an ideal solution. When attached to the lip of a gutter, these won't allow birds to land on the uneven surface.
5.

Defender Spikes Repellent

– Best for Girder
See More Images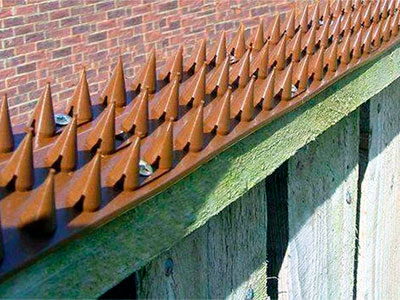 Want to prevent large birds from landing on l-beams or girders? Purchase Defender Spikes.
Nesting materials and bird dropping can carry sixty different diseases that can be passed to humans. Bird droppings found in restaurants, storage facilities, etc. may violate health codes resulting in closures or fines.
Remember, birds are pests and need the same type of consideration as roaches or rats.
Installation Info
How to install bird spikes? To begin with, it should be noted that installing them is an economic, efficient and humane solution for preventing birds from landing on your property.
Spikes products are ideal for:
Parapet walls;
Ledges;
Signs;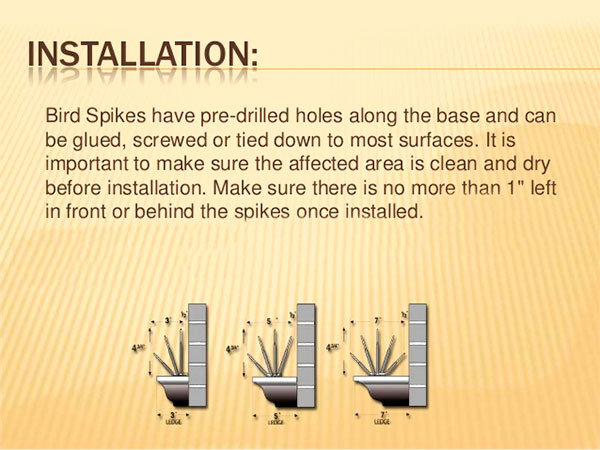 What about installation? As a rule, it has flexible bases that make them easy to install on flat or curved surfaces. Spikes can be glued, tied down, or screwed.
To make installation easy and fast, do the following:
1. Clean the Surface
No doubt – bird nesting materials and droppings do carry disease. You need to clean the surface of all those things.
Make sure the area is dry before bird spikes' installation.
When cleaning the surface of bird droppings, wear respiratory protection and gloves. To clean the area, use a disinfectant – ammonia solution.
2. Choose One of Mounting Methods
For Wood: To secure spikes into a wood surface, use wood screws – 1 screw for every six inches. Remember, there are 2 sets of holes between each fan of spikes.
For Concrete: To secure bird spikes down any type of surfaces you are to use outdoor construction adhesive. Many products – like Bird-B-Gone – have a glue trough along the base. For extra security, screw them along with using an adhesive.
As to the price of installation it depends on the size of areas that must be covered as well as the amount of job that needs to be done. Get ready to pay from $10 to $50 per foot for spikes installation.
Bird Spikes Effectiveness
These deterrents for birds are considered to be the most cost-effective and efficient bird exclusion device available within the bird control marketplace. Spikes are renowned in terms of longevity, application, and ease of installation. So what are the benefits of these best-selling products?
Top 4 Bird Spikes Benefits
Spikes are extremely easy to install. In fact, they can be easily installed by anyone.
Once installed, spikes for birds are almost invisible and therefore can be effectively used to protect structures, buildings where esthete are the greatest consideration, providing the owner with an effective and low-visibility control.
Bird spikes can be installed horizontally or upside down in case of necessity.
Unlike many of its counterparts, spikes are humane and non-lethal way of bird control.
The base of each spiked strip is 1.5 inches wide.
Call an Expert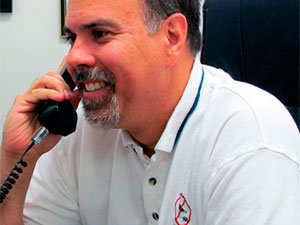 How to make spikes? Where to buy them? With the advent of the Internet, purchasing products from companies like Bird-B-Gone, Bird-X, etc. who not only provide the customer with a huge array of bird control products but also offer free-professional advice to anyone experienced a bird-related problem is the best solution.
Most spikes products are dispatched with an installation CD that makes installation much easier. For more complex problems the team of professionals at Bird-X, Bird-B-Gone are available for telephone advice.
Contact with their experts at finding the right deterrent product for your bird problems:
Contact with Bird-B-Gone experts – 1-888-474-4401.
Contact with Bird-X experts – 800-662-5021.
Most people choose to ignore the bird problem and simply scare birds away. However, birds are creatures of habit and they will surely return – often in greater numbers.
Don't wait until they make your house their property. It's time for a bird deterrent control like best bird spikes.