I Need Tips for Getting Rid of Bed Bugs in Clothes
Night-time bug bites and stains on your bedding reveal that you've been invaded by bed bugs. Now you're finding them everywhere, including your dresser drawers and clothes closet. You're taking steps to get rid of nasty little pests, but now they're in all your clothes. Your priority now is learning how to get rid of bed bugs in clothes. Is there a special detergent that will help? Is it better to pay a dry cleaner? Or do you just have to toss everything in the trash? Keep reading. We've collected the tips and information you need.
Bed Bugs Can Infest Your Clothes
Bed bugs thrive wherever people are. They are travelers and can hitch a ride on about anything. That includes your luggage if you set it anywhere near a bed bug.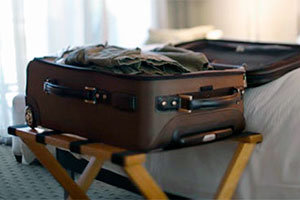 You may not have bed bugs in your home, but you can carry them home from anywhere you visit, including five-star hotels or your best friend's house. You can learn here how to prevent bed bugs from invading your living quarters.
Bed bugs love dark spaces. That includes the folds of your clothes. When they don't have better places to hide, bed bugs crawl into your clothes.
Washing and Drying Has a Surprising Benefit
Bed bugs have infested your clothes. Does that mean you have to spray them with the same insecticide you're using on the carpet and mattress? It's supposed to be safe for fabrics. How will you get any of the poisonous residues out of your lingerie?
Actually, getting rid of bed bugs in your clothes isn't as complicated as getting rid of them elsewhere.
Two goals to consider:
Keeping the bugs already in the clothes from infesting other areas.
Keeping bugs from other areas from re-infesting your clothes.
Plastic bags that seal tightly are your best friend for both these goals.
The Process Is Effective If Done Correctly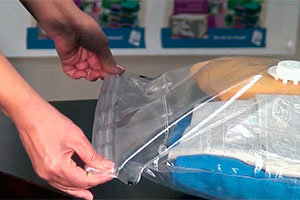 Follow these three basic steps to wash and dry clothes infested with bed bugs:
Seal the clothes in plastic bags.
Wash and dry the clothes.
Seal the cleaned clothes in plastic bags.
Don't place the bags where there might be a bed bug infestation. If all the bed bugs in your home have been eradicated, then you can put your clothes in drawers and closets after cleaning. If not, take what you need each time from a sealed bag, and reseal the bag.
Hot Water
Heat kills bed bugs. Use the hottest water that safe for your clothes when you wash them. You can add cleaning products to the wash water, but the hot water is what kills them. It's best that the clothes are in hot water for at least 30 minutes, so you may need to use two wash cycles.
Avoid placing the plastic bag on the floor or tossing your clothes in one at a time. Carefully unseal the plastic bag so that the opening is inside the washer. Then push in the clothes from the bag without touching them.
Keep Your Clothes Sealed in Plastic. Once the bag is empty, quickly reseal it, then place it in another bag and seal it. Dispose of both bags outside in an appropriate trash container. The bed bugs in the inside bag will eventually die from lack of food.
Bed bugs like to live within eight feet of you.
When you transfer the washed clothes to the dryer, avoid allowing them to touch anything. If you're at a commercial laundromat or other shared facility, place your clothes in a sealed bag directly from the dryer. If you're using your home washer and dryer, you can fold or hang your clothes as you usually would, if you're sure there are no bed bugs in the area. Putting bed bug-infested clothes on the floor allows the bugs to spread and infest the laundry area.
Laundry Soap
Bedbugs have become resistant to the chemicals traditionally used to exterminate them. Effective chemicals, such as those in modern insecticide sprays, aren't suitable for use in your laundry.
Laundry soap is meant to clean your clothes. It doesn't contain insecticides or other ingredients that are toxic to bedbugs. When you're getting rid of bedbugs in your clothes, washing and drying at high temperatures is all that you need to do.
Some people add dishwashing detergent, such as Dawn to the wash water. Dishwashing detergents can kill bed bugs on contact. They're effective when sprayed directly on bugs, rather than put in laundry wash water. For more tips on how to get rid of bed bugs naturally, read this article.

Bleach
Harsh chemicals like bleach will kill bedbugs. Even if you use products that promise they won't fade fabrics, bleach is still a risky way to try to get rid of bed bugs in your clothes. Internet advice recommends adding bleach to hot water when you do your laundry. Then use high heat in the dryer to dry them. The bleach may kill a bed bug or two, but it's the high temperatures that destroy them.
Making a spray of half bleach and half water and using that on your mattress is fatal to bed bugs hiding there. That can help keep your clothes from being re-infested.
Special Laundry Detergents
You will find products online or in retail outlets that are meant to be added to your laundry to kill bedbugs.
These include, but aren't limited to:
Bed Bug 911 Exterminator Laundry Treatment.

Formula 4 Bed Bug Detergent.

SayByeBugs Laundry Treatment.

The products claim to be non-toxic and safe for fabrics.
Searching for a list of ingredients in bed bug laundry detergents yields information such as:
All-Natural,
Proprietary formula,
Special formula.
You can use any of the products that you care to try, but note that most of the directions advise you to use hot water in the wash.
If the instructions include washing in cold water, then you are to use high temperature in the dryer. It's the heat that kills the bed bugs, not the detergent ingredients. It's also worthwhile noting that some states don't allow the use of some of the products. Those products may not be as harmless as advertised.
Heat Kills
The internal organs of a bed bug are protected by a tough outer coating called an exoskeleton. Bed bugs are killed by either destroying or penetrating the exoskeleton. Desiccants such as DE dry out the exoskeleton and the bug dies.
Insecticides work by penetrating the exoskeleton. Once inside, the poison either kills cells or disturbs the nervous system, resulting in death. Most insecticides must actually come in contact with the bed bug to be effective.
Sustained heat kills bed bugs, without putting poisons in your home or harming the environment. Washing and drying your clothes at high temperatures effectively and safely kills bed bugs.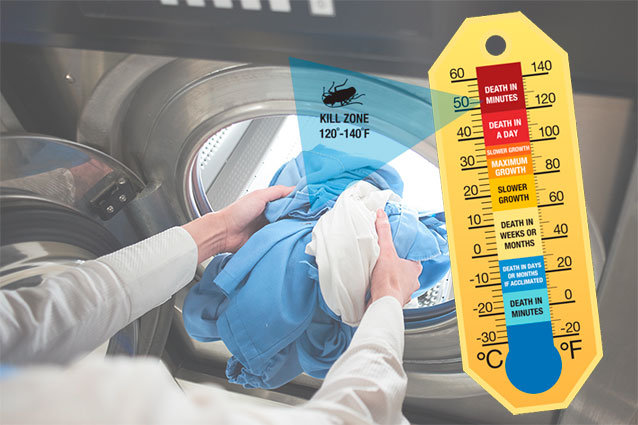 How Do I Kill Them With Heat?
As has been established, high temperatures are fatal to bed bugs. High temperatures can also be harmful to certain fabrics. Items that require dry cleaning can't be washed. Some of these can be placed in a dryer, but you must use the highest temperature and leave the items in for a minimum of 30 minutes. Then you can take them to a dry-cleaning establishment.
It's a matter of courtesy that you inform the dry cleaner that the garments were infested with bed bugs. You should also take them in a sealed bag, in case the dryer heat didn't kill them all.
Put The Sun To Use
Another option for using heat to get rid of bed bugs in clothes is to make use of the sun. Put your clothes in a sealed plastic bag. Place the bag in the sunshine for a few hours. You can use an infrared thermometer or similar instrument to monitor the temperature. Keep in mind that the clothes in the center won't get hot as quickly as the outer layer.
What Temperature Kills Bed Bugs?
How hot does hot have to be to kill bed bugs? Research and experiments have shown that temperatures of at least 50 degrees C or 122 degrees F are fatal to bed bugs. That temperature must be maintained for a minimum of 30 minutes.
Bed bugs have 3 major stages of growth.
These are:
If you don't eliminate all three stages, your items will soon be re-infected.
A 24-hour soak in cold water, then drying at high temperature can kill adults and nymphs. This can be an option for delicates that hot water would damage. It won't destroy eggs, so you may have to repeat the process several times.
Using temperatures that are at least 60 degrees C or 140 degrees F will kill eggs, nymphs, and adults. Maintain the temperature for at least 30 minutes. Regardless of the temperature, the nymphs won't die in less than 30 minutes.
What Are the Steps to Kill Bed Bugs in The Dryer?
When transferring wet clothes from the washer to the dryer, place them in plastic bags and avoid letting them touch anything. If you're placing items in the dryer without washing them first, they must go directly to the dryer from a sealed bag. Place the opening of the bag in the dryer and push the garment in. If you pick up clothes and place them individually in the dryer, the bed bugs can infest the laundry area.
If clothes ball up in the dryer, the inside garments will be cooler. In that case, leave the clothes in longer. Skip the cool-down cycle in all cases.
To avoid potentially re-infesting the next load of clothes, thoroughly clean the lint trap. Place the lint in a sealed plastic bag and dispose of it away from the laundry area.
Dryer Sheets
Dryer sheets smell nice to humans. Bed bugs don't care for the smell and will avoid it. That's led to the belief that dryer sheets are an effective way to repel bed bugs. Dryer sheets do not kill bed bugs or get rid of them.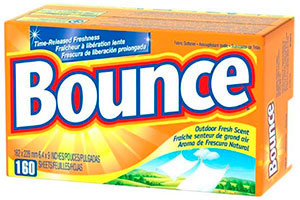 If you put dryer sheets in one location, the bed bugs simply move to a nearby location. A dryer sheet under your mattress won't keep bugs out of other parts of your bed. A dryer sheet in the pocket of a garment won't keep pests away from the rest of your clothing.
Bed bugs emit a musky odor. Dryer sheets can mask that odor, leading you to think that your pest problem has been solved. It hasn't. The infestation will worsen, potentially making eradication a much harder job than it would have been otherwise.
A bed bug infestation takes a lot of work and time to eradicate. Getting rid of bedbugs in clothing isn't as difficult as getting rid of them in furniture, carpets, and mattresses. Plastic bags that seal tightly, hot water, and a clothes dryer are all you need to make your clothes bed-bug-free. You can also treat your bedding, except for pillows, the same way. Pillows are too thick for the heat to effectively penetrate to the center. Toss them, but wash and dry everything else.
You can find further details of Bed Bugs Control here.