Top 10 Bed Bug Sprays You Can Buy in Stores: Effective Blood Sucking Killers
The moment you see the bugs in your bed is something you'll remember. Tiny insects, crawling on you while you sleep? Not good. And the fact that they feed on your blood makes it even worse. Bed bugs leave evidence of their presence behind in the form of bites: some large, others small, but all of them irritating. You may notice their presence from this, or may you see the bugs themselves. Once you realize you've got an infestation on your hands, you'll need to do something about it. But what can you do? Products are on the market now that can kill and prevent bed bugs, coming in several different forms, including sprays.
So you're looking for a good spray to treat your bed bug problem. But you don't want just any spray, you want the best. With the seemingly endless list of companies peddling pest control products, it helps to know which ones are effective, and which are mediocre.
Here I suggest some of the best sprays you'll find:
Our Recommended Top 3 Best Bed Bug Sprays Comparison Table
IMAGE
PRODUCT

Our #1 Rated




Bayer Advanced Bed Bug and Flea Killer

It doesn't stain fabrics.
No odor formula.
Safe for use at home.




Check Price

People's Choice




Eco Defense Bed Bug Spray

Natural organic formula.
Does not contain any unpleasant odors.
Cost effective.




Check Price




EcoRaider Bed Bug Killer Spray

Child & pet friendly.
An extended residual protection.
Dermatological safe.




Check Price
Bed bug eggs hatch in just a week and mature into full-grown critters within a month. They reproduce so fast, and their eggs may resist standard forms of treatment.
A female bedbug can lay up to five eggs a day.
Bedbugs are stubborn bloodsuckers that hide in the daytime and resurface at night to feed on its sleeping prey. They are capable of hiding so well, and they reproduce very quickly, this makes them very challenging to get rid of. The nymphs and adults may go for many months without feeding, and when they attack you, they bite any exposed skin areas while you are asleep. A typical bed bug bite is painless and unnoticeable. You need the right bed bug killer spray to remove the pests from your home.
Top 10 Best Bed Bug Sprays Reviewed
When buying bed bug sprays, pick pesticides with organic ingredients. Check the specifications and purchase a product containing 100% natural ingredients. The market has numerous bed bug killers with different levels of efficiency. Pick a bedbug product with caution. Purchase pesticides that will deliver direct results.
After much research, there are definitely some products that stand out more than others. And the winner is Bayer Advanced Bed Bug and Flea Killer.
Here is a list of the Best Bed Bug Killer Sprays and a review of each product:
1.

Bayer Advanced

– Best 30-days Bed Bug Spray for Long-Term Use (Editor's Choice)
See More Images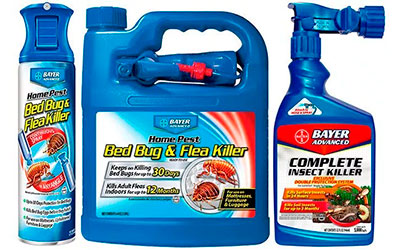 Bayer offers a spray that shoots from an angle, kills resistant bugs, and lasts for 30 days.
Ingredients include imidacloprid and cyfluthrin. It will kill eggs as well as adults. It kills on contact and leaves a long-lasting residue. It doesn't stain fabrics and doesn't have an odor.
You can buy it in aerosol cans or one-gallon containers.
When you spray for bedbugs, you don't need to drown everything in a spray. Many people think you'll have to saturate every part of your house in the liquid for it to be effective, but the truth is that you just need an even, steady layer of spray for it to work. If you soak your house in spray, you'll just risk leaving stains behind.
2.

Eco Defense

– Best Recommended Bed Bug Killer Spray (People's Choice)
See More Images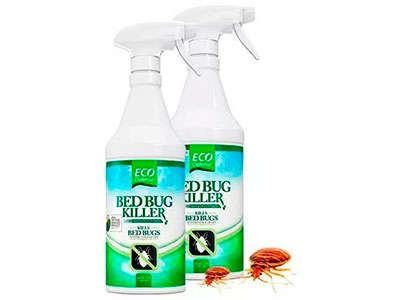 This is by far the most lethal killer for the deadly blood-sucking critters. It is made from a blend of both natural and chemical ingredients. Buyers' experiences from most home appliance stores prefer this product as evidenced by sales records. It goes to show that most people trust the Eco Defense bed bug killer as the most active ingredient for bed bug elimination in homes.
Eco Defense has powerful ingredients including Sodium Lauryl Sulfate and Geranium Oil. It kills rapidly once in contact with the blood-sucking critters. Most customers refer to its swiftness as "killer results." It does not contain any unpleasant odors.
It is a natural bed bug killer spray that destroys bugs on the spot upon contact with bugs. It contains safe organic elements capable of killing bedbugs at any phase from the egg stage to the fully-grown adults. This substance does not stain your bedsheets, unlike other bed bug pesticides. Eco Defense works expediently and is easy to use by spraying directly on the infested areas.
Other products for permanent removal of bedbugs include:
Eco Defense has a safe exterminator formulation to produce high performance. Customers get a 60-day free trial. The product eliminates bed bugs especially those that have developed resistance to conventional pesticides.
Pros
Cost effective.
No staining.
100% safe for domestic environment.
Kills on contact.
Fast treatment.
Cons
Produces a slightly strong scent for asthmatic people.
3.

EcoRaider

– Best Pet-Friendly Bed Bug Spray
See More Images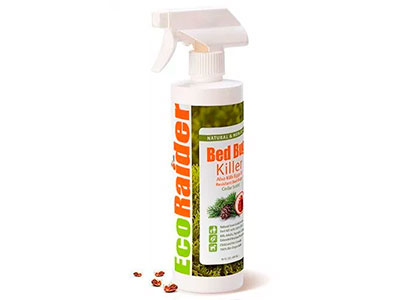 EcoRaider is a proven non-toxic organic insecticide. The American Entomological Society publication wrote an article highlighting that Eco Raider is an organic bed bug sprayer with 100 percent efficiency. Research entomologists carried out field tests in public housing projects infested with bedbugs and found this insecticide quite useful in such highly populated environments.
Research entomologists established EcoRaider as the most trusted beg bug killer by professional exterminators. It is an effective insecticide that eradicates bed bugs from the egg stage to the adult stage. It kills directly within minutes of contact with EcoRaider.
This powerful insecticide also has extended residual protection. When leftover two weeks, EcoRaider kills on bed bugs long after drying. It is Eco-friendly, safe to use on children's beds, and around their rooms as well. The substance is also dermatological safe. You can spray directly on the mattresses and the box springs. It has a micro-active ingredient that infiltrates the exoskeleton that leads to sudden paralysis and eventual death of the critter.
Pros
Instant bed bug killer.
Safe.
Natural product.
Non-toxic.
Kills stubborn bedbugs.
Lasts longer hours after spraying.
Destroys all bed bugs within weeks of spraying.
Cons
Strong Scent with bearable smell.
4.

Proof Killer

– Best Contact Killing Bed Bug Spray
See More Images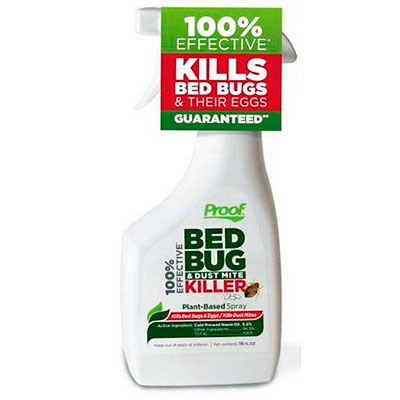 Provides instant solution upon spraying on infested areas. Proof Bed Bug Spray is safe to use within homes, in nursing establishments as well as hotels. It is environmentally friendly to use around children's bedrooms, pets, and at the workplace because it destroys bed bugs swiftly, at all stages. The product may be used in the outdoors as well in places like porches, or any warm sitting areas that may attract the little bugs. The insecticide has an alluring neem oil smell that kills resistant bedbugs.
Pros
Safe to use domestically.
Contains natural ingredient's.
It destroys resistant nymph and bedbug eggs.
Kills instantly.
Kills at all stages.
5.

Bed Bug Patrol

– 100% Natural, Non-Toxic, Environmentally Friendly, Family&Pet-Safe
See More Images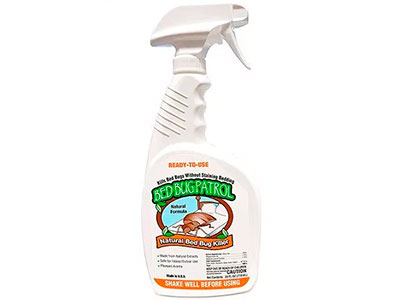 The most popular bed bug spray preferred for its clover/peppermint scent. It is also safe to use domestically on home furniture as well as on the mattress and bedding. It kills bed bugs instantly when sprayed directly on the critter hideouts. It works efficiently and has a pleasant mint odor. It does not stain bedding; therefore, safe to spray directly on your bedding and mattress where bedbugs like to hide. It kills within minutes of contact and long after the spray residue has dried, to eliminate any hidden eggs.
Pros
Provides money back guarantee usage period.
Stain free when sprayed directly furniture and beddings.
Safe for use near children and pets.
Pleasant peppermint and clove scent.
Cons
No cons can be identified with this product.
6.

Harris Bed Bug Killer

– Liquid Spray with Odorless and Non Staining Formula
See More Images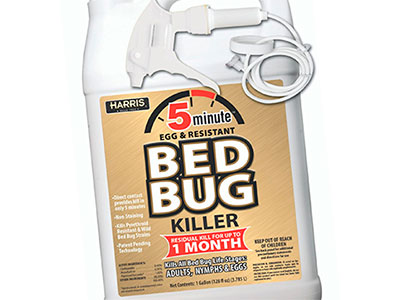 Harris is a water-based product odorless spray made with deltamethrin that kills bed bugs upon contact; commonly known as "instant death" it is simultaneously used with the Harris Diatomaceous Bed Bug an Earth Powder. Harris critters Killer significantly reduces bed bugs population in your home within two weeks of simultaneous application.
It's non-staining and safe for use on mattresses.
They also offer the Harris Egg Kill formula in a 32-ounce aerosol can.
7.

Hot Shot Bed Bug Killer
See More Images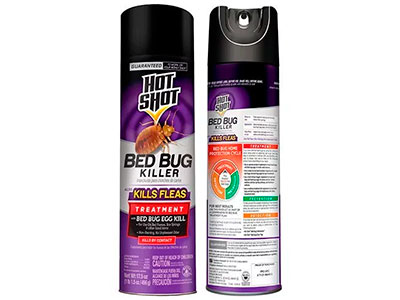 Hot Shot available in several forms, including a formula containing an egg killer. This ingredient kills all the bed bugs hidden in your home together with the tiny eggs upon contact. Safe for use in your furniture including pillows, chair seams, folds, mattresses, and vent holes. But it isn't recommended for use on mattresses.
The insecticide does not stain your beddings and sofas. It obliterates bed bug eggs and tiny bugs hidden in crevices.
You can buy it in aerosol cans or one-gallon containers.
Have you seen just how many products are available to combat bed bugs? Not all are created equal, but most are effective, including Hot Shot Killer Spray.
Click here
for more details on Hot Shot, which is formulated from Lambda-Cyhalothrin.
8.

Ortho Home Defense Max Bed Bug Killer
See More Images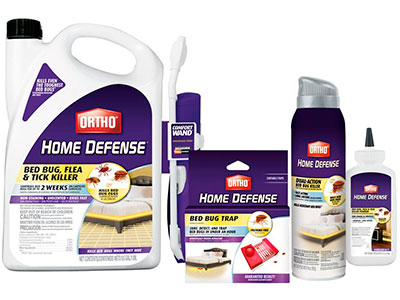 The fast-acting spray made with imidacloprid and other ingredients known to kill bed bugs. Using ingredients that kill even pyrethroid-resistant bugs, Ortho bed bug spray is long-lasting and guaranteed to kill bed bugs fast.
It's available in several sizes for your convenience.
9.

Avenger Natural Organic

– Indoor/Outdoor Bed Bug Killer Spray Bottle
See More Images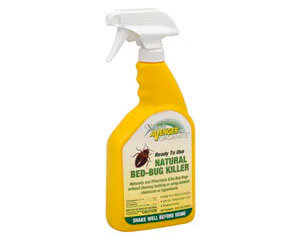 Contains a concentrated mixture of natural ingredients that destroy bed bugs in all stages. A stain-free insecticide kills on contact with the blood-sucking critters. Avenger insecticide guarantees safety when used in the home environment. It can be sprayed directly on furniture, beddings, and other surfaces.
The active ingredients contained in this insecticide are peppermint oil and clove oil that contribute to its success in eradicating bed bugs.
It's formulated in a non-staining water base. It kills bugs on contact and is safe to use with care around children and pets.
Pros
Kills bed bugs instantly.
Safe for use at home.
Eco-friendly.
Guarantees 100% results.
10.

Transport Mikron Insecticide

– Can You Buy Commercial Grade Bed Bug Spray?
See More Images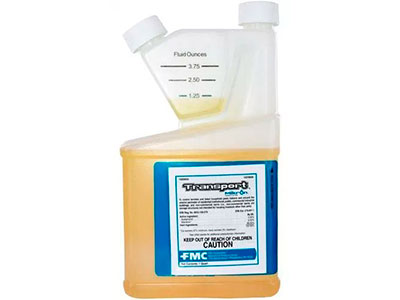 Commercial bed bug sprays are intended for use in apartments and hotels. Many of them are available only in concentrated forms for use by professional exterminators. Some are marketed as kits, as it often takes more than one product to effectively kill bed bugs.
Transport Mikron – made from acetamiprid and bifenthrin. It kills on contact as well as leaving a residue to keep on killing pests.
If you are able to acquire this product, you must wear protective clothing, glasses, and a breathing mask. Use only in well-ventilated areas and leave your home for up to 24 hours.
What is the Best Bed Bug Spray in May, 2022? – Comprehensive Buyer's Guide
You're trying to eliminate an infestation of bed bugs. Although there are pest exterminators in your town, you want to save money and get rid of the bugs yourself. There are lots of products available through online vendors. You can access full information on some of them, but most aren't fully described. You have decided to shop locally so that you read all the labels. But what is the best bed bug spray in stores? Keep reading. We have a summary here of products for you.
Bed bugs present a huge household problem for many people. Naturally, they can dwell anywhere in your home; they can hide in deep cracks in bed frames, furniture, or in any fabric such as curtains and beddings. If you suspect bed bug activity in your beddings, it's time to buy bed bug killer solutions for your home to eradicate the little suckers as soon as you notice itching or soreness on your skin.
Pesticide sprays provide the fastest solution to kill bed bugs instantly. In this article, we will detail the best bed bug killer sprays to use according to the level of infestation in your home to help you to make the right choice.
Is Effective Bed Bug Spray Available in Stores?
You can purchase bed bug repellents, but your success will probably be limited. Bed bugs feast on warm blood, and your body attracts them. Chemicals rarely repel them. You have to kill bed bugs to get rid of them. The best way to kill them is to spray an insecticide directly on their ugly little bodies.
In selecting a bed bug killer spray, consider the following:
The severity of the infestation.
How quickly the spray kills pests.
Will the product stain your mattress.
Is the spray safe to use if you have pets or children.
Does the product have a residual effect.
There isn't a particular product that's best for everyone.
You have more than one choice; namely, sprays that are manufactured from:
Insect Growth Regulators (IGRs).
Each type has advantages and disadvantages.
Natural Sprays
The natural bed bug sprays contain a variety of ingredients. According to tests by independent agencies and customer reviews, two natural products are effective bed bug killers.
They are:
These are both oil-based sprays.
EcoRaider contains geraniol (extracted from geraniums) and cedar oils. Bed Bug Patrol is made from clove, coconut extract, and peppermint oils. Both products include other ingredients and both kill on contact.
EcoRaider and Bed Bug Patrol are generally safe to use around children and pets, but you still must exercise care in using them. Regardless of which kind or brand of spray you use, it's nearly impossible to kill all bed bugs with one treatment. Although these two are very efficient insect killers, you will need to spray more than once. The instructions will specify how long to wait before treatments.
Popular organic insecticides like EcoRaider and Bed Bug Patrol have proved to be effective against bug and hatched eggs. Direct spraying causes a high death toll of the pests (80%), and 100% die within ten days of spraying.
Some organic low-toxic homemade bed bug spray can kill bedbugs when sprayed directly on the critters, but they do not affect the bugs once the liquid dries up. The resilient little bugs do not die easily and avoid areas sprayed with pest killers.
Artificial Chemical Sprays
These days' pyrethrum-based bedbug pesticides remain the most widely used chemical sprays. They kill bed bugs by attacking nerve cells and causing nerve agitation. This ultimately paralyzes the insects leading to instant death. Pyrethrum insecticides are also common today and considered as potent pesticides when sprayed directly on the bed bugs.
Pyrethrin is derived from a particular species of Chrysanthemum. It's been used for thousands of years to eradicate numerous insects. Kenya currently supplies the major portion of pyrethrin. It works on the nervous system of insects.
Most bed bug sprays in stores contain a form of pyrethroid, which is the synthetic version of pyrethrin. Numerous kinds of pyrethroid are manufactured today, as the long-time use has led to bugs becoming resistant to the earlier versions.
Bedbugs have developed resistance against certain types of pyrethroids.
The (EPA) Environmental Protection Agency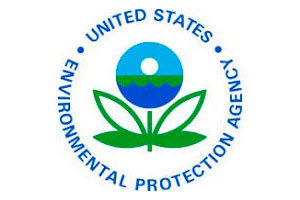 , approved licensed bed bug killer sprays including 16 pyrethrins, four neonicotinoids, chlorfenapyr, three inorganic compounds, propoxur, DDVP (dichlorvos), and organic sprays made from neem oil, alcohol and S-hydroprene.
Other groups of pesticides include, but aren't limited to:
Chlorfenapyr – destroys cells in insects.
Dichlorvos – disrupts the functioning of the nervous system.
Neonicotinoid – paralyzes, then kills insects.
Propoxur – acts quickly to kill on contact and has a residual effect as well.
These are all classes of insecticides, and each has a variety of forms that differ slightly.
Raid Max Bed Bug Spray, which contains several powerful pesticides, may just be one of the oldest names in pest control. They've developed a treatment for everything from roaches, to bed bugs. For more information on Raid Max,
click here
.
For example, the Neonicotinoid group includes:
Acetamiprid,
Clothianidin,
Dinotefuran,
Imidacloprid,
Nithiazine,
Thiacloprid,
Thiamethoxam.
Most products also contain alcohol and neem oil, as well as inactive ingredients.
Although many types of insecticide are included in the two lists above, you'll see other names. New insecticides come on the market frequently. Each is formulated differently than its predecessors in an attempt to overcome insect resistance.
So your spray can repel bed bugs, but can it kill them? When you think about killing bugs, you might think of the big names like Raid. But what about ones that are lesser-known, yet still just as effective? More details on JT Eaton bed bug spray, which is an oil-based product made from pyrethrum,
can be found here
.
Over-the-Counter Products Aren't Strong
Many of the products you can buy won't have huge amounts of insecticide in them. That's due to environmental, health, and safety regulations. Commercial pest eradication products contain insecticides in much stronger concentrations.
Because of the reduced strength of products available to consumers, the sprays work best when sprayed directly on bed bugs. They don't have effective residual action. Bed bugs don't eat poisons or baits.
It's You They Love
Bed bugs are attracted to wherever humans are because their preferred food is human blood. A bed bug infestation is not an indication of poor housekeeping or your social status. It doesn't matter who you are or how clean your house is, bed bugs will move in because you're there.
Insect Growth Regulators Products
Specialists in the Entomology Department in Virginia explain that only one insect regulator hydroprene – is marked for bed bug control. IGRs are marketed with the promise of sterilizing bed bugs. Once the adults die off, the problem is solved.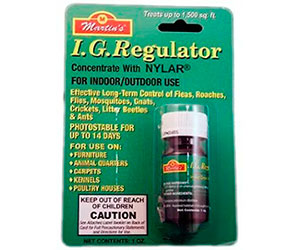 However, research has revealed that IGR products aren't working as promised. They do not sterilize bed bugs. The poisons in them slowly kill insects. Bed bugs can reproduce a generation of critters before dying.
Bed bugs won't mature without blood meals.
Because IGRs do effectively kill bed bugs, you may choose to use a spray that contains an IGR in combination with other ingredients. If you see hydroprene and kinoprene on the product label, then you're buying an IGR spray.
I Need Something Effective
When it comes to a spray, you want something that works, first and foremost. There are many different products out there you can buy that use top ingredients shown to kill bed bugs quick.
Ingredients you may notice in these sprays include:
Pyrethrins: This liquid is the most common pesticide used for bed bugs and other insects, and is derived from the chrysanthemum flower. Not only will it kill bugs, but it will also flush them out of whatever hiding place they're in.
Desiccants: This substance works to destroy the protective waxy coating surrounding the bed bug. Once stripped of this coating, the insect will dehydrate and die. A huge advantage to Desiccants is that bed bugs can't become resistant to it.
Biochemicals: An example of this is Neem oil, the only biochemical pesticide registered specifically for bed bugs.
Neonicotinoids: This uses synthetic forms of nicotine to destroy pests. Their nerves will fire repeatedly until the nerve itself dies, thus slowly killing off the nervous system and the insect.
Insect Growth Regulators: This type of pesticide messes with the way the bed bug grows, which then, in turn, kills it.
Many organic bed bug sprays are effective and non-toxic.
Spray for Clothing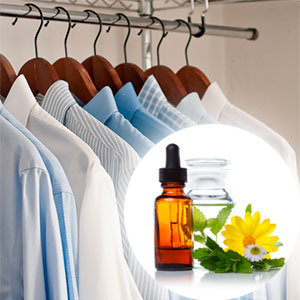 You may not know that bed bugs can cling to your clothing, meaning that you can easily transport them from place to place. All they have to do is crawl into that shirt bunched up on the floor and take a ride with you to your friends' or family's homes.
First and foremost, if you have bed bugs, wash all your clothing with very hot water and soap to kill not only the bugs but their eggs as well. Then, if you wish to go a step further and use a spray, try a DIY one made from essential oils that will leave everything smelling nice.
It's never a bad idea to bring along a bed bug spray when you're traveling, just in case. But if you suspect the hotel you're staying in to have bed bugs, make sure to alert hotel staff immediately. Not only is the problem unsanitary and disturbing, but it can also easily be brought home with you in your luggage and clothing.
Travel Products
Many sprays come in a convenient travel size. If you're staying in a hotel or another location you may worry about bed bugs residing, consider bringing one of these smaller-sized sprays with you. They'll kill the bugs and keep them from not only biting you but also from coming back home with you.
Store-bought: An example of this is the EcoRaider Bed Bug Travel Spray.


See More Images


It's the right size to fit in your luggage but potent enough to where you don't need more than a light layer of spray.

DIY: Combine essential oils and water in a small travel sprayer and use all over bedding, mattresses, furniture, and carpets. A huge bonus is a pleasant smell you'll leave behind!

Nobody needs to go out and spend a ton of money on bed bug products, when you very well may have the ingredients sitting right in your house!

Go here

for more details on homemade bed bug spray.

Diatomaceous Earth: This powder isn't so much of a spray like a liquid is, but it can be sprayed out in powder form. It's made from fossilized remains of marine phytoplankton and not only dehydrates bugs but cuts up their exoskeleton, as well.
Always on The Move
Bed bugs like to travel. The primary way they change locations is by crawling inside your luggage, especially in hotel rooms. Some experts advise setting luggage on plastic sheeting rather than on hotel beds or floors. You can also buy products to spray on your luggage to help prevent hitchhikers.
Treating Bed Bugs on Furniture
Bed bugs don't just hide in beds. They'll go anywhere they can disappear into, which includes couches, armchairs, mattresses, and even carpets.
Always spray into crevices where bed bugs may hide.
To control insects hiding in furniture, you've got to go where they go. Crevices in cushions and mattresses, underneath footrests and the undersides… they can be anywhere. Pick a good spray and cover every inch of your furniture, taking care to get inside crevices and other tight spots.
Your clothing and furniture aren't things you want to be ruined by pest control products. Luckily, there are sprays out there that are made specifically for more delicate fabrics.
Sprays Safe for Babies
If you have babies or small children at your home, you'll want to make sure you use a spray safe for them, as their body systems are much more fragile than an adult's.
A few examples of sprays that are all-natural and thus safe for children to be around include:
How Exactly do I Spray for Bed Bugs?
Is there a certain technique you need to know? What about some tips and tricks?
Some rules to follow when it comes to spraying for bed bugs:
Don't just assume that because you can't see them, they must not be there.
Get inside crevices and cracks.
Don't forget the carpet and your luggage.
They can crawl inside tiny holes in your box spring. Because of this, you'll have to either spray in and around any holes you find in the fabric, or take the box spring out of your room altogether.
Depending on what spray you use, you'll need to re-apply anywhere from every day to every month.
Can I Use Roach Spray?
While there are many poisonous ingredients in roach spray that would help to kill bed bugs, it's best to use a spray specifically labeled for bed bug use. Why? Because they've got certain traits and resistance that require certain pesticides to get rid of them.
Using Disinfectant Spray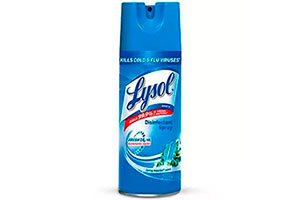 Disinfectant spray is another example that might kill some bed bugs, but it won't get rid of your problem. While this spray will kill deadly bacteria, it's not designed to kill bugs, especially ones as hardy as the bed bug.
Bed Bug Bombs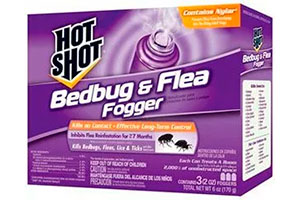 Bombs are also known as "foggers, " and are a kind of pest control that uses a smoke-like gas pesticide to get rid of bugs. The cloud of poisonous gas spreads throughout the room and heavily saturates everything, covering every square inch, just like a bomb. The pesticides used in bed bug bombs usually use pyrethrins as their poison, although different brands will use different ingredients.
Lice Spray as an Alternative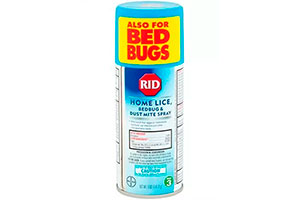 Lice spray is not a good alternative for bed bugs. Lice aren't nearly as tough and live in a completely different way on the human body. They may die much more easily from poisons and so their products don't need as strong a dose of it.
Even if you might kill a few bed bugs with lice spray, it's not the solution for eradication.
Where to Spray
Unless the instruction labels indicate otherwise, spray the following areas:
Mattress buttons, seams, tears, and holes.
Box spring and bed frame.
Furniture, such as dressers and night stands.
Behind pictures and other wall decor.
Behind switch plates and around light fixtures.
Gadgets.
Carpeting and tack strips.
Baseboards.
Under or inside anything that provides a hiding place.

Bed bugs can get into extremely tiny cracks and crevices.
You need to kill every bed bug to stop the infestation. If there's one survivor, there are hundreds of others. Some products will kill adults, juveniles, and eggs. Even those will probably require subsequent applications because of the bed bug's skill at hiding.
Bed bugs can survive for months without eating.
You won't know until you've tried if your bed bugs are resistant to a particular spray. You may have to try more than one brand before your eradication efforts are successful. Even if you aren't getting bitten at night, you'll notice little back spots of feces and dried blood on your bedding if you still have bed bugs.
Frequently Asked Questions
How does bed bug spray work?
Bed bug sprays are highly effective because they contain a substance that reacts with a chemical compound on the insect's outer shell, causing it to perish in about an hour.
The spray typically contains pyrethrin, which is derived from the chrysanthemum flower and is ten times more effective than DDT in laboratory tests. Pyrethroid insecticides have some drawbacks, too: they don't stay on surfaces for as long or affect bed bugs' ability to make new eggs.
Insecticides usually work by affecting the insect's exoskeleton and either killing them by drying them out or irritating their systems sufficiently that they are simply washed away.
This is why you will often find warnings on the label to make sure there are no children or pets in the room while you spray, as these could easily be harmed if they are rubbed up against treated surfaces after being exposed. Bedbugs aren't generally harmful to humans, but it doesn't hurt liberally spraying down your bedding just in case!
The same thing applies for any other seemingly inert surface such as furniture or walls - make sure there are no animals around before spraying those too!
Where to spray bed bug spray?
The best place to spray the bed bug spray is where the live bed bugs are visible. Although foggers, foams, and aerosols can kill bed bugs hiding out in cracks and crevices, they won't work as well as killing them on the surface. So it's a good idea to start by treating high-traffic areas and then make get fussier with more sensitive places like your underwear drawer or nightstands.
Since it may be difficult to lift furniture to locate these insects, spraying all four corners of each piece of furniture is also beneficial for both adults and nymphs alike.
Do keep in mind that not all insecticides will reach into every possible hiding spot; so the best place to spray a bed bug repellent is in the four locations where they are most likely to live:
near where you sleep,
close to the headboard,
on your mattress (including any creases),
on your box spring.
Bed bug sprays work best when they're sprayed onto surfaces that don't collect clothing or linens.
Make sure all other rooms in your house have been inspected for bed bugs before spraying because it can take hours for bed bugs to metabolize insecticide and die after being sprayed.
And remember no matter how many times you've sprayed an area with an insecticide, scout closely anyway. The bed even a very low concentration of bedbugs will be able to ignore these treatments.
How long does bed bug spray last?
It can take at least 14 days for bed bugs to die, and while it's not entirely clear how long the chemicals in a standard spray would last, likely, these chemicals will often last longer than 2 weeks. Any protection from sprays following this timing should be expected to decrease over time as well.
Spray should be reapplied after 2 weeks, as bedbugs grow out of their eggs at that time and require more treatment.
Conclusion
So you're looking for a good spray to treat your bed bug problem. But you don't want just any spray, you want the best.
Best is a very subjective word. What is best for you may not be the best for others and vice-versa. With the seemingly endless list of companies peddling pest control products, it helps to know which ones are effective, and which are mediocre.
Three products that are highly rated for effectiveness and safety are:
They have various combinations of ingredients.
If you've got bed bugs, don't think for a second that a spray isn't good enough. With all the store-bought options out there, plus the homemade recipes available now, bed bug sprays are not only effective but may even be the best method you can find!
Do-it-yourself bed bug eradication is possible. You will probably need to use more than one product and apply even the best bed bug sprays in stores more than once. Although some sprays say that they can be used around pets or children, none of them are completely safe. The most important thing is always to read and follow all the instructions.
You can find further details of Bed Bugs Control here.