Effective Eradication of Ground Squirrels Less Than in One Week
What do you know about ground squirrels? You're going to be surprised, but these little creatures bring more damage than most big rodents, and this is why you should do everything possible to eliminate them fast and for good.
If you see the first signs of infestation, there are high chances that the pests have already found their way to your house through multiple entry points. There's no doubt that addressing professional squirrel removal is a working method, but why pay more if there are chances to cope with the issue on your own?
We suggest reading the information we provide on how to repel numerous squirrels, poison them and even kill. Read and check how effective your work can be!
5 Steps Ultimate Guide on How to Get Rid of Ground Squirrels Humanely
Ground squirrels are an invasive species of rodent that is found throughout the United States. They are small, furry creatures with big bushy tails and large front incisors.
Ground squirrels can cause a nuisance to homeowners by digging up lawns and flower beds, stealing bird feeders from decks, damaging cars, chewing through wires in homes or office buildings, and generally being unpleasant pests. In addition to this, they carry diseases such as rabies which could be passed on if a ground squirrel bites a human or animal.
So how do you get rid of these pesky rodents? Here is a straightforward guide with 5 steps on how you can remove ground squirrel infestation from your property!
Step 1. Make your property uninviting to squirrels


Remove debris and fallen trees
Debris and fallen trees are usually some of the favorite places for ground squirrels to live in. They like to use these types of objects as shelter, nesting ground, or food sources.

So if you want to get rid of ground squirrels on your property then you should start by removing any debris and fallen tree branches that have been lying around.

Take away their shelter
Ground squirrels like to live in small dens which they make from twigs and leaves. Usually, these dens are found beneath logs or piles of stones. If you find such a den around your home (located on the ground) then it is best to remove it immediately.

You can also make use of physical barriers by filling up any holes with gravel or cement blocks if there are any openings in your lawn for example.

Remove food sources
Ground squirrels are fond of seeds and dry plant material so getting rid of their food source will be one great way for ground squirrels removal. So try removing all fallen birdseed that has been spilled into the yard.

Ground squirrels also love to feed on fruit and vegetables so make sure you remove any fallen or rotting fruits from around your home. You can also get rid of them by watering the garden less often as this may reduce the number of ground squirrels visiting your yard.

Remove water sources
Ground squirrels are attracted to water, especially when it is scarce out in the wild or hot weather conditions. So one great way on how to get rid of ground squirrels is by removing all sources of standing water in your property, such as - birdbaths, ponds, pools, etc…

If there are any holes in your lawn that drain into a cavity then these should be filled up with sand or gravel too.

Step 2. Install an electric fence around your garden or yard
One way to get rid of ground squirrels is by installing an electric fence around your garden or property. If you live in a place where animals are prohibited then you can buy the supplies for this project at your local hardware store.

However, if you live in a place where it's not illegal to keep certain types of animals, then make sure you wait until after dark to install the fence so as not to attract neighbors' attention!

Purchase either an electrified wire netting or polypropylene netting with a wire that is sold on rolls.
Determine how long and wide an area need to be protected with the wire.

Use metal posts on each end of the area and secure them to the ground using cement.
Feed the netting along the wire over the top of each post, which will hold it up securely.

You can set an electric fence for ground squirrels at any height you like but make sure you make it high enough so that they cannot jump over it. For extra bite keep electric wires to one side of your fence only as this is where they will most likely touch first, if they try to dig under or jump over then they should touch both sides at once which might be enough to shock them well enough to deter them from coming back!

Step 3. Seal up any holes in the ground or walls of your home
If ground squirrels can get inside your building, they will eat anything they find and make a mess. To keep them out, seal any holes in the ground or walls of your home.

Eliminate or block any access points such as cracks or small gaps under doors and windows.
Install metal flashing around pipes and vent openings.

Cover any wires that come out of the wall with electric wire mesh.
Cover any other vents to chimneys and vents.

Step 4. Use repellents and deterrents
A great way to get rid of ground squirrels is by using repellents or deterrents. You can find these in hardware stores or online. Just remember that not all repellents are safe for all animals so you will have to be sure that it is made specifically for ground squirrels before buying it!

Make sure you read the label to ensure the product contains no harmful chemicals.

Use predator urine in areas where ground squirrels are active for example in-between buildings or along stone fences.

Use ammonia-soaked rags around the home to repel ground squirrels.

Use sprays containing capsaicin on any entry points into your home, just ensure the product is not harmful to humans or animals when used.

Step 5. Call professionals if all else fails!
If you want to get rid of ground squirrels and all the steps mentioned above haven't worked for you then it might be time to call a professional who will know exactly how to get rid of these pesky little critters and will also give you expert advice on what did work and how can you avoid them in future.

Some pest control companies can even set up a monitoring trap to see if the ground squirrels come back and will also ensure that future problems do not occur, such as - removing all possible food sources and sealing all entry points!
So there you have it: 5 steps on how to get rid of ground squirrels. If you follow these tips and tricks then you should be able to successfully eliminate this issue from your property or home! Please note that nothing is 100% guaranteed so use these techniques at your own risk. Best of luck! We hope we helped!
Ground Squirrel Control Measures and Tricks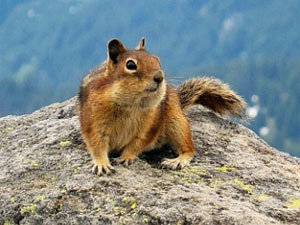 To begin with, it should be noted that different methods have already proven their efficiency at different seasons. For example, when it is winter outside, these pests hibernate, which means that there are no efficient options. When spring comes, you can use fumigation.
Control consists of feed baits, bait boxes and subsoil fumigants.
Why isn't baiting effective in spring? The problem is that this is when the diet of the pests includes only fresh vegetation. However, summer is the most effective time to use the best squirrel bait, since the creatures have already begun collecting nuts and seeds. But is there any method that is equally efficient, regardless of the season? Yes, and it's called trap.
Trapping works any time of the year.
It takes the required measures to destroy the dens and burrows for discouraging re-infestation.
As for today, there are four most effective methods of getting rid of nasty ground squirrels:
Trapping can be done using kill traps or live traps. Live traps are humane variants, which are always available and will serve you many times.
The smallest variant is LT 3310. It is an optimal one, as it is suggested to be used on animals that are less than ten ounces.
Fencing is a so-called exclusion technique for flower beds and gardens. Fencing is made of 1/2–inch hardware cloth or sheet metal. It must be about 18 inches high and 6 inches buried in the ground. It should surround the place that is to be well-protected. It is beneficial for those, who learn how to stop squirrels from digging. The only minus is the fact this method is costly and works only in pretty small areas.

To prevent burrowing beneath the fence, there should be a three-foot-wide gauge wire mesh screen attached to the bottom of the fence.
Make sure the screen is secured to the ground with staples, as well as backfill over the mesh.

Using gas. To determine the amount of gas that should be injected, you are to consider soil plasticity and composition. If it is composed of a denser material like clay, the amount of injected gas should be less to the one injected into the soil with lighter density, loamy or sandy compositions.
Flushing out. This is also a very popular idea and a working best squirrel repellent. Just put a hose up to all the holes you find and open the valve. You'll see multiple wet squirrels popping all around.
Commercial Repellents for Ground Squirrels
Today you can find many different options to pick from. However, it would be wrong to state that they all ensure great results. So, what do we suggest?
FoxPee. This is an effective ground squirrel repellent that includes odors and urine of predators. The solution should be purchased, stored, and used every time you need it. How to use it? Sprinkle or spray the repellent all around the area that should be protected. The pests will soon smell the urine and will choose not to go into the area.
Bitter tasting gels and creams. These should be rubbed on those objects that are to be protected from critters. These are usually fences, trees, and bottoms of decks, etc.

Gels are put on things that squirrels put in mouths.

Pest Rid Granules. This material also keeps pests away. It works releasing the odor they do not like. This makes animals avoid those areas, where the granules are applied. So, what should you do? You should better apply them along fence rows, property lines, and pathways that are coming from fields or streets right to your household. After the first applications, you will see that the number of those squirrels that used to move to your location is lower. Re-apply the solution at least once per month and always after the rain. This will guarantee 24/7 protection.
Fumigation. This is a technique for burrows. There is a special gas cartridge that is called a fumigator. It can be purchased in various feed stores as well as garden supply centers. Before using the chemical, read all label directions and follow them. Make sure the soil contains adequate moisture, as only moist soil can hold fumigant in burrows, preventing it from seeping through. It is restricted to use any of the fumigants under buildings as they can create a fire hazard and result in huge problems.
How to Kill Ground Squirrels? Is It Legal?
In most states it is illegal; however, it doesn't stop those, who are not able to control the population and infestation of ground squirrels. At times there is no sense in trapping and releasing these animals elsewhere simply because they can cause problems everywhere.
If you don't want to kill them, address the professionals, who will find the way out.
Pay special attention to companies. Most of them believe that killing is the only solution.
So, there are two most popular ways:
Shooting. This is a means of control of very large populations. This is a non-efficient option if used by itself. Many consider this variant time-consuming. It works in places with low populations, in fields, and when you need to control the survivors that are trying to run away. Shooting should never be approached haphazardly. The field should be sectioned off: to begin with, concentrate your efforts in sections of 1-2 acre grids.
Poisoning. Many keep asking how to poison squirrels? Poisoning is now regarded to be a common method of large population control. It can bring great results in large areas: fields, gardens, etc. It is more effective than trapping and the use of repellents. They say it is convenient and cheap. The only problem is that it is inhumane as leaves no chance for escape.
Most squirrels can learn to avoid poison.
We'd like to pay special attention to poisoning. Most studies have shown that if you are looking for a long-lasting effect, food poison is a poor choice. It cannot be controlled, doesn't scare off other pests, doesn't protect from re-invasion, and never guarantees 100% results, as some squirrels soon get used to it.
In addition to the mentioned information, we'd like to point out that poisoned baits are restricted as they cause some really bad results at spring green-up. All these proofs show that poisoning can't be the best option even during the most serious infestation. Besides, the most used variants – as strychnine – are under continuous scrutiny for environmental and human safety reasons. Strychnine can be subject to changes in use-pattern restrictions. These changes frequently result in reduced reliability and performance in fields.
Of course, it's up to you to decide, which of the methods suits all your needs best. However, don't forget to weigh down all pros and cons and choose the one with minimal risks for you or the environment, but the one that harms ground squirrels. Are you ready to make your final decision?
You can find further details of Squirrels Control here.