How to Remove Unwanted Raccoons with Top 5 Effective Traps
Are you tired of raccoons on your property? Sick of having to clean up after these destructive animals? Let's face it, raccoons are persistent creatures that can be really hard to get rid of.
When it comes to raccoon control, trapping is one of the most popular options. Using a humane, live raccoon trap is the best solution. By following our smart instructions, you'll no longer ask yourself how to make your raccoon trapping successfully.
Here I suggest Top Raccoon Traps products of 2023 with different brands for your consideration:
PREVIEW
PRODUCT

Our #1 Rated




Havahart Live Traps

Easy raccoon capture
Step-by-step instructions
Useful and effective tips for trap baiting and placement


Show Details

People's Choice




Tomahawk Live Traps

High quality
Easy-to-use
Easy baiting and releasing




Check Price




Duke Coil Spring Foot Trap 4″

Cost-effective tool
Light weight
Extremely tight springs


Show Details
Top 5 Best Raccoon Traps Reviewed
There is no need to use A DIY raccoon cage as there are many efficient live traps on the market that can be freely used on your property. Live traps are regarded to be the best options due to the fact that they are considered to be human raccoon traps. Live traps are available in various models.
Let's focus on the most popular ones:
Havahart Live Traps – Editor's Choice
While deciding on the best raccoon trap, consider that there is a huge amount of options available on the market. Though you can choose the one you like, most experts agree, that Havahart raccoon traps are the most effective.
Benefits of using Havahart traps:
Step-by-step instructions that show you how to trap raccoons effectively;
Useful and effective tips for trap baiting and placement.
Havahart traps are recommended by most experts based upon reviews, popularity, and size. Many professionals prefer Havahart live traps for use as commercial raccoon traps in large facilities with a heavy raccoon population.
Havahart traps are the best ones because they are easy-to-use and because of their built-in features that protect the animal and trapper.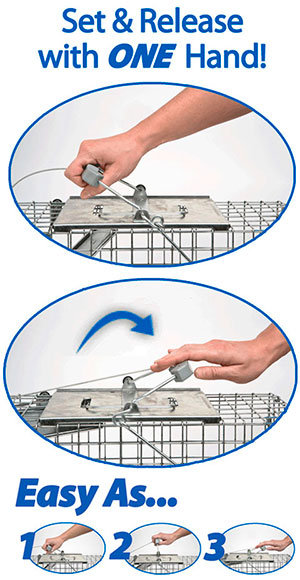 If you really want to trap those destructive raccoons we recommend purchasing a Havahart Easy Set Trap. This state-of-the-art live trap provides a patented design that makes raccoon capture easy even for first-time trappers. The simplicity of the lever allows customers to set the trap in one quick motion with one hand.
Havahart Large Easy Set Traps come in:
1-door models – that are trusted by professionals.
2-door models – that allow raccoons greater confidence to enter the trap.
Collapsible models – ideal for storage.
Easy Set® allows you to release a trapped raccoon safely from the back of the trap. You don't have to come near the animal or touch the door. What's more, updated sturdy hardware features additional security, comfort, and durability.
1.
Havahart Large 1-Door Trap

– Best Humane Trap for Large Raccoons (People's Choice)

See More Images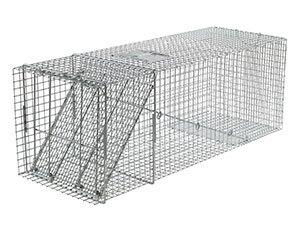 Havahart 1079 is the largest raccoon cage trap designed by professionals for the humane capture of bigger raccoons. This heavy-duty trap is made with 12-gauge steel wire mesh.
Dimensions: 32″ x 10″ x 12″
Ideal for: catching large raccoons.
2.
Havahart Large 2-Door Trap
See More Images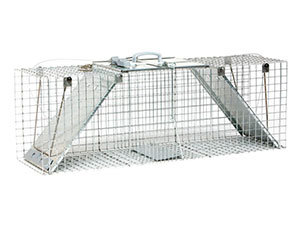 This 2-door trap allows raccoons to enter from either direction. This live trap with 2 doors has many features to allow quick, safe, and easy catches. Sensitive trigger ensures secure and quick capture.
Dimensions: 36″ x 10″ x 12″
Ideal for: catching medium sized raccoons.
3.
Havahart Large 1-Door Cage Trap
See More Images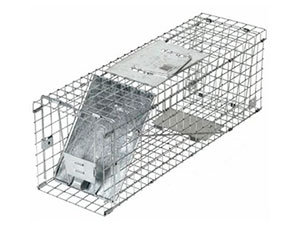 It's a good option for those who don't want big traps to take up a lot of space when they are not using them. Ideal for first-time trappers, just one move, and the trap is set!
Dimensions: 32″ x 10″ x 12″
Ideal for: catching large raccoons.
4. Tomahawk Live Traps
See More Images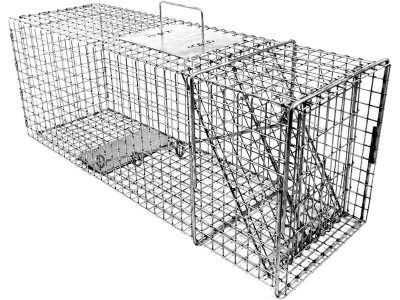 These are high-quality, easy-to-use traps that can be effectively used for raccoon trapping.
Below there is a list of the best Tomahawk raccoon traps:
Tomahawk Original Series Rigid Trap with one Trap Door (dimensions: 32″x12″x10″) –

View on Amazon

Tomahawk Original Series Rigid Trap with 2 Trap Doors (dimensions: 32″x9″x9″) –

View on Amazon

Tomahawk Original Series Rigid Trap for Raccoons Extra Large with one Trap Door and Easy Release Door (dimensions: 36″x12″x12″) –

View on Amazon
See More Images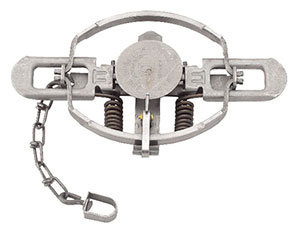 It's used to catch and hold wild animals.
How to trap with foot traps? If you are one of those who want to try foot traps for catching raccoons, we suggest using the Duke Foot Trap – this type of trap is widely accepted as an efficient and cost-effective tool for managing wildlife populations.
Size: 4″ for raccoons.
What is the Best Raccoon Trap in November, 2023? – Your Expert Buyer's Guide
Tired of raccoons uprooting your yard, raiding your trash or tormenting your family pets? Remove these unwanted creatures with live raccoon traps. Read on how to trap a raccoon and select the best trap for raccoon catching.
We'll provide you with working info on raccoon catching. What live trap to choose, how to trap a raccoon, how to bait the trap, and how to buy the best live traps for raccoons are all those questions you'll surely receive answers to.
How to Trap a Raccoon: Smart Instructions
It is not difficult to trap a raccoon. These pesky critters have 2 habits that make them vulnerable to the trapper:
Raccoons are curious;
Raccoons are always hungry.
As far as raccoons are very smart animals, they have to be trapped in a certain way. Keep in mind that once the animal escapes, you'll never be able to trap it again.
To catch your raccoon once and for all, follow our instructions:
Select the best trap

Today's market suggests various variants of traps. Consider buying a live trap to catch a raccoon. We recommend to purchase large or extra-large in size traps.

Usually traps come in 1-door or two-door options. 1-door models make it easier for larger animals to fully enter the trap. However, if you need higher catch rate, you are to choose 2-door model.

Location is very important for trapping raccoons.

Choose where to place the trap

The trap should be placed on an even surface in an area where raccoons are frequent or in the place with raccoon damage.

The prime locations are:

Areas where trash cans are kept;
Gardens;
Patios where pet food is left;
Along fence lines;
In attics;
Underneath structures.

Bait the trap

Selecting raccoon bait is critical and just as important as the choice of place where you place the trap. Choose bait that will attract those curious critters.

It is very important where you place the bait. To make your trapping successful, place the bait so that the animal must fully enter the trap.

To lure a raccoon inside the trap, use sweet foods or fatty meats.

Favorite raccoon baits include:

Wet cat food;
Marshmallows;
Fish;
Crisp bacon;
Cooked fatty meat;
Sweet corn.

Using sugary foods to lure raccoons inside the trap is a good idea.
Why? This is because sweet foods target pesky raccoons without attracting other unwanted animals.

Set the trap
To set the trap, follow the unique instructions. To ensure the trap is working properly, you are to test it a couple of times. Once the trap is set, test the trigger, and then close the mechanism by pressing the trigger plate.

Check the trap regularly

Check the trap frequently – at least twice a day – to see if the animal has been caught. Once a raccoon is caught, it can become scared. Never leave a raccoon trapped for an extended period of time.

When you catch the raccoon
Cover the trap with a blanket to limit human interaction and to keep the animal calm. If relocating, take the animal at least five miles away from your property.
Top 5 Raccoon Trapping Tips
Are you allowed to trap the raccoon? – If you are inexperienced in trapping, most states require you to have a wildlife license to remove a raccoon from your property. Keep in mind raccoons can pose a serious health risk to people. Check the regulations of your state's department of wildlife to see if it is legal to trap a raccoon in case you are not a professional.


How to lure a raccoon? Figure out what bait is the best. Though raccoons eat just about anything, using bread or marshmallows in your trap will decrease the chance of trapping your neighbor's cat. Before catching a raccoon, secure trash bins and clean up any potential food sources to ensure your bait is the only attractant.

Before setting the live trap, leave some bait – sweet corn, marshmallows – outside the trap door so the raccoon can get a taste of what awaits him.

How to protect yourself when handling a live trap? – Always wear gloves. Gloves can protect you from a trapped raccoon and will keep you from transferring your scent onto the trap.
What if I can't catch the raccoon at all? – To trap the animal, you should set the right type of trap – at least 32 inches long, your trap must have no defects. The trap should be flush to the ground with no wobble.
What is the best way to trap a raccoon? – The best way to trap the animal is by using effective and versatile human traps which are safe for the animal. If you are not an expert in trapping, the trap should be easy to operate. Consider Havahart traps. They allow trappers of all experience levels to capture, transport, and release raccoons with ease.
Raccoon Trapping: How to Catch in a Live Trap
Live traps are one of the most popular options to crack your raccoon problem.
But if you've decided to use trapping for catching raccoons, be sure the process of trapping is humane from start to finish. Raccoons are more likely to injure themselves or escape. Therefore, you are to buy a quality plastic trap or metal wire trap.
Don't use traps with solid metal walls. Why? They can easily turn into death traps becoming ovens in hot weather.
How to Set a Live Trap
Set the live trap. How to do it? Usually, this involves setting up the box of the live trap and propping the trap's door open. Make sure you follow all safety precautions. Assemble traps exactly as the instructions tell you.
Traps must be washed and disinfected with a bleach solution.
The best time to set the trap would be after sunset – raccoons usually come out at night to find food – and check out the trap in the morning. Try different places to find out where live trap works and where doesn't. If you are having raccoon problems on your property, set the trap near your garbage cans or where you believe they are entering the house.
Think you have to suffer of raccoon's mess on your property? Not anymore: Learn how to make away with destructive animals using best-selling raccoon repellents and deterrents.

Tired of raccoons? Read this and find out how to eliminate raccoons with easy steps for raccoon removal.

Don't know how to make away with troublesome raccoons? We know-how. Check out the latest info on raccoon poison and professional raccoon extermination services.
What to do with a Trapped Raccoon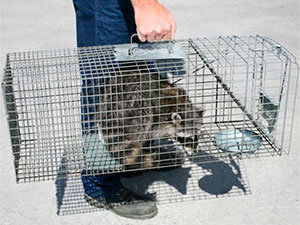 If you need to transport a raccoon, cover the trap with a blanket to minimize raccoon's stress before taking the next step. If you want to be sure, raccoon won't return, bring the animal at least 10 miles away.
If you are not an expert and don't know how to deal with a trapped raccoon, it's time to call the Human Society or the local game commission to either direct or assist you in releasing the raccoon. Remember raccoons are a very aggressive and inexperienced person who is likely to be bitten or attacked if attempting to release the animal without the assistance of a trained wildlife professional.
Use our trapping tips and don't let raccoons turn your yard or house into their dining room. Put cost-effective and humane live raccoon traps to work for you today!
You can find further details of Raccoons Control here.