How to Trap a Cat: Effective Trapping Techniques and Tips
You've come to the right place if you're looking for the best feral cat traps! Here are three of our top picks.
Top 3 Best Feral Cat Traps in 2023 Comparison Table
PREVIEW
PRODUCT

Our #1 Rated




Havahart 1079 Large 1-Door Trap

Size: 32″ x 10″ x 12″
Made in the USA




Check Price

People's Choice




Tru Catch Humane Live Animal Trap

Size: 30″ x 11″ x 9″
Made in the USA




Check Price

Best Budget




HomGarden Large Cage Trap

Size: 32″ x 12″ x 12″
Preassembled




Check Price
As a homeowner, you may be dealing with feral cats in your neighborhood. Feral cats can be a nuisance and a health hazard, so it's important to know how to get rid of them.
Now it's time to choose an excellent humane cat trap. A live trap is the best solution for capturing stray cats.
3 Best Cat Traps Reviewed
After much research, some products definitely stand out more than others. Here are three of the best traps for catching feral cats. And the winner is Havahart 1079 Large 1-Door Trap.
1.
Havahart 1079 Large 1-Door Trap

– Best Humane Cat Traps (Editor's Choice)

See More Images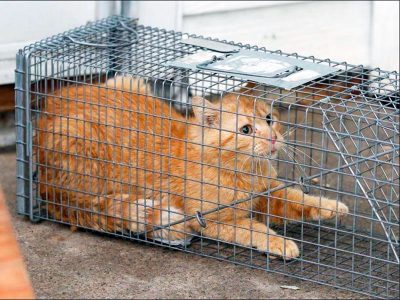 As a dedicated cat lover, I have tried many different feral cat traps. The Havahart 1079 Trap is by far my favorite. Its dimensions are perfect for trapping large cats, and the one spring-loaded solid metal door makes it very easy to set up and use. Plus, it's made to last and resist rust and corrosion, which is important when dealing with outdoor cats.
Built with premium materials the trap intended to endure unpredictable cat behavior and harsh weather.
Pros
Durable to last through all weather conditions.
Resists rust and corrosion for outdoor use.
Humanely captures stray cats in a safe way.
The trap is safe for the trapper and the trapped cat.
The trapper doesn't need to be a pro to operate the trap as it is simple and easy to set up and operate.
Cons
It can be difficult to release the cat once it has been caught.
The trap can be unstable, making it prone to tipping over.
2.
Tru Catch Humane Live Animal Trap

– Best Traps for Feral Cats (People's Choice)

See More Images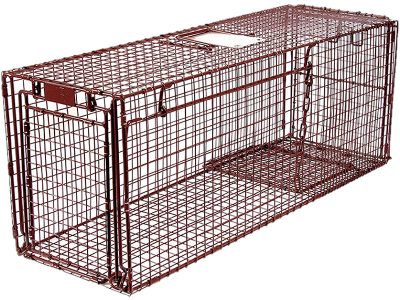 The Tru Catch Trap is perfect for capturing pesky critters like feral cats. The 3/16″ steel frame is strong enough to withstand a determined animal's most ferocious of attacks. This trap also features a 5-year guarantee against animal damage, and it's made in the USA.
Safety: Special sturdy handle allows the trapper to hold this working trap away from his or her body. With the help of a solid handle guard and strong doors, any person is protected from contact with the trapped animal.
Pros
Resistant to ferocious attacks.
Durable construction.
Trappers who use it for Trap-Neuter-Return (TNP) projects find it useful.
Cons
Possibly, the instructions are not clear.
There are holes in the trip bar, so that kittens and small animals can walk through instead of trapping.
3.
HomGarden Humane Catch & Release Large Trap
See More Images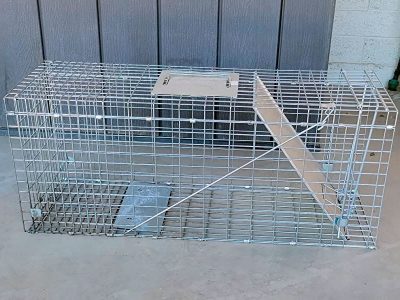 HomGarden Trap is made of rust-resistant wire mesh so that it will last for years, and it's safe and humane to use, so you can rest assured that no animals will be harmed in the process. Plus, it's preassembled, so you can start using it immediately. The HomGarden will last through years of use thanks to its durable construction.
You should test the trap's locking mechanism before every use by tripping it with a stick or your finger. A slight force should be required to trip the trap. Traps may not be tripped when grass accumulates underneath. Whenever you use them, get rid of all the grass. Don't place bait under the trap mechanisms, either.
Pros
Humane and safe to use.
Durable construction.
When not in use, the piece collapses and stores quite compactly.
You can rest assured that no animals will be harmed in the process.
Cons
Since this is a budget trap, the construction may not hold up to strong animals.
What is the Best Feral Cat Trap in 2023? – Your Expert Buyer's Guide
Cat overpopulation is really one of the biggest problems in the United States. Many feral/stray cats are euthanized every year to decrease the cat population.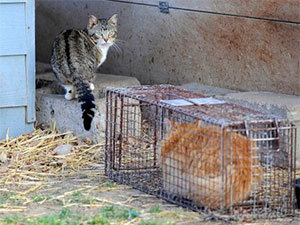 However you can always trap cats humanely and resolve all the cat problems with the help of well-known Trap-neuter-return program.
Whether you want to trap a feral cat using a TNR program or catch the animal to return her home, it's essential to plan your trapping. Here you will find out how to prepare for a cat catch, choose the best bait for a trap, and get some tips for purchasing the most convenient trap for catching destructive cats.
5 Excellent Tips on How to Catch Feral Cats
Feral cats can become a huge problem when they start breeding. These critters prey upon a wide range of insects, birds, mammals, and reptiles. Cats can also have an indirect adverse impact on livestock and wildlife by transmitting diseases such as sarcosporidiosis and toxoplasmosis.
There are many cat control methods including poison baiting, exclusion fencing, shooting, trapping and using cat repellents. Although trapping is not very effective for large areas, this tool may be useful and effective in residential or urban areas where the cat population has already been reduced, or domestic cats are present.
In the USA the government implements "Trap-Neuter-Return" programs to decrease the cat population.
To catch the cat:
Prepare for Trapping
It's essential to make the proper arrangements to care for the trapped cat when he is in your custody. Plan trapping according to the type of cat you are going to trap.

Stray cats – plan on locating their home as quickly as possible.

Feral cats – If you want to trap them for neutering, call the TNR clinic.

Choose an Effective Cat Trap
Select the trap that will be comfortable for the cat, especially if you plan to care for the animal for a few days.

A good trap will allow you to clean up messes and deliver food without the cat escaping.

Determine the Best Location for Your Trap
Place the cat's trap on a flat surface with plenty of visibility and shade.

The best placement includes:

The area where you often hear or see the cat.
A feeding area where cats have fed on scraps.
5 feet outside of cat's shelter.

Pick the Right Bait
You can choose a food that your neighbors' cat is used to eating or choose popular baits for cats – like catnip or oily fish – if you are really not sure what the cat likes to eat.

Set and Monitor the Trap
Set the cat trap according to its manufacturer's instructions. If neglected inside the trap, a cat can quickly become hungry, thirsty, or overheating. Don't leave a cat trapped for an extended period.

Most feral cats are part of a cat colony. Therefore they must be released back to that colony. We suggest releasing a cat at dusk or early in the morning.
Cat Bait: Why It Is Important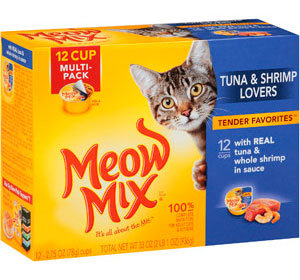 Baiting the cat trap is essential when it comes to trapping process. To make it successful select a bait feral cats like and position it properly.
The smellier cat bait is better. Remember, these critters are attracted to stinky, rich-in-fats-and-proteins foods.
Here are the best cat baits:
Sardines in oil
Fresh fish
Canned tuna in oil
Anchovies
Mackerel
Oil of catnip
Wet cat food
Cooked chicken
You should position the bait properly if you don't want to end up with a tripped empty cat trap or stolen bait.
To lure the cat inside the trap, place a small but delicious-to-cats amount of bait – fresh fish or mackerel – at the mouth of the trap. Don't use too much bait outside the cat trap if you don't want the animal to become satisfied before reaching the trigger plate.
What is the Best Way to Trap a Cat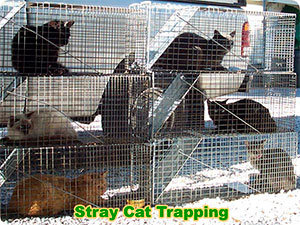 When it comes to wily genius cats that will not go in the trap, Patience is the key thing.
Baiting the trap with a small spoon of wet cat food, tuna or mackerel is the most effective way to lure the cat into the trap you use. If you have a two-door trap, ensure the trap's rear door is secured. It's also essential to choose the proper size of the trap.
Cover the cat trap if an uncovered trap doesn't work. Use leaves and vines from the cat's environment to make the animal feel more trusted.
Remember, trapping the cat takes the right human trap, good positioning, and patience.
What is TRN?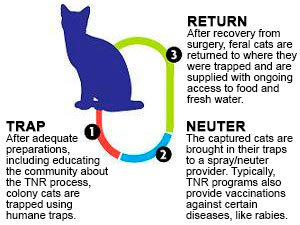 The rate of feral cats' reproduction is high because only 4% free-roaming, wild cats are neutered or sprayed. This is why TNR program is so popular in the U.S.
The program allows humanely trapping destructive feral cats, having them neutered or sprayed, vaccinating, and returning to the cat colony.
This non-lethal method is more cost-effective and human than trapping and killing cats.

Conclusion
When it comes to feral cats, there are a few things homeowners need to know.
First of all, trapping and removing feral cats from your property is responsible, but it's also required by law in some municipalities.
Second, you'll want to make sure you use the right trap for the job, which is humane and will effectively capture the cat without causing injury or undue stress.
Finally, before setting out any traps, familiarize yourself with local ordinances governing feral cat trapping and removal.
You can find further details of Cats Control here.