Top 7 Bed Bug Mattress Covers: How to Save Your Bed and Sanity
You can save your bed from these parasites easily by investing in a bed bug mattress encasement protector. Bed bugs in infested homes usually live in or near mattresses and box springs. Learn how these covers can help you sleep peacefully.
Here I suggest the best products with different brands for your consideration. If you require additional information, just look at the links provided next to each product's title:
Best 7 Bed Bug Mattress Encasements Comparison Chart
IMAGE
PRODUCT

Our #1 Rated




HOSPITOLOGY PRODUCTS Sleep Defense System Premium Zippered Mattress Encasement & Hypoallergenic Protector

Top cover material type: Extra-soft Polyester Knit Fabric




Check Price

People's Choice




Linenspa Zippered Encasement Hypoallergenic Breathable Mattress Protector

Top cover material type: 100% Polyester




Check Price




LUCID Mattress Encasement Protector

Top cover material type: 100% Polyester




Check Price




SureGuard Mattress Encasement Hypoallergenic Premium Zippered Six-Sided Cover

Top cover material type: 100% Cotton Terry




Check Price




SafeRest Premium Zippered Mattress Encasement - Breathable, Noiseless and Vinyl Free

Top cover material type: Hypo-allergenic Soft Cotton Terry




Check Price




Hygea Natural Luxurious Bed Bug Mattress Cover

Top cover material type: 100% Polyester Stretch Knit




Check Price




JT Eaton Lock-Up Premium Total Encasement Bed Bug Protection for Mattress

Top cover material type: Cotton Terry Cloth




Check Price
Top 7 Bed Bug Mattress Covers Reviewed
The huge number of mattress covers can be overwhelming, so it helps to know some of the best products out there. After doing extensive research, we've compiled the best encasements in the industry.
Our picks boast a host of beneficial features that ensure you sleep all night peacefully.
Bedbug bites can cause sleep deprivation, anxiety, and other complications. Take a look at what a bed bug sleeping bag can do for you to improve your situation.
You can buy mattress covers from many online stores. You'll have the added advantage of seeing how their users have reviewed them.
One of the most recommended stores to shop these covers from is Amazon. Here are some of the best bed bug covers that you'll find there:
1.

HOSPITOLOGY PRODUCTS Sleep Defense System

– Best Bed Bug Proof Mattress Encasement (Editor's Choice)
See More Images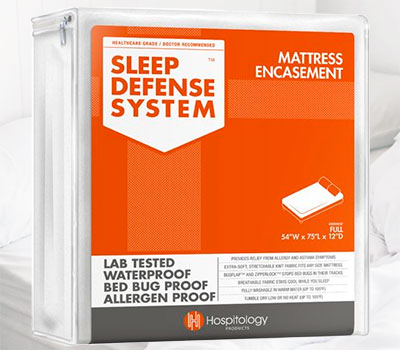 The Sleep Defense System has been proven to be bedbug proof by independent lab tests. It's zippered and can stretch over almost any size of a mattress. It has tiny zipper teeth and 100% waterproof sides. The encasement comes with a 5-year warranty.
2.

Linenspa
See More Images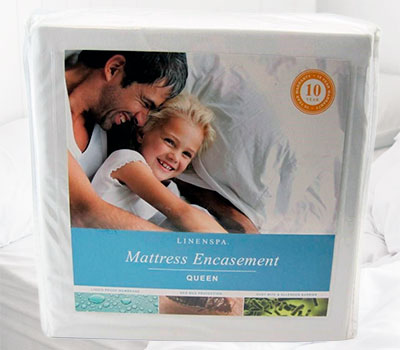 With small zipper teeth, the encasement doesn't allow any bedbugs to go through it. The soft and breathable fabric lets you sleep comfortably without getting too hot. This product offers you a 10-year warranty. It's machine washable and dryable.
3.

LUCID

– Best Budget Bed Bug Mattress Encasement Protector
See More Images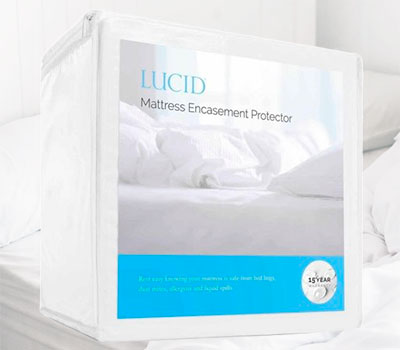 This encasement comes with an unmatched 15-year warranty. Its zippered enclosure protects against bedbugs, dust mites, and other allergens. It won't rustle at night, and its smooth and breathable surface makes it comfortable to sleep on.
4.

SureGuard Premium
See More Images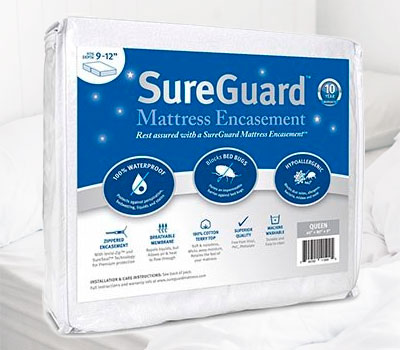 With SureSeal technology and a super fine zipper, the SureGuard Mattress Encasement won't let bed bugs pass through. It's Greenguard Gold certified and independently lab tested. It also blocks bacteria, dust mites, mold, mildew, and allergens. SureGuard offers a 30-day money-back guarantee. Additionally, you get a 10-year warranty.
5.

SafeRest Premium
See More Images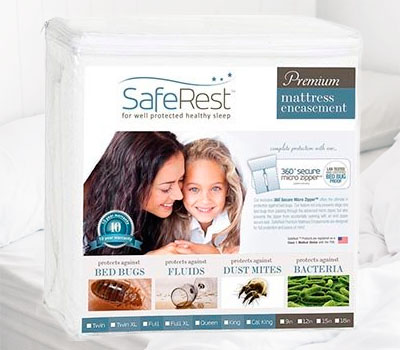 Having undergone independent lab testing and certification, the encasement is proven completely bedbug proof. Its patented zipper design protects your mattress from all its 6 sides. The exclusive Micro-zipper technology prevents bedbugs from all life stages from going through the teeth. It's waterproof, machine-washable, and has a 10-year warranty.
6.

Hygea Natural Luxurious
See More Images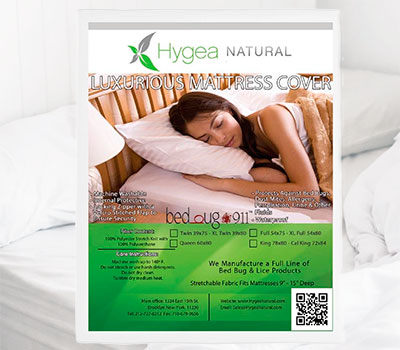 This product is scientifically proven to be effective against bed bugs. It's waterproof and machine washable. It comes with a 10-year limited warranty.
7.

JT Eaton Lock-Up
See More Images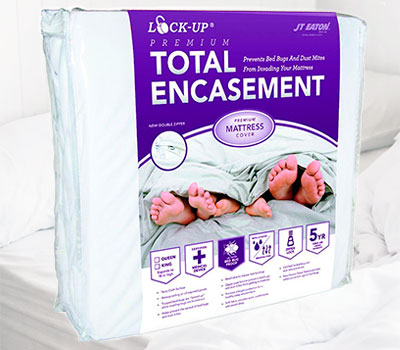 The bed bug certified cover is breathable and quiet. It has a double zipper to facilitate easy installation and removal. It's waterproof and machine washable.
What is the Best Bed Bug Mattress Encasement Protector in May, 2021? – Buyer's Guide
Your mattress and box spring provide ideal sites for bed bugs to inhabit and quickly breed. Just a single pregnant female can bring forth all the bugs needed to infest your entire home within a couple of weeks. Therefore, it makes sense to make protecting your mattress a priority.
The right mattress encasement protector can help you discourage these pesky pests from taking up residence in your bed and destroy the existing ones. Do bed bug mattress covers really work? What should you do to get a bed bug mattress encasement that's right for you?
Get all the answers to your burning questions about bedbug mattress covers here.
Do Bed Bug Mattress Encasements Really Work?
There are many different covers on the market. Some are impregnated with pesticides that are meant to kill the bedbugs they come into contact with. The bugs need to be exposed to these pesticides for hours or even days before dying.

Because these bugs are unlikely to stay in contact with the treated fabric for a considerable length of time, these covers are highly unlikely to work. Another cause for concern is the fact that your skin comes into close contact with chemicals when using impregnated covers.
The good news is there's another solution that has been proven effective: an encasement mattress cover often referred to simply as an encasement. It's a tightly woven case that seals off your mattress.
It serves two primary functions:
Protecting against existing bed bugs.
Preventing new infestations.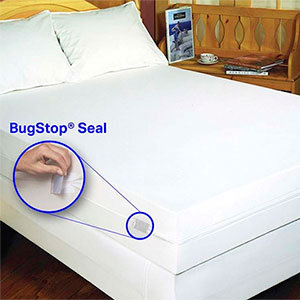 How it protects against existing bed bugs: An encasement traps the bedbugs hiding inside your box spring or mattress, preventing them from feeding on you or migrating to somewhere else. Eventually, the newly hatched nymphs and adult bugs starve to death.
How it prevents new infestations: Bedbugs that are outside the mattress cover can't penetrate its smooth covering and infest the interior of your mattress or box spring. The cover also makes it easier to spot these insects because it eliminates the deep seams and crevices where they typically hide.
When you find bedbugs in your mattress, you may want to throw it away. Don't do that before going here to learn how to get rid of bed bugs in a mattress.
How much Time do I Need to Eliminate the Bugs?
Bedbugs can survive for over a year without eating. The covers are expected to take the same period to kill the resident bed bugs. You should leave your encasement on for at least that long.
It's best not to remove your encasement once it's installed. Consider it to be the new exterior surface of your box spring or mattress.
I Need a Good Mattress Encasement
Not all mattress encasements are the same. An ordinary cover won't be efficient in controlling bedbugs. That's because the bugs will be able to escape or feed on you through its fibers. In fact, using an ineffective encasement that's not designed to control bedbugs can be more harmful than not encasing your bed at all.
Bed bug encasements completely cover the object they protect, be it a mattress, box spring, or pillow. Their fabric has a coating that prevents bedbugs from sending their piercing mouthparts through and feasting on your blood.
Bed bug mattress covers also protect against dust mites.
A good bed bug encasement should:
Restrict new bedbug activity to the smooth exterior covering, allowing easy detection.
Keep the bedbugs already in your box spring or mattress away from you.
How to Choose the Best Bed Bug Mattress Cover?
With the many mattress covers available in the market, it may be difficult to establish the differences between them. Not all these covers will be effective against bedbugs.
To avoid wasting your time and money, it's important to know the features that make mattress encasements capable of keeping your home bed bug free. Let's take a closer look at the things you should consider when shopping for covers for bedbug control.
Mattress and Box Spring Cover
If you have both a box spring and a mattress, you'll need to buy a mattress cover for each.
Here's what you should pay attention to when shopping for these covers:
Scientific backing. Reputable brands usually undergo additional tests to ensure the products are of high quality. Make sure the box spring and mattress covers you're considering have been tested or certified by qualified entomologists. Unproven encasements may actually promote the survival of these bloodthirsty insects.
Bite-proof fabric. Can bed bugs bite through mattress encasements? Most of the covers on sale aren't bite-proof. That means any bedbugs living inside your mattress may still be able to feed off you through the fabric. The cover you buy should be made of bite-proof material. The bugs in an infested mattress won't manage to feed through this material.
Size. Encasements are effective when they fit your mattress or box spring tightly. They shouldn't be too big or too small. Measure the mattress and box spring, then find covers that fit snugly over them.
Zipper teeth and location of end stop. The zipper teeth of your encasement should be tiny. Large teeth will allow the critters to enter and exit the cover easily. The end stop is the area where your zipper reaches its resting position when you've fully closed it. A gap between this position and the seam will allow the entry and exit of the insects from your cover. Make sure the encasement you're considering completely seals at the end stop.
Full encasement. Some manufacturers market their covers as bed bug proof, but they just target specific parts of your mattress. An effective protector should cover your entire mattress. Purchase covers that encase your mattress and box spring fully.
Plastic Bed Bug Covers
Most plastic covers are made from polyurethane-lined and vinyl fabrics.
Let's see what each has to offer:
Vinyl covers
Vinyl covers help prevent bugs from exiting or entering your mattress and box spring. However, they may not be favorable for some people due to the noise they make as you move around while sleeping. It isn't breathable, so you can sweat while sleeping on it.
Just like many other problems in life, it's easier to prevent a bedbug problem than to cure it. Click this link to find out more about how to prevent bed bugs.
If the price is a big concern, this cover may be ideal for you because it's the least expensive cover. You can use it to cover your box spring, which you don't sleep on directly. You can also use a plush mattress pad for ventilation purposes. It's easy to clean a vinyl cover with a dampened cloth.
Polyurethane-lined covers
These protective covers allow your skin to breathe, reducing your tendency to sweat while sleeping on them. They're covered with soft fabric that doesn't produce noise as you move in your sleep.
Polyurethane-lined box spring and mattress encasements are considered premium covers hence are more costly than the vinyl type. They're perfect for you if you want the additional comfort and don't mind paying extra for it.
Couch and Sofa Covers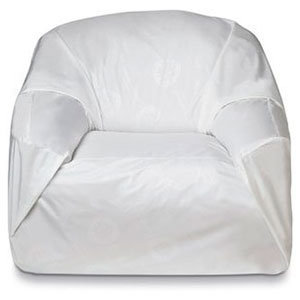 Bedbugs love infesting mattresses and box springs. However, you can also find them in other places where you spend lots of time such as sofas, couches, and chairs.
Sofa and couch cover trap bed bugs at all life stages within them, preventing them from eating. They eventually die. They also prevent new ones from settling in your furniture.
Here's what you should look for when shopping for these furniture protectors:
Quality. Some of the features that set apart quality couch and sofa covers from the rest are breathabilities, fire retardation, hypoallergenic, and waterproofing.
Size. A cover that's too big will make your couch uncomfortable to sit on whereas one that's too small could easily rip and allow the nasty pests to escape. Get the full dimensions of your sofa or couch and ensure the size of the cover you buy matches them as closely as possible.
Beware
Pets with sharp claws can cause rips or tears, making these bed bug covers useless. For that reason, they should be kept off these covers.
Conclusion
Bedbug mattress encasements safely and effectively protect your family. While they may not eliminate the risk of an outbreak, they'll help you avoid major infestations and identify the bugs far easier. Once you purchase these covers, be sure to check them monthly for rips or tears that can prevent them from protecting your mattress and box spring adequately.
You can find further details of Bed Bugs Control here.