How to Control Destructive Beavers: Ideas and Solutions
Are you still worrying about hungry, destructive beavers lurking on your property? It's time to embark on a beaver control plan. We share how to control these destructive critters.
Beavers can easily transform any freshwater environment – lake or pond – into a suitable habitat. The best way to stop beavers from doing this is with integrated control plan that includes repelling, trapping, habitat modification and removal. No matter how big your beaver problem is, our step-by-step tips and instructions will help you to make your property beaver-free.
Effective beaver control and removal
Since beavers' teeth never stop growing, these nocturnal pests spend most of their time chewing trees – which may be on your property. They like to feed on leaves, bark and twigs. So, how to control these nocturnal animals?
Here is how:
Beaver trapping
Trapping is efficient and non-lethal way to remove beaver pests. If you want to remove these pests, beaver trapping is the best solution. Find out where the beaver pathway – the path the beaver frequents – is. Then cover the bottom of the trap with some natural vegetation material. You can also use wood chips and dirt for covering. Make certain that you are using the most effective beaver bait – like Poplar Oil.
Tip: Beavers are nocturnal critters. So the best time to set the trap is in the evening.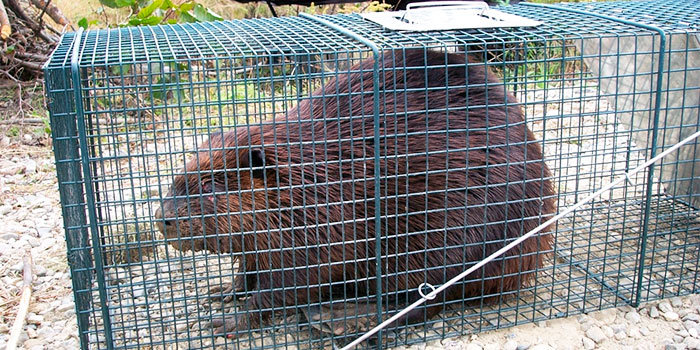 Fencing solution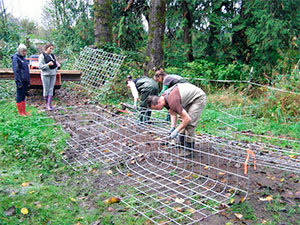 Want to exclude nasty beavers entirely from groves, forest and other areas? Then fencing is a good solution. As far as these critters are not good climbers, 3 to 4 ft. high fencing will be an effective way to block beavers' access to larger groves. Instead of fencing off individual trees, we suggest installing an area fence. Although, fencing is cost-prohibitive, it can be very effective in keeping destructive beavers out.
What to choose:
Electric fencing.
Wire-mesh fencing.
To make sure the beavers have not pushed under fences, you are to check them frequently.
Interesting
Beavers have sharp and strong teeth. When it comes to trees, these critters have favorite tree species that include aspen, alder, cherry, birch, poplar and cottonwood.
Beavers' preferred ones are poplar and cottonwood.
Wrap trees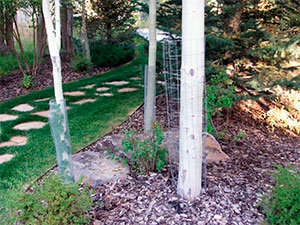 If you want to make your beaver control successful, you need to make the habitat less suitable for these critters. Wrap trees, which they use as a building material. The beavers won't be able to cut the trees down. This can encourage them to move on to another location.
Wrapping the trunk of trees will not only protect the trees from chewing but also decrease the beaver food supply. Keep in mind, the more trees – that are on your property – are protected, the sooner destructive beavers will relocate.
Beaver deterrent
If you have got more beaver problems besides foliage destruction and tree damage from destructive local critters, simple deterrents won't do the job. When beaver starts clogging culverts, building dams and causing water issues, you need to trap these critters out to get control.
A beaver can sit up on land with the help of its flat tail.
Many tricks have been devised over the years to deter beavers from damaging trees but few worked. We suggest using the following deterrent:
Ro-pel – effective solution of preventing foliage destruction from beavers and other rodents and mammals. The product awful bitter taste that remains effective despite rain.
Losing your beloved trees or watching your property degrade is not a pleasant thing. But you don't have to let it happen. Use Ro-pel which is a quick and safe way to ward off all nasty beavers.
The product is ready-to-use but you shouldn't mix it with other chemicals.
Cost: $16.00
Beaver Repellent Powerful Solutions
Although these critters are very important for the environment, it's essential to keep control over them especially when they make damage on your property.
Want to keep them out of your garden? Use efficient repellents.
Nature's Defense – environmentally safe, plant safe, family safe organic product that creates an irritating scent barrier unpleasant to unwanted beavers.
Cost: $16.85
Usage: Sprinkle the product around areas where beaver pests cause problems. Repeat the process once a week. Recommended for use outdoors.
Bonide Animal repellent – efficient solution that repels in 3 effective ways: by taste, sense of touch and smell. The product protects property including structures. Bonide triggers beaver's instinct to escape and avoid the treated area.
Cost: $14.95

4-the Birds – effective solution that can stop beavers from chewing on tree. Although it is made for bird-control, the solution can be effectively sprayed on the trees. It will surely stop beavers from damaging your trees. Once applied, the destructive beaver will move to another area where untreated trees are available.

Cost: $55.70

Safety: 4-the Birds won't hurt beavers or the tree since it's not a poison. This irritable product will simply repel the beaver from chewing the bark.

Removing beavers from a pond is challenging.
If you are not an expert, hire a professional removal service. Beaver removal experts have licenses and can not only successfully trap annoying beavers but move them off of the premises for euthanasia or relocation.

BeaverRepel – natural, organic beaver repellent that can make away with all beavers on your property. No need to risk kids' and pet's health with toxic products. Now you can protect your property with earth-friendly beaver control solution.

Cost: $29.95

Benefits:

Beavers will not cross this powerful beaver repellent barrier.
The product is natural and powerful

How to apply: The product comes in special, concentrated bottles. Mix solution with water and apply using a garden sprayer.
Where to use: anywhere in or around your yard – including docks, trees etc.
Don't use chemically formulated, dangerous poisons to solve your beaver problem. Use our smart ideas and control nasty beavers by trapping or repellent solutions. While trapping can cost hundred of dollars natural repellents and deterrents are available and can effectively crack any pest problem.