Getting Rid of Bats Outside and Inside Your House
So, you have bats in or around your house. The normal question that you start asking is whether it is possible to eliminate them in any way (humane or chemical). Frankly speaking, there are several methods that can be addressed. There are also such that don't work.
The how-to-get-rid-of-bats section will help you out. Here you will find all the necessary information you've been looking for quite a long time: trapping, one-way doors, poisons, sprays, and other liquids. Read about the possible results, weigh the pros and cons and then decide what's best for your home.
5 Essential Steps on How to Get Rid of Bats
That's not a great secret that today there are many different insect and wildlife control problems. Problems aren't necessary if they don't bother you and your family, but what if bats are right in your house? Tackling them alone can be an excellent way out if you know how things should be done.
I've decided to provide all the necessary information and helpful tips on eliminating these creatures from your home. So, I've managed to select the alternatives that:
don't damage the property,
never harm the animals,
are safe for people and pets.
Let's see what can be done.
Step 1. How Do You Know If You Have Bats In Your Attic?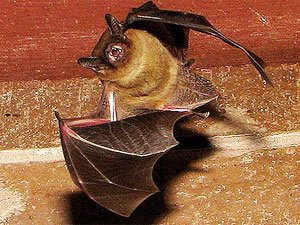 I have a bat in my attic. This statement is severe. Are you sure about that? Before making haste decisions, you'd better look for signs of infestation:
Droppings. The feces carry a fungus that causes Cryptocacaous and Histoplasmosis. If you have noticed any animal exists in or around your house. Avoid direct contact with the droppings, and don't inhale the air.
Bugs. Bat roosts harbor parasites like bat bugs that move into the houses and can be confused with bed bugs. Besides, they can bite and transmit diseases.
Odor. The urine of the creatures emits a strong odor that soon lingers inside your place.
Stains. They leave grease marks around the living area.
Step 2. Identification of the Entry Points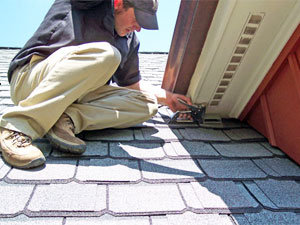 Locating entry points are called to be the best way to get rid of multiple bats fast. Place them from the outside of your house, as well as they were inside the attic.
Inspection allows a homeowner to find the entries and prevent further infestation.
As a rule, this can be done by getting on the roof. For this purpose, you should get a high ladder to reach the highest points. While inspecting, you will identify the entries marked by the bats' dirty stains, marks, and droppings. Remember that the size of the holes can be ½″ high, 1½″ wide. Through holes are pretty small. Even giant bats can squeeze through them.
They can enter your place through really small holes.
At times they are left unnoticed. That's why paying particular attention to any stains can be helpful.
How Do Bats Find the Way to Get in the House?
They usually enter the building in an opening or crack as small as 3/8 inch. This is why it is pretty easy to miss such tiny entry points.
If there are holes in walls, around the chimney, loose boards, or cracks underneath the eaves, you can suffer from bat infestation.
They prefer dark areas and can be found behind objects or furniture that gives protective space. For example, the corners of the attic.
Additional ways they gain entries include:
chimneys,
unscreened direct vents,
warped/loose siding,
cracks/holes under a rotted eave,
open cellar hatches,
separations/cracks where chimneys meet the house,
rotted windows,
loose fitting screen,
openings where wiring or pipes meet the house.
These holes can be surprisingly small. You can find them in the oil deposited from the bats' fur and left on the roof or exterior walls – black or dark brown stains.
Such signs allow homeowners to find and seal the entries to prevent infestation. After seeing this, one should seal off most of them using caulk and leave a single hole for them to exit at night.
Step 3. Plugging Holes and Cracks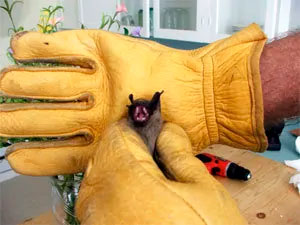 This action is the next step, done at night while the animals are out.
Bat-proofing a building is what you can do if a bat is in your house. The process includes:
fixing and repairing roof sections,
fixing and repairing loose moldings and flashings,
exterior modifications,
sealing of the soffit line's perimeter,
screening of chimneys and venting systems,
using the right materials for all the above mentioned processes.
Another popular way of solving a bat problem in the house is giving the animals an escape route. This is perhaps the simplest and easiest solution that can be given to them. Whenever you see the creature, open the windows and screens, as well as other exit points. Turn off the lights and provide a bat a chance to leave the place.
Of course, there is always a prospect of catching it with a towel or blanket, but a procedure like this usually causes more damage than good.
Handling bats with bare hands is too dangerous.
When flying, bats follow air currents. If one gets stuck in any room, you must confine it and open all the windows. Then turn off the lights not to confuse them.
If you know, there are a few bats in your home, but you cannot find the location, cut off the food supply. Remember that this is not as easy as it seems in most cases. The thing is, different food types attract different species. Some like pollen and fruit, but others prefer frogs, insects, rodents, fish, blood, etc.
Bat is in the house. What to do? Ensure all the fallen fruit is picked up, and the waste or garbage is disposed of or placed in tightly sealed containers.
Step 4. The Use of Exclusion Devices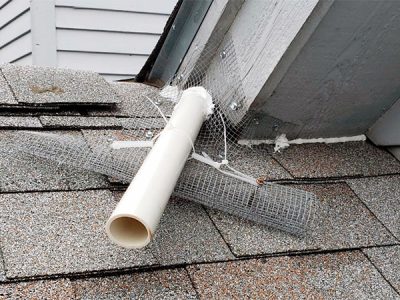 As an alternative, homeowners can also install a check valve, a one-way door that will allow bats to leave the attic or barn without any chance of returning.
Exclusion devices are the most popular choice. They are permanently installed on all the entry points. As a rule, they are made of various materials and can be of different forms.
PVC pipes
They are mostly chosen because they are smooth and slick inside. So, when the animals are inside, they have nothing to grip.
Plastic/metal mesh netting
It is a cheaper but not least efficient trap.
Netting is regarded to be a durable and practical bat control option. Most distributors can offer various kinds of exclusion netting. You must install it across openings and protect significant areas from the infestation.
Many things depend on the kind of bats you are about to repel. Select the right trap size that is still small enough to exclude the animals.
What for? Bats can easily wiggle through quite large-holed netting.
Looking for the most popular netting? Then you should get PE-Plus Premium Grade BirdNet. It is well-constructed and tightly knit. This is why it guarantees protection against picking or tearing by pests.
If you pick tubes as traps, place them over the entry points and holes in the soffit or roof. The fact is that such tubes allow the animals to leave your house without any possibility of getting back inside the building they've left. When the pests roost in long horizontal crevices, you can place the tube every 4-6 feet along the distance. This is how you ensure that creatures won't get out.
Generally speaking, all the devices mentioned above have one common feature: they are designed with a single-way valve/flap, which means that the pests can exit through this device but cannot re-enter.
The Use of One-Way Bat Doors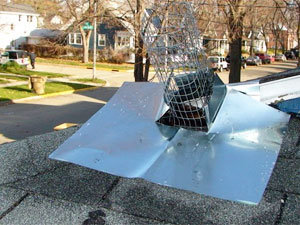 When it comes to fast and efficient bat abatement, many homeowners choose one-way door traps – valves. They are unidirectional escapes that allow the animals to leave the area through an opening or crack and don't allow getting back in again.
This is the most humane variant of exclusion that the Bat Conservation International Organization even approves.
The device is an exclusion instrument that allows bats to exit but not return. It is perfect for removing animals from eves, attics, and walls. It also works for mice, birds, and squirrels.
Bats are great for environment, so they shouldn't be killed.
Today's market offers many styles and types of one-way doors. These can be hinged doors, netting, or exclusion tubes. Homeowners find alternatives like garbage bags and gutter guards, socks and bird netting, stockings, and caulk tubes.
The materials vary as well: plastic, wireframes, nets, etc. Some people even manage to build their doors. Generally speaking, these devices are very effective, and you won't have to handle or catch the animal.
Before you use them:
inspect the chimney, mortar, and bricks that may form gaps;
check ridge venting systems as they are feasible entrances;
look for the gaps around the places where the chimney goes through the soffit;
seal the gaps you find and then install a one-way door.
While looking, you can find plastic ridge vents that are deformed and have gaps. Sometimes the gap in the vent is even chewed. In this case, it is even better to replace it.
Bat Control Netting and Its Installation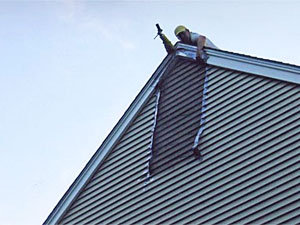 This is another humane way to get rid of unwanted infestation. It works in buildings of all sizes and shapes. The fact it is cheap and environmentally friendly makes people worldwide use it and cause no trauma to bats.
Today it is primarily used to cover structures, objects, and openings that shouldn't serve as entry points to bats.
The pros of the bat exclusion netting are:
a variety of sizes, forms and applications;
a larger mesh configuration and the possibility of being used with big bats;
a smaller mesh configuration and the possibility to be used with small bats;
only one installation guarantees you won't have to take care of it anymore: it will pay for itself.
The widths and sizes of the one-way bat netting vary and depend on the manufacturer. However, it is always possible to find length that ranges from 25 feet to up to 250 feet, as well as widths from 7 feet to 17 feet.
A good all-purpose net is the ¼ inch poly netting with a grade small enough for prevention the animals from getting stuck or strangled in the mesh.
The netting structure should be correctly tough to allow the animals to fly out and not return. The shape should be correct, like the one in art and sculpture. When it comes to bat netting installation, you can install it on lengthy gaps with vivid exit routes. Sometimes it must be extruded with the brackets to allow the animals' clearance.
All you have to do is drape the netting over the entry points, opening the ways out but blocking the access. The material is easy to cut, install and use. When choosing the material, pay special attention to durability because nowadays, saving more becomes more important than durability, which is the wrong way to eliminate bats. This is when a short-term application is not a variant. Remember that if the colony is significant, any netting can fail. Make sure you have some more material to be used in emergency cases.
Step 5. Bat Houses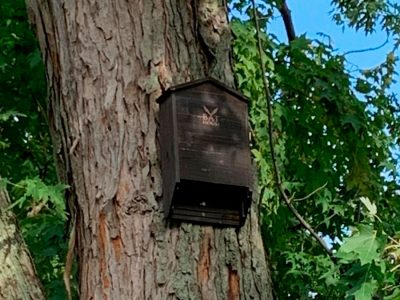 If you are worried about the life and feeding of bats, get unique houses to allow the animals to settle there and not in your home. It is a top-rated bat removal product.
The matter is, most creatures don't leave the place even after plugging. They will seek shelter, and buying a bat house costs a lot.
Bat houses cost up to $300, depending on materials and size.
A standard structure that Bat Conservation International approves costs up to $75, while a seven-chamber steel construction will cost from $210 to $300.
How to Successfully Remove a Bat that Slipped into Your House?
When a flying creature gets into your home, don't rush to use some toxic products and chase after it. Be sure it is afraid as well. All the panic moves you make may harm the animal.
In most cases, bats find their way out through a window or door if it is wide open, however, sometimes you should use a small box or a bowl to cover it. After sliding a piece of paper over the bowl, trap the pest and release it. This is humane bat removal. For more details keep reading here.
Who should you call to get rid of nasty bats?
Look for a professional in a phone book – an animal control expert. This is a trained person who comes to your place and removes bats from your property. At times he cleans up all the mess and takes the caught animals to protected areas. So, there is no need to get worried about the fate of the creatures and their health.
A Do-IT-YOURSELF Bat Removal
If you are asking 'how can I possibly get rid of nasty bats', you must understand it is quite easy. The only recommendation is not to poison them, as it may end up in a bio-hazard of killed bats that clean up bugs in the back yard.
Instead of that it's possible to choose some other options that today's market offers, like flaps and one-way doors.
One-way doors allow bats to escape the attic or any other building, but they don't leave a chance for them to get back inside again.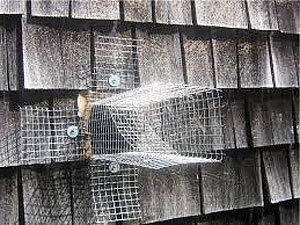 Leave the doors up till the time you are absolutely sure that the animals are gone. Then take the device down and start repairing the areas that were used to enter the location. After the holes are sealed, you can be sure that infestation is eliminated.
Still, there is a recommendation to check the rest of the settled territory in order to make sure there are no animals nesting inside your house. Don't forget to clean after bats.
If you'd like to get to know about the poison, its variants and effects, find the information here.
How Do You Get Rid of Colonies of Bats in Chimney and Barn Fast
To eliminate bats in the barn or in porch, you'd better follow the rules of exclusion technique. For this purpose install one-way devices on all entry and exit points. Here many things depend on the architecture of the building. If there is the need of the colony elimination behind the shutters, you can use funnels, cones, screening, and netting.
The matter is that every building and its parts are different and if you are in search of the most popular device, use netting. It perfectly sets, allowing the animals to fly out at night but not to get back after feeding. The device works even in basements.
Bats in an attic? Exclusion devices are perfect for this situation! They are humane, set human beings free from troubles without killing the animals.
They leave places to escape, giving time to close the entries.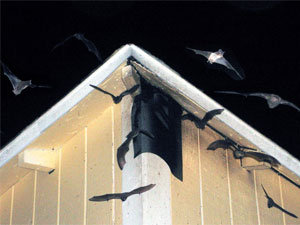 After sealing, open the attic and wait for a few hours. Then wait for about half an hour after dark and seal the final opening. Late in the evening all bats are feeding, leaving their favorite area. This is a perfect time for bat-proofing.
As you have found out how fast to get rid of colonies of bats in chimney, attic, and barn and have used the tips, start cleaning up:
remove all the used devices,
clean up the location,
use a mask and gloves while cleaning,
seal all cracks and holes in the wall.
Pay special attention to old barns, because they usually have many openings and cracks, as well as storage areas that can be inhabited by colonies of bats.
Old barns full of bats are left as big bat houses.
For infestation prevention use mothballs as they are perfect repellents. They are cheap and pretty easy to use. Read more about their use. In case moth balls can't cope on their own, place lights in those areas that are loved by bats the most. As these creatures like dark places, the lights will make them leave the territory.
How to Succeed in Getting Rid of Bats outside the House?
Most people choose a dog or cat repellents for this purpose. However, it is important to know that spraying any liquids directly on bats is forbidden and inhumane. Wait till all the animals are out for hunting and use a spray repellent on the areas they like roosting.
Another popular solution is fiberglass insulation. This material irritates the bats' skin, thus helping any homeowner to keep these pests away.
One-way door can also be used at all entry points, allowing the bats to freely leave the territory. The best time for using them in June and July, as this is the so-called maternity season perfect for complete exclusion of pests.
7 Ways on How to Eliminate Bats in Walls
If they have already penetrated inside the walls of your house from the attic, start acting immediately:
Look for the smallest openings on the outside of the house. Pay special attention to cracks under the roof's eaves or to the openings that are in the siding. Don't forget about air conditioner vents and chimneys, as these are their favorite entry points. Normally, oil-darkened narks give a hint where the bats are.

While repairing holes and cracks, use wood, bricks, and cement. This should be done at night when there are no animals inside the walls.
Thus you won't trap them.

Spray repellents around the areas where the bats are, as well as underneath the eaves of the roof and siding. Today's market suggests several effective repellents. Click here to find out more about the best bat repellent sprays, liquids and gels. When you have chosen the right spray, use it along cracks and openings in order to reach the inside of the wall. Pests dislike repellents, so they will leave the area soon.

Dr. T's Bat Scat and Sudbury's Bat Repellent are the most effective and widely recognized best control products. However, they never guarantee 100% results.

Why? If they are sprinkled in places where only several bats are roosting (double walls, tight attic spaces, boxed-in areas, attic ceilings), they encourage only these bats to leave the building, while others remain. The effect is only temporary and lasts for 3-4 weeks. Most animals will just move to some other parts of your house.

Chemical repellents shouldn't be used in case humans and pets are exposed to the inhalation of odors.
Most people are very sensitive to them, so avoiding direct contact is crucial.

How to control colonies of bats without chemicals? Another possible way to use bright lights, as they may repel pests.
For example, you can illuminate attics using about 150-watt bulbs, directing the light at all the entry points. They are to be turned on after the bats have already left their location for feeding.
Illumination is very successful, but not in all cases. When bats infest a huge building, lights can hardly work.
Push fiberglass into wall, under floors and roofs to deter and discourage bats. Complete fiberglass insulation is unnecessary, but a few layers will be very helpful. Direct exposure will irritate the animals and make them leave.
Air conditioning is another variant of bat pest control. Cool air and drafts within the location repel bats from your building. Direct the breezes produced by electric fans will prove a success.

This approach works in places where exclusion can't be achieved.

Turn on the air conditioners during April and May to discourage the pests from roosting, as they prefer high temperatures to the rear young generation.

Some people claim that ultrasonic noise can be efficient as well. However, none of these bat control devices are 100% successful in the process of repelling.
Contact a professional agency to make sure you have done everything in the right way.
Professional Bat Removal Costs
The prices depend on the infestation, number of colonies, methods used, as well as location. Sometimes the price is also affected by the amount of cleanup and seal-up work that is required:
As for today, elimination of a small colony or a single pest costs from $100 to $300.
At the same time, for the removal of a medium-sized colony you will have to pay from $300 to $1,000.
And a large colony will cost you from $2,000 to $9,000, sometimes even more.
Many exterminators offer one more strategy – a bat house. This is a so-called alternative residence that will cost from $20 to $150, depending on the number of creatures.
In any case, when a single bat is flying in your house, it can be caught without the help of a professional exterminator.
Conclusion
Having read the article, you've become acquainted with the work principles. The job can be done safely and fast, if you buy the right equipment, choose a good repellent or ultrasonic system, seal up all the entry points, and cut off the food supply.
You see, there are multiple solutions. Get to know more details about their variety and application in our articles. Say NO to bat infestation and live a normal life.