Getting Rid of Bats Outside and Inside Your House
So, you have bats in or around your house. The normal question that you start asking is whether it is possible to eliminate them in any way (humane or chemical). Frankly speaking, there are several methods that can be addressed. There are also such that don't work.
The how-to-get-rid-of-bats section will help you out. Here you will find all the necessary information you've been looking for quite a long time: trapping, one-way doors, poisons, sprays, and other liquids. Read about the possible results, weigh the pros and cons and then decide what's best for your home.
Essential Steps of Bat Removal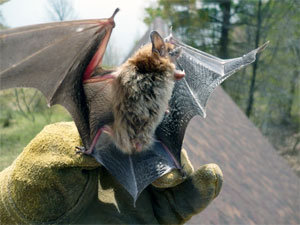 Locating entry points are called to be the best way of how to get rid of multiple bats fast. Place them from the outside of your house, as well as inside the attic.
As a rule, this can be done by getting on the roof. For this purpose, you should get a pretty high ladder to get to the highest points. While inspecting, you will definitely identify the entries: they are marked by dirty stains, marks, and droppings of the bats. Remember that the size of the holes can be ½″ high, 1½″ wide.
Important!
They can enter your place through really small holes.
At times they are left unnoticed, that's why paying special attention to any stains can be really helpful.
Inspection allows a homeowner to find the entries and prevent further infestation. You can find more details about infestation here.
The removal includes important instructions that can be easily followed without professional help:
Identification of the entry points. Though holes are pretty small, even large bats can squeeze through them. After finding one should seal off most of them using caulk, and leave a single hole for them to exit at night.
Plugging. This is the next step which is done at night, while the animals are out. As an alternative, homeowners can also install a check valve, a one-way door that will allow bats to leave the attic or barn without any chance for returning.
Bat houses. If you are worried about the life and feeding of bats, get special houses to allow the animals to settle there and not in your home. This is a very popular bat removal product.
The matter is most creatures don't leave the place even after plugging. They will seek shelter and buying a bat house can cost you a lot.
Bat houses cost up to $300, depending on materials and size.
A standard structure that is approved by Bat Conservation International costs up to $75, while a seven-chamber steel construction will cost from $210 to $300.
How to Successfully Remove a Bat that Slipped into Your House?
When a flying creature gets into your home, don't rush to use some toxic products and chase after it. Be sure it is afraid as well. All the panic moves you make may harm the animal.
In most cases, bats find their way out through a window or door if it is wide open, however, sometimes you should use a small box or a bowl to cover it. After sliding a piece of paper over the bowl, trap the pest and release it. This is humane bat removal. For more details keep reading here.
Who should you call to get rid of nasty bats?
Look for a professional in a phone book – an animal control expert. This is a trained person who comes to your place and removes bats from your property. At times he cleans up all the mess and takes the caught animals to protected areas. So, there is no need to get worried about the fate of the creatures and their health.
A Do-IT-YOURSELF Bat Removal
If you are asking 'how can I possibly get rid of nasty bats', you must understand it is quite easy. The only recommendation is not to poison them, as it may end up in a bio-hazard of killed bats that clean up bugs in the back yard.
Instead of that it's possible to choose some other options that today's market offers, like flaps and one-way doors.
Important!
One-way doors allow bats to escape the attic or any other building, but they don't leave a chance for them to get back inside again.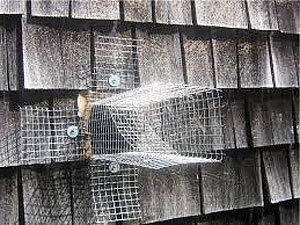 Leave the doors up till the time you are absolutely sure that the animals are gone. Then take the device down and start repairing the areas that were used to enter the location. After the holes are sealed, you can be sure that infestation is eliminated.
Still, there is a recommendation to check the rest of the settled territory in order to make sure there are no animals nesting inside your house. Don't forget to clean after bats.
If you'd like to get to know about the poison, its variants and effects, find the information here.
How Do You Get Rid of Colonies of Bats in Chimney and Barn Fast
To eliminate bats in the barn or in porch, you'd better follow the rules of exclusion technique. For this purpose install one-way devices on all entry and exit points. Here many things depend on the architecture of the building. If there is the need of the colony elimination behind the shutters, you can use funnels, cones, screening, and netting.
The matter is that every building and its parts are different and if you are in search of the most popular device, use netting. It perfectly sets, allowing the animals to fly out at night but not to get back after feeding. The device works even in basements.
Bats in an attic? Exclusion devices are perfect for this situation! They are humane, set human beings free from troubles without killing the animals.
They leave places to escape, giving time to close the entries.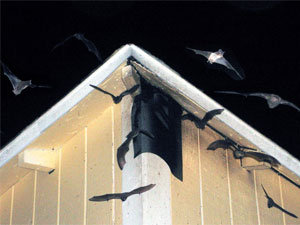 After sealing, open the attic and wait for a few hours. Then wait for about half an hour after dark and seal the final opening. Late in the evening all bats are feeding, leaving their favorite area. This is a perfect time for bat-proofing.
As you have found out how fast to get rid of colonies of bats in chimney, attic, and barn and have used the tips, start cleaning up:
remove all the used devices,
clean up the location,
use a mask and gloves while cleaning,
seal all cracks and holes in the wall.
Pay special attention to old barns, because they usually have many openings and cracks, as well as storage areas that can be inhabited by colonies of bats.
Old barns full of bats are left as big bat houses.
For infestation prevention use mothballs as they are perfect repellents. They are cheap and pretty easy to use. Read more about their use. In case moth balls can't cope on their own, place lights in those areas that are loved by bats the most. As these creatures like dark places, the lights will make them leave the territory.
How to Succeed in Getting Rid of Bats outside the House?
Most people choose a dog or cat repellents for this purpose. However, it is important to know that spraying any liquids directly on bats is forbidden and inhumane. Wait till all the animals are out for hunting and use a spray repellent on the areas they like roosting.
Another popular solution is fiberglass insulation. This material irritates the bats' skin, thus helping any homeowner to keep these pests away.
One-way door can also be used at all entry points, allowing the bats to freely leave the territory. The best time for using them in June and July, as this is the so-called maternity season perfect for complete exclusion of pests.
How to Eliminate Bats in Walls
If they have already penetrated inside the walls of your house from the attic, start acting immediately:
Look for the smallest openings on the outside of the house. Pay special attention to cracks under the roof's eaves or to the openings that are in the siding. Don't forget about air conditioner vents and chimneys, as these are their favorite entry points. Normally, oil-darkened narks give a hint where the bats are.

Actual Info!
While repairing holes and cracks, use wood, bricks, and cement. This should be done at night when there are no animals inside the walls.
Thus you won't trap them.

Spray repellents around the areas where the bats are, as well as underneath the eaves of the roof and siding. Today's market suggests several effective repellents. Click here to find out more about sprays, liquids and gels. When you have chosen the right spray, use it along cracks and openings in order to reach the inside of the wall. Pests dislike repellents, so they will leave the area soon.
Push fiberglass into wall, under floors and roofs to deter and discourage bats. Complete fiberglass insulation is not necessary, but a few layers will be very helpful. Direct exposure will irritate the animals and make them leave.
Contact a professional agency to make sure you have done everything in the right way.
You see, there are multiple solutions. Get to know more details about their variety and application in our articles. Say NO to bat infestation and live a normal life.