Snake Trapping Effectiveness: Remove Snakes on the Go
Many homeowners wish to make away with snakes that can be really dangerous for the whole family. Imagine you are going into the garden and suddenly encounter an unwanted snake on your property. No wonder, getting rid of snakes will probably be your next project.
Want to eliminate and remove these terrifying reptiles? Stay calm and find out how to prevent snakes, how to remove snakes using traps and how to efficiently use traps.
Consider snake trapping another weapon in your arsenal. Get relief with these informative trap tips right now!
Prevention
Snakes prefer to hide in taller grass. Therefore, keeping your grass cut short is a good idea.
Clear the yard of clutter.
Eliminate snakes' source of food like bugs and rodents.
Don't physically catch, handle or remove the snake until you are absolutely certain in its identity. You need to have experience in handling snakes. Instead, use traps.
Remember, snake trapping is much safer.
Snake traps Home Depot: Get your property free of snakes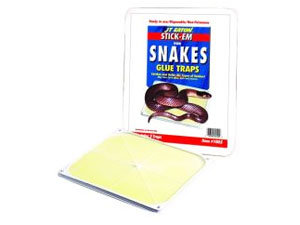 Snakes can be dangerous and harmful especially if they are stepped on. Snake loves to bask in the sun and if you suddenly step on it, it will defend itself and can bite you. Remember, not only venomous but even non-venomous snakes can be harmful and very dangerous for you as they could become infected.
Take control over snakes by eliminating their food source and setting traps. Of course, you can hire an expert who can remove any snake with snake tongs. But what to do if snakes are invisible? In this case, trapping is the most effective and working way to remove snakes. Buy the Stick-Em Snake Peanut Butter Scented Glue Trap at Home Depot. The trap attracts and effectively catches snakes. It is non-poisonous and can eliminate reptiles without breathing in toxic odor.
Placing water near traps is the best way to catch a snake.
Information on snake traps that kill
It is difficult to remove snakes using repellents, sprays, and powders. Snake traps are really effective as they allow you to safely trap and remove unpleasant reptiles.
Traps attract snakes by powerful scent dots that are inside the trap. When the snake enters the trap it cannot move and strike.
You don't need to kill the snake. Just, bring it far from the house, pour or spray cooking oil on the reptile and it will walk within a minute.
For those who want to kill snakes, there are killing snake traps for the house. They come with a snake-kill design. Usually, the instructions on how to use such a trap are included. Keep in mind, the traps with a snake–kill design cannot be used again.
However, no need to kill snakes as you can easily relocate them.
Placing the traps along the exterior walls is a good idea.
How to use the trap and how it works
You can put or set the trap in a shady spot, along walls in the house, drop ceilings, basements and anywhere where snakes have been seen, wait for some time and the snake will surely be caught.
The trap has a specially designed container and a glue insert inside. Due to strong plastic of the trap, it can be used not only indoors but outdoors as well.
When it comes to snake trapping, location is extremely important. Such factors as access to sunlight, cover, etc. play a great role.
Set the trap in areas or places the snake is seen to use. Since snakes prefer traveling along edges you can set the tap next to a wall.
How to remove snakes with Cahaba snake traps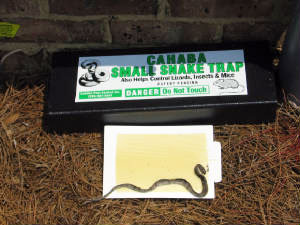 Cahaba Snake Trap is a perfect solution of snake problem. The trap is large, long-lasting and highly-durable. The trap can catch not only snakes but lizards, rodents and lots of insects as well.
Cahaba snake trap includes a glue board insert that you can easily replace after having caught a snake. You can use this useful trap in different areas not only outdoors but in indoor locations as well.
Advantages of Cahaba Snake Traps
The main advantage of this trap is that it can be placed anywhere you have snakes. Any homeowner can place this trap in the flower beds, on the lawn, at the lake house or near the house and it's up to you where to place it. No matter, it is day or night the trap will be working at any time of the day.
The trap will be a perfect place for the snake to hide. It is durable and will work for years.
The trap is beneficial as you can replace the glued insert when needed and use the product again and again.
Highly rigid plastic from which the trap is made of makes Cahaba trap strong and water resistant.
If you have many snakes on the property, you can purchase several traps.
More traps give more protection.
The more traps you have, the more chances to catch the snakes.
Types of Cahaba snake traps
There are many types of Cahaba snake traps available on the market. Below there are some of them:
Large snake trap that is designed and specially made to catch up large snakes. This trap comes with two large catch inserts.
Large foldable snake trap. This comes with one replaceable glue catch insert.
Lift-top-combo that is made to catch large snakes.
Small snake trap. It comes with three catch inserts and designed for small reptiles up to 1.5 feet.
Snake traps are safe, economical and efficient tools to capture and remove snakes.
Purchase one or two reusable and durable snake traps, large or small depending on the size and the number of snakes you want to capture and protect your property right now.
You can find further details of Snakes Control here.