Several Easy Ways to Prevent Bed Bugs While at Home and Traveling
Any infestation of bed bugs can create weeks of work, treatment, and that's to say nothing of the health effects of dealing with these pests. Thankfully, while a bed bug infestation is an enormous hassle, there are many easy ways that you can drive these pests out of your home. Patience and vigilance are the two virtues you must keep in mind while driving out a bed bug infestation. Read below for a run-down of some of the best ways to get bed bugs out of your house and your life.
The Most Effective Tips
When you begin eliminating bed bugs from within your house, you must take effective steps immediately. The longer any infestation carries on, the more thoroughly they will be able to lodge themselves within your house. By tackling the problem right away, you can prevent them from becoming a full-fledged infestation.
How to Prevent Them from Entering Your Home
The best way to resolve a bed bug infestation is to prevent it in the first place. So the first important step is to prevent bedbugs from entering your house in the first place. By keeping the pests outside you won't have to go through the eventual steps of removing them.
Three easy steps you can take right now are to:
Be very careful while using shared laundry facilities. Bed bugs can hitch rides on your clothing and come into your house. Remove your laundry from the dryers directly into a bag and fold it at home.
Especially if you live in a multi-family building consider installing sweeps on the bottoms of exterior doors. This way bed bugs will find it more challenging to enter your house under the bottoms of your doors.
If you buy furniture, and specially used furniture, pull the cushions out and check them thoroughly for signs of bed bug activity before you bring them into your house.
When you buy furniture, check under the cushions for signs of infestation. This photo demonstrates a very infested piece of furniture.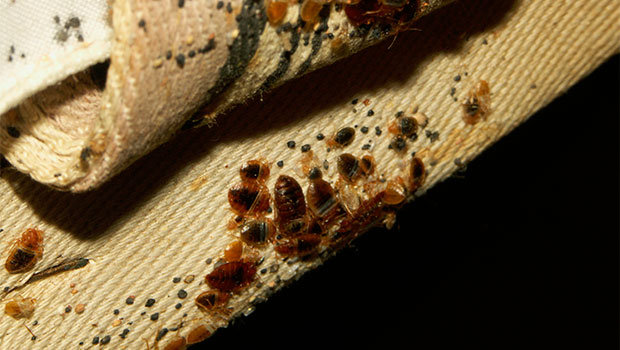 Make sure you look for the three things this photo shows:
Living Bed Bugs.
Discarded Exoskeletons.
Droppings.
How to Prevent Them in Your Home
Beyond defending your house from bedbugs entering, you should take steps to deny them a place to live in your house in the first place.
Consider the following simple steps you can start taking today:
Vacuum regularly. If bed bugs begin to come into your house, this practice will likely remove them.
Reduce clutter. By doing this, you deny bed bugs a place to begin living in your house.
Use bed bug covers on your furniture and pillows to prevent bedbugs from infesting them.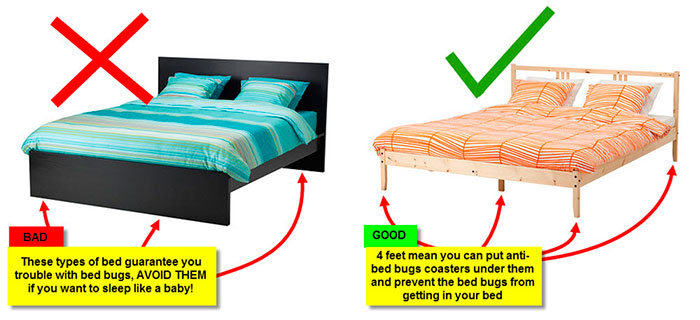 How do Bed Bug Covers Work?
Covers and Encasements provide two of the most common and effective methods of controlling bed bugs within an infested mattress. Thankfully, a bed bug infestation does not always mean that you will have to throw out the contaminated mattress, as devices like these can help you get the problem under control by killing off the infestation while keeping you safe.
Pillow Covers
When you take steps to protect your pillows (or mattresses for that matter) a bed bug cover is often the first step you will consider. Often these products, also known as the best bed bug mattress cover, will work through applying pesticides to bed bugs that sneak into your bed looking for food at night. This strategy suffers from some limitations, though. While these covers and protectors will kill bed bugs over a prolonged period, they do not offer substantial protection for you while you use them.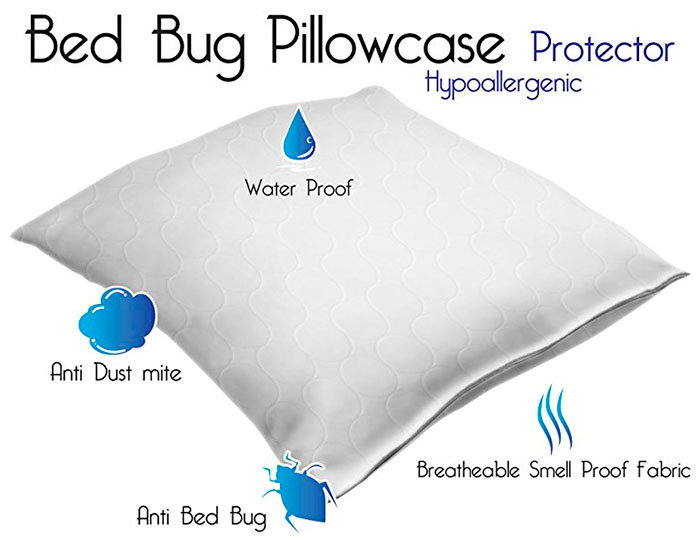 The principal advantage of a cover is that it can be removed, cleaned, and serviced during its use. This has the unfortunate side effect of allowing bed bugs easy access in and out of your mattress. It does this because the cover does not create a complete seal around the mattress.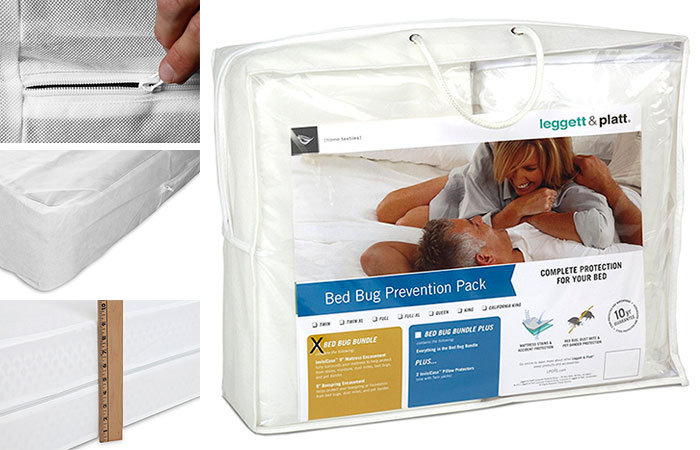 This mattress protector set, available from Walmart and other online retailers, offers multiple layers of protection. Different components of the kit will allow you to protect your mattress, your pillow, and your box spring. Prices start from $71 for a twin bed.
Pillow Encasements
By contrast, an encasement relies on a different philosophy. Rather than relying on pesticides to kill the bedbugs by contact and poison, an encasement denies them any space to live. The thorough seal these create around your mattress prevents bedbugs from getting out of your mattress to feed on you at night.
Bedbugs can take up to a year to die out.
If you use these encasements, you must leave them on over a long period, as bed bugs-and their eggs-can live on your mattress for up to a year before they eventually starve to death. This use over time provides the best way to get rid of bed bugs in a mattress.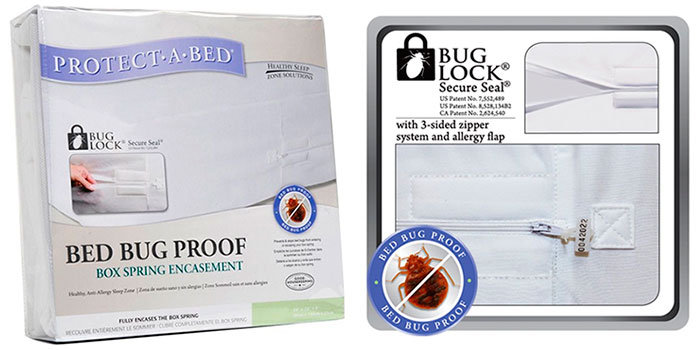 Consider this Protect-a-bed brand box spring encasement, available for $75 from Wayfair.com and other retailers. As explained below, note the locking mechanism on the zipper that promises to keep the mattress thoroughly sealed during the time you use the encasement.
When you look for a mattress encasement:
Take caution that the encasement you settle on is made from a material that prevents the bed bugs from getting their entire bodies through the encasement, or even simply their feeding tubes.
Also make certain that your encasement has a zipper that closes tightly enough to prevent any bed bugs from escaping through the opening.
Once your encasement is installed, take care to inspect around your bed frame. Make sure that exposed metal components of the frame will not damage the encasement, potentially leading to tears or weak spots in your encasement.
After you've done all this, keep the encasement sealed around your mattress, while you ensure that no bed bugs have taken up residence elsewhere in your home.
Ensure that your mattress protector's zipper creates a tight seal around the mattress.
Prevention Methods You Have to Know
There are a lot of different ways to keep a bed bug infestation under control, but the most effective times to act are before and after the infestation itself. Beforehand you can keep yourself safe by taking caution while you travel. After you've cleared out an infestation, you will need to make sure that you keep up with your routine over the long haul, preventing these menaces from spreading through your house again.
How to Prevent When Traveling
When you travel, you will be at your most exposed for potentially bringing bed bugs back with you.
There are a few steps you can take at any hotel where you find yourself to prevent this:
Use the luggage rack.That nice-looking rack for your luggage? It's a great way to keep your suitcase off the floor or bed where bed bugs could be lurking. By simply storing your suitcase carefully you can prevent one of the most common vectors for these pests to come into contact with you.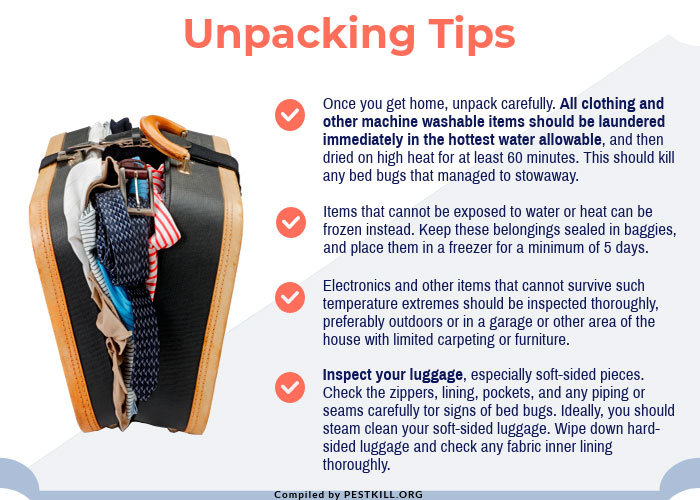 Check your bed and furniture. If your room is infested, it's most likely going to be in the soft cushions and padding of your bed or the furniture around your room (chairs, couches, etc.) Check along the edges of the mattress and the cushions on these objects. Look for any spots or stains that might signal an infestation.
Change rooms/hotels. If your room turns out to have the signs of an infestation, talk to the hotel staff about it immediately. Make sure that you can get a different room in the hotel or, if you have to, stay at a different hotel altogether. If you stay in the same hotel, make sure you don't stay in a room adjacent to or directly above or below the room where you found the infestation. Housekeeping carts and air ducts could easily carry the infestation from room to room, and you deserve to make sure you're safe. In addition, it's also possible that your vigilance may catch an infestation in its earliest stages, saving countless other guests the pain and hassle that bringing home bed bugs would cause.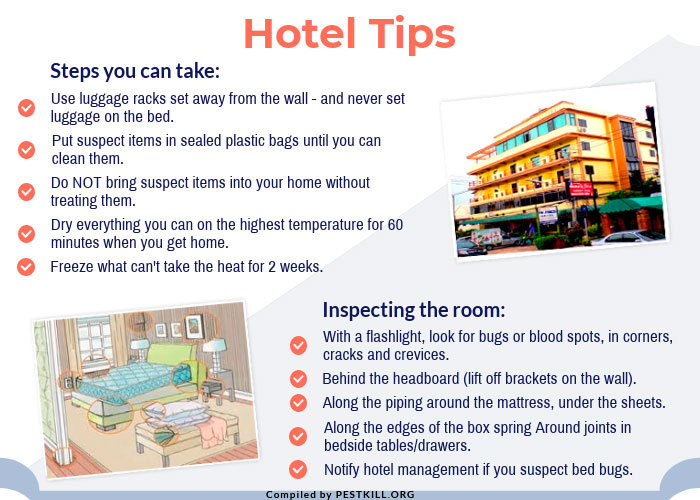 How to Prevent Them from Coming Back
You've followed the steps above. Your bed bugs are gone, but what good is all this if they just come back sometime down the road?
Keep your mattress protector on for at least a year. Mattress protectors rely on time to starve out and kill the bed bugs lingering inside them. If you take the protector off early, all your doing is letting the eggs and bugs you're trying to kill get a new lease on life.
Vacuum daily after any initial treatments. Any bugs or eggs scattered around your house could feed on you and start a whole new cycle of infestation. Vacuum regularly to get these pests out. Be sure to empty the vacuum into a trash can outside immediately after you vacuum! Regular and thorough vacuuming will scoop up any remaining bed bugs.
Make a habit of washing all your clothing and luggage immediately after returning from any travel. If you missed the signs of a bed bug infestation during travel and picked up some unwelcome hitchhikers, a good and thorough washing will allow you to prevent these pests from setting up their home in yours.
Any time you wash clothing or bedding, wash it on the hottest water and dryer settings possible. By turning up the temperature, you can typically kill off any bed bugs which might be lingering in your clothing or bedding. A good, thorough washing will allow you to send these pests out into the cold.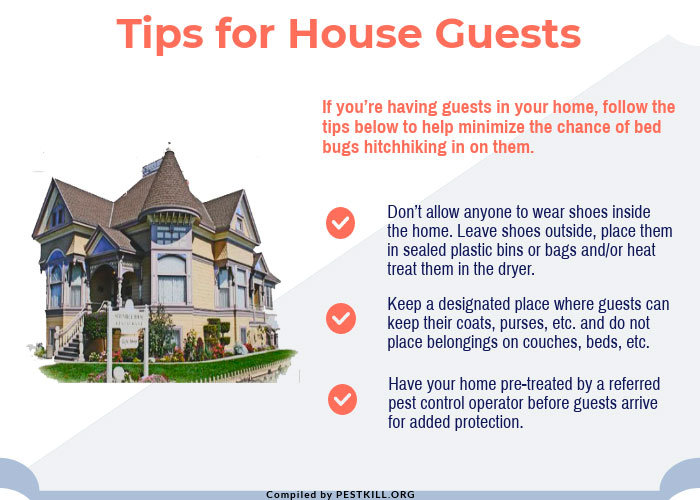 The Best Way
Ultimately, this boils down to vigilance. The best way to keep bedbugs from infesting your house is to prevent any bedbug infestations from occurring in the first place.
As described above, this can involve:
heavy vacuuming,
a post-travel regimen,
or sealing your mattress in an encasement or protector.
But above all, you simply must remain vigilant. Even in the early stages of an infestation, bedbugs will leave behind droppings and exoskeletons, to say nothing of the possibility of seeing the bed bugs themselves.
By consistently keeping an eye on the places where bedbugs are likely to begin their infestations, you will be able to nip any infestation in the bud. An ounce of prevention will be worth a pound of cure, and that's to say nothing of how many bed bugs might take up a pound.
The tips above will provide you with some of the easiest ways that you can resolve a bed bug infestation that has sprung up inside of your home. This pest is perhaps one of the most annoying and frustrating nuisances you can suffer through, but thankfully they are manageable with some easy steps. Take your time, make sure you follow the steps, and you will be able to fend off any bedbug infestation and prevent it from ever coming back.
You can find further details of Bed Bugs Control here.