Bed Bugs Everywhere: How to Get Bed Bugs Out of Your Hair
Bed bugs are common in motels and hotels, and in some areas, they seem to be regular visitors in people's homes. The problem is that getting rid of them when they pay you a visit isn't always easy. That's because they can hide in your sheets, under your mattress and even in places as small as cracks in your floor or electrical outlets.
Having these bugs in your home is bad, but on your body, you likely can't get them away from you fast enough. For most people, very little sounds more disgusting than having bed bugs in their hair.
Keep reading to learn more about how these bugs get in your hair and how you can kiss them goodbye forever.
Can I Get Bed Bugs in My Hair?
Bed bugs are attracted to the carbon dioxide that you emit when you're sleeping, which is why they end up in your blood. They're also attracted to the smell of blood, and that is what they're after when they bite you.
The fact is that bugs can end up in your hair, and if you're not careful, you can move them around your home. You may even get them in your car, and once they're there, getting rid of them is very difficult.
A lot of people ask what to do if you have bed bugs, though most people are concerned about them being in their luggage or bed. When bugs are in your hair, the options are somewhat different.
What About Bed Bug Eggs?
Bugs can end up on your skin and in your hair, and where the bugs go, eggs follow. That doesn't mean these bugs are likely to be a major problem when it comes to your hair.
Bugs cannot attach themselves to your hair follicles or scalp like lice or mites. That means that bed bugs aren't likely to stay in your hair all day or for long periods of time.
Bugs seek places where there is little movement and activity to lay eggs. This means that your hair isn't an ideal place since humans tend to move regularly even when they are sleeping.
Still, bugs and their eggs can end up in your hair even if they don't stay there long-term.
Symptoms
Your hair isn't the ideal place for bugs to live, so you aren't likely to notice a major infestation or feel like things are crawling all over you. Bed bugs can still be a nuisance and cause a problem in this area.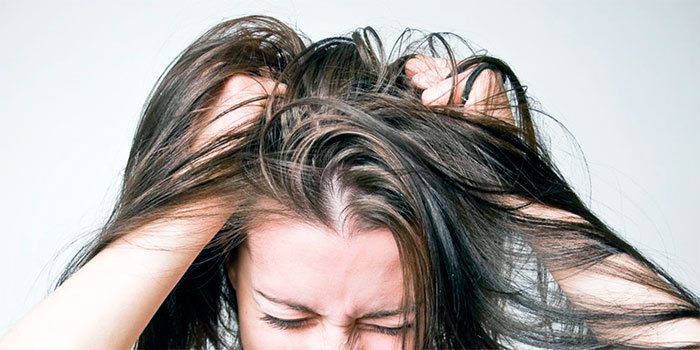 Common symptoms of bugs in your hair include:
Bites on your scalp. These bites will likely feel irritated and form in clusters.
Itching around the scalp or hairline. As the bites heal they will likely start to itch.
Burning sensation when you wash your hair. This is commonly caused by existing bites. Irritation can occur when you apply shampoo, conditioner or rub the area during the washing process.
How to Get Bed Bugs Out of My Hair?
Many people want to know how to get bed bugs out of carpet and belongings, but wondering about hair isn't quite as common. That's because these bugs don't tend to stay in your hair for very long at one time.
However, there are some options if you feel like you may have bugs in your hair.
Steps to Get Rid of Them
It's obvious that you want to get rid of these gross bugs as soon as possible, especially if they are in your hair. The fact is that getting rid of them is relatively easy for the most part.
Bed bugs can't attach themselves to hair follicles.
Follow these steps to identify the right course of treatment:
Check your scalp and hair regularly to make sure that you have a problem. Bugs don't typically make the hair and scalp their home, so a long-term infestation in this area is unlikely.
Repeat this process every 12 to 24 hours to see if more bugs have ended up in your hair. In most cases, you should be checking when you first wake up in the morning since you've just come from your bed.
Take the time to treat your bedding and bedroom with sprays, powders and bed bug traps. These effective killers will remove the bed bugs from your home, making it impossible for them to get into or remain in your hair.
Can I Kill Them with a Hair Dryer?
Heat is a common method used for killing bed bugs that you find in luggage or items of clothing. Freezing can also be effective with items small enough to fit into your freezer.
However, when it comes to killing bugs with your hair dryer, this may not be an option for a few different reasons.
Bugs need to be exposed to temperatures of 120-degrees or higher to be killed. It can take a long time for this to happen though even if the bugs are exposed.
High heat can damage your hair and scalp. Putting a hot hair dryer too close to your scalp and leaving it there to attempt to kill bugs will likely leave burns.
Many hair dryers don't get hot enough to even kill bugs. The amount of time you would have to hold a hair dryer to your head to kill them is also too great to make this a worthwhile choice. Choose other methods of ridding your hair of bed bugs.
I Want to Cure Bed Bugs. What Should I Do?
If you're like most people, you want to know what to do if you have bed bugs right away. After all, you don't want them lurking around in your home, and especially your hair, for any longer than absolutely necessary.
Getting bugs out of your hair and returning your scalp to normal health isn't necessarily a difficult process.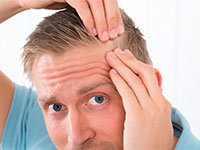 Sprays, powders and traps designed to remove these bugs from your home can be toxic to humans and pets if dealt with in an inappropriate fashion. Always keep these items away from small children and animals. Use rubber gloves or work gloves when handling them in your home and do not apply any of these products directly to your hair or skin.
Bed Bug Shampoo Options
Shampooing your hair is an ideal option when it comes to getting rid of bugs that are causing you a problem.
Common shampoo products can help you simply clean the hair, but there are more specific options out there:
Top Secret Company BioShield body wash and shampoo. Made with prescription strength ingredients, this shampoo can kill a variety of insects on contact. Rinse your hair thoroughly after using this shampoo, and discontinue use after a few days. Two to three wash cycles should be effective.

Top Secret Company Scent Defense body wash and shampoo. Another product from the Top Secret company, Scent Defense is designed to kill odors and repel insects. This product is also DEET-free and can be used on pets in small amounts.

Nix Lice Killing crème rinse. Designed for killing lice, Nix products are also highly-effective when dealing with any other insect. Follow product directions carefully to avoid contact with your eyes or exposure to chemicals. Avoid using this product for pets even if you feel they may have bed bugs. Other pet-related alternatives are a better choice.

Another option for caring for your hair when dealing with a bed bug problem is to use a medicated shampoo designed for dandruff. These can help soothe the scalp while cleaning your hair and removing bugs at the same time. You may also be able to make your own shampoo concoction to help you deal with bugs in your hair.
DIY Shampoo Options
You don't need to make your own shampoo to get rid of bugs in your hair, and in most cases, simply washing regularly will help you get rid of the problem. That's because bed bugs can't grip hair follicles or the surface of your scalp.
Adding ingredients to your regular shampoo can be helpful for repelling these nasty bugs though.
Look for essential oils that bugs don't like. Options include eucalyptus, cedar wood, rosemary and lemon. These all-natural essential oils can be purchased online, at some drug stores and in health food stores.
Add 20 drops of essential oil to your regular shampoo. Shake the mixture vigorously before using it.
Re-shake the shampoo each time you wash. This will help make sure you get essential oils in your shampoo each time.
Having bugs in your home can feel like a major problem, and if you're not careful, they can spread very quickly, infesting every space in your house. When bugs are in your hair, it's obviously a top priority that needs to be dealt with right away.
Taking care of your bedding, mattress and bedroom is the first step when it comes to dealing with these bugs. From there, you'll want to wash or launder your clothing to make sure these bugs are gone for good. Hot water or placing small items in the freezer for 96 hours is recommended.
When it comes to your hair, your best bet is to simply use a quality shampoo or a shampoo designed to kill insects for a short period of time. Homemade remedies designed to repel bugs and cleanse the scalp can be used after medicated shampoo for extra security.
Whether you have a few bugs in your bedroom or you're dealing with a major infestation, getting them out of your hair is important. Use these tips to make sure these bugs don't live in your hair for long.
You can find further details of Bed Bugs Control here.